Section Branding
Header Content
How Does Georgia's Election Board Takeover Law Work? Not Quickly
Primary Content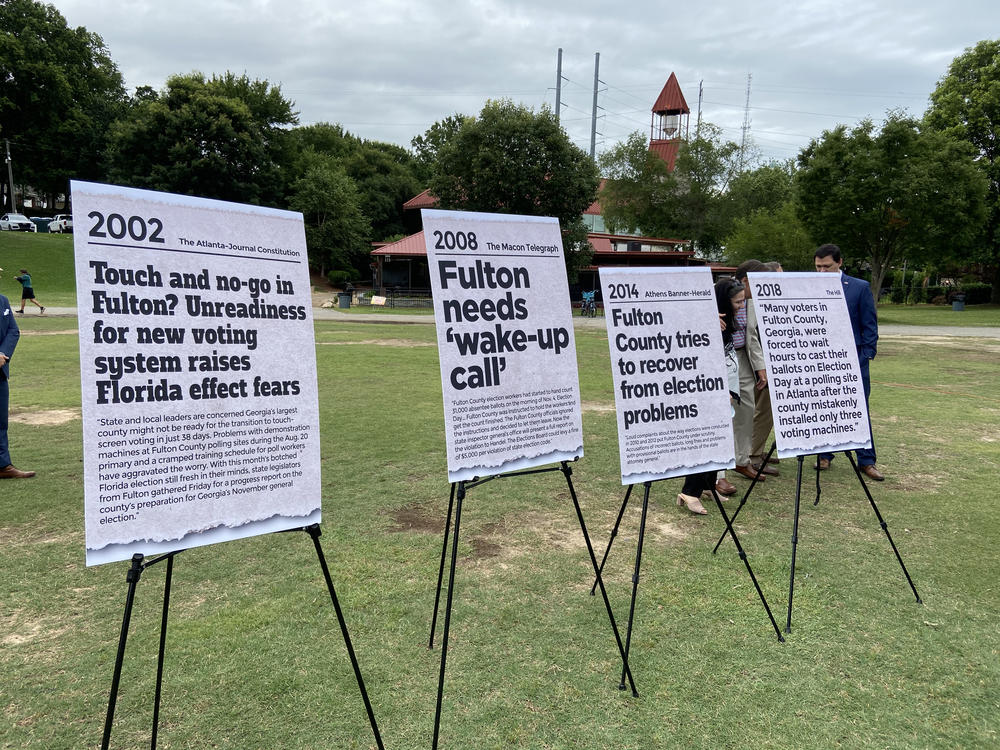 The latest battle over Georgia's massive new voting law is over sections that allow state officials to temporarily take over county elections boards, with Republicans eyeing Fulton County in particular. But a GPB News analysis of the measures included in SB 202 suggest a takeover of Fulton is unlikely to happen any time soon — if at all.
Fulton County has been the epicenter for discussions over the 2020 election, with some Republicans advancing conspiracies and falsehoods that say fraud and wrongdoing cost former President Trump the state's electoral votes.
Although three different counts of the votes confirmed the results, a state-appointed monitor found no evidence of fraud, and numerous accusations have been debunked, Georgia's most populous county has not done itself any favors with the actual problems and long lines that have plagued parts of the process over the years.
MORE: Here's What SB 202 Does
 
Now, Republican lawmakers want to trigger an investigation process that could see the five-member appointed elections board temporarily suspended and replaced by a single person appointed by the State Election Board. 
 
This week, Senate President Pro Tem Butch Miller (R-Gainesville) sent a letter to the State Election Board signed by 27 GOP senators asking for the SEB to initiate a performance review of Fulton County elections director Rick Barron to determine if he should be fired.
But that's not quite how the law works.
While Republicans and Democrats alike have painted a takeover of Fulton's elections as inevitable, a review of the law, the potential process and the politics behind the decision shows it could potentially be more of a political talking point than a likely outcome.
 
How does the performance review process start?
First, we start with a definition. According to new State Code Section 21-2-105 on page 20 of the law, the term "local election official" means a county board of elections (appointed by local governments), a municipal election superintendent or a probate judge acting as election superintendent.
These officials by law are technically the election superintendents, tasked with things such as choosing polling places, hearing voter challenges and certifying election results.
This does not include hired county elections directors, such as Fulton County's Rick Barron.
A performance review of local elections officials (like the five-member Fulton elections board) may be initiated by the local governing authority (Fulton County Commission) or by two House members and two senators who represent that county (or one of each for counties that have three or fewer total state lawmakers) filing a request.
In Fulton's case, while the Senate letter includes more than two dozen signatures, the only ones that matter are Sens. John Albers, Matt Brass and Kay Kirkpatrick, all Republicans whose districts include Fulton County.
At least two Republican House members who represent Fulton are likely to support a review as well, and once that is sent to the State Election Board, the board has 30 days to appoint an independent review board. That board will be made up of one member of the Secretary of State's office and two other local elections officials, meaning two other county elections board members or probate judges who run elections.
What is a performance review?
According to SB 202, the review shall "make a thorough and complete investigation of the local election official with respect to all actions of the local election official," including maintaining election equipment, oversight of registration and elections and compliance with state law.
Presumably, this review board would also look into the numerous allegations made about Fulton County's elections, from unfounded claims of fraud to more concrete examples of problems with the voting process that did not affect the outcome of the election.
Crucially, there is no time limit placed on how long this board has to conduct the investigation.
From there, a report would be issued to the Secretary of State's office, the State Election Board and the Fulton County Commission with its findings, which will include "evaluations, judgments and recommendations as it deems appropriate."
Apart from the specific Fulton County example, the State Election Board can appoint its own independent review board for counties that it thinks has made mistakes and violations worth investigating.
What happens after the review board investigation?
After the review board delivers a report to the SEB, code Section 21-2-33.2 on page 12 of the law comes into play. After receiving a report from the review board, the local government can ask the state board to temporarily suspend the election board. In this case, it seems unlikely Fulton County would issue a request, since Commission Chairman Robb Pitts has been adamantly opposed to inquiries into the county's election business.
The State Election Board can also pursue the steps to remove an elections board, based on the review board's report or on its own.
If an independent review found that Fulton's elections board should be suspended, then the SEB would conduct its own preliminary investigation into the allegations, with a preliminary hearing scheduled between 30-90 days of receiving the request for a takeover.
That hearing would determine if probable cause exists or if the case should be dismissed. From there, the state board would then schedule a full hearing on the issue and decide whether or not to suspend the local election officials for a period of nine months. The officials in question can also request a continuance on the hearings and decisions for a number of reasons, especially as election season picks up again with municipal races in November 2021 and primaries in spring 2022.
In that full hearing, at least three of the four SEB members would have to find that the Fulton election board either broke three election rules or laws in the last two general election cycles in 2018 and 2020 or if there is "clear and convincing evidence" that the board demonstrated "nonfeasance, malfeasance, or gross negligence" in running two elections in a two-year period.
Currently, there are three Republicans and one Democrat on the State Election Board, with the chair position vacant after the GOP legislature stripped Secretary of State Brad Raffensperger from his role and failed to appoint a replacement. The new law also places strict limitations on who is eligible to be board chair that limits extreme partisans from holding that role.
What happens if the board is suspended?
If the process makes it this far, a review board does find cause to suspend the board and the State Election Board agrees that Fulton's elections board should be suspended, there is another guardrail in place before the process is over. 
Fulton (and other boards subject to this procedure) can petition for reinstatement between 30-60 days after the suspension, which includes a hearing to determine if restoring the elections board "is more likely than not to improve the ability to conduct elections in a manner that complies with this chapter."
That process requires at least 30 days' notice and must happen by 90 days after the request. If that request is denied, then it can be appealed to the courts as governed by State Code 50-13-19.
From there, Fulton would have 30 days to petition the Superior Court of Fulton County and a hearing would be scheduled, adding even more time to the process.
Ultimately, if it were to go through, at the end of the nine-month suspension period a majority of the State Election Board could decide that the county would no longer need a temporary superintendent or the county could appoint a new election board.
How long does the process take, then?
It will almost certainly be well into 2022 before any final resolution of Republican lawmakers' desire to investigate Fulton County's elections.
If the request for a performance review were delivered to the State Election Board on August 1, the State Election Board would have to appoint a review board by the end of the month. The review process does not have a time limit, and could take several months to review evidence and allegations made against the county that is home to one in 10 Georgia voters.
From there, it would take between one to three months for the SEB to meet, decide to hold a preliminary hearing, set a date and decide to have a full hearing. And at any point in the process, Fulton could request a continuance because of obligations for the November municipal elections, any runoffs or other reasons for good cause.
If the SEB decides to suspend the Fulton elections board, there is another one- to two-month period in which the county can ask to be reinstated, at which point a hearing is scheduled that will be held between one to two months after that request. 
The state hearing process alone could take up to seven months after an independent investigation is complete, pushing the timeline for a takeover — if it even happens — well into next year. Plus, it is likely that Fulton would file legal challenges to the takeover process at some point, potentially tying things up in the courts even longer.
So is it likely that Fulton's elections board will be suspended?
The short answer is probably no, based on the guardrails set forth in the law, the temperament of the current State Election Board members and the numerous opportunities for the county to make improvements in its process over the next several months — not to mention the elections that will take place in that time.
Suspending the Fulton elections board would not necessarily result in elections director Rick Barron being fired, which is the stated goal of some Republicans like Secretary of State Brad Raffensperger (who has been removed from this process) and others who have attacked Fulton elections.
The temporary superintendent does have the power to hire and fire the elections director. But the state-appointed monitor of Fulton's elections said doing so would not solve Fulton's problems while other staffing changes might. The county is currently searching for a new registration chief and has retooled its absentee voting staff and structure to fix issues identified in the 2020 election cycle that have contributed to conspiracies about the vote counting.
Suspending the elections board would be an extraordinary step for the State Election Board to take, especially for the Republican members that are not as directly beholden to constituencies who may falsely believe the election was stolen as some lawmakers who are angling for higher office.
Even if the Fulton elections board is replaced by a temporary superintendent, the person picked by the SEB would likely not be successful in taking steps to undermine the county's elections — especially if the supposed intent of having them in place is to improve failing processes. 
Finally, the lengthy nature of the takeover process and numerous hearings give opportunities for Fulton to show changes made to address concerns that an independent review board might bring up and avoid the nuclear option of replacing the five-member board. With several elections coming up before November 2022, the county can also show smoother processes and voting experiences that could alleviate concerns brought by state officials. 
Additionally, the takeover provision is one of many sections currently being challenged in federal court (in eight different lawsuits) and might not be in place. 
Because this process has never been used before for elections, and because decisions on election boards are normally made at the local level, there are many unknowns about how the process will ultimately play out, if at all. But the bottom line is that nothing will happen quickly.
Secondary Content
Bottom Content