Section Branding
Header Content
Here's What The Data Shows About Polling Places, Lines In Georgia's Primary
Primary Content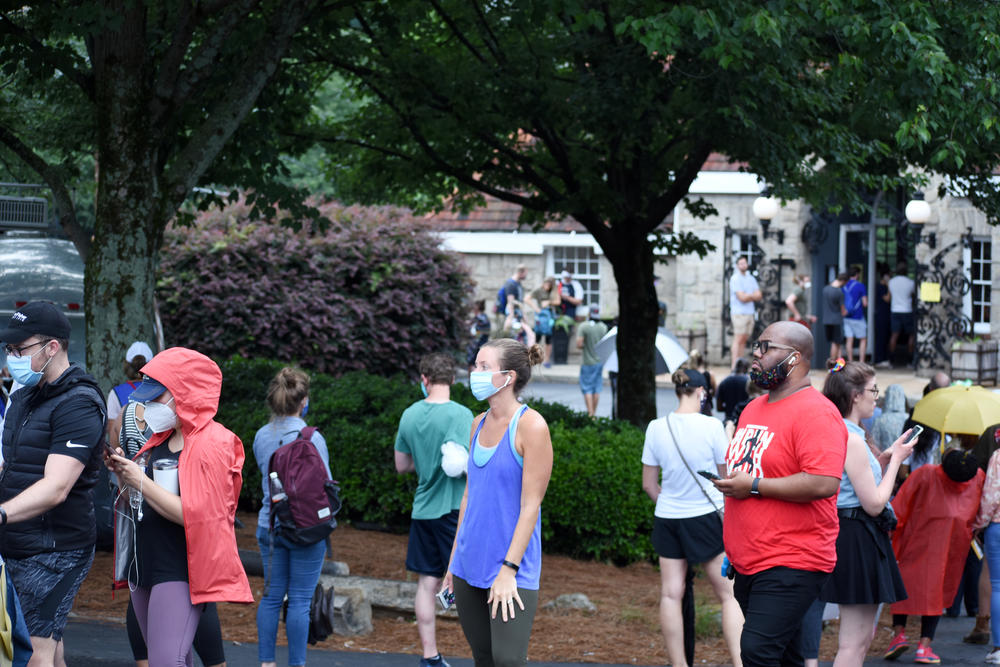 Ten percent of Georgia's polling places saw the last person cast their ballot after 8 p.m. on primary election day June 9, with nearly all of them in large metropolitan counties and half of them serving majority-Black precincts.
In all, two-thirds of the 243 voting locations that stayed open more than an hour past polls closed were in majority non-white communities. About 35% of the state's roughly 2,300 polling places for the primary were majority non-white.
Many of those polling places also saw more than 1,000 voters show up to the polls, even as the coronavirus pandemic and action from the secretary of state led to an unprecedented absentee-by-mail turnout.
Using poll pad check-in data from the secretary of state's office, an absentee voter file, precinct-level demographic data and an updated list of emergency polling place changes painstakingly compiled over several months, GPB News created a comprehensive dataset of who voted where and how long it took for the June 9 primary.
In the coming weeks, GPB News will continue to analyze the data to break down what happened in the past as well as what could happen in November as voters and officials alike prepare for an unprecedented election amidst a public health emergency.
Gabriel Sterling, the statewide voting implementation manager for the secretary of state's office, sent a memo with a color-coded spreadsheet to counties that detailed times the first and last voters checked in, how many people voted at that location and the average time it took poll workers to complete the check-in process.
Nearly 97% of the state's 2,300+ polling places used for the election are in the dataset, which you can see and download here, along with several visualizations of voter behavior and processing time. Feel free to use this data, ask questions about the data and, if you see something we need to dig into – reach out.
First and last voter check-in data for about 80 polling places, including all of Atkinson, Bacon, Banks, Camden and Gordon counties were not yet available from the state at the time of publication. Some other polling places have skewed data because of provisional ballots and other causes. We are working to track down the correct information.
The most efficient polling place was the Lumpkin County Parks and Recreation Center in Dahlonega, the only location for all of Lumpkin County in north Georgia.
Just over 2,000 people checked in on the state's new $104 million ballot-marking device system over the 12-hour voting period, or an average of 170 voters per hour. The Newnan Centre in Coweta County saw about 1,900 vote on Election Day and the Central Square complex in Coffee County processed more than 1,700 election day voters.
All three of those polling places opened at 7 a.m. and closed within 15 minutes of 7 p.m. with little delay. All three of those locations also had more votes cast during in-person early voting and absentee voting than on the day of the election.
In Lumpkin County, more than three times as many people used a mail-in ballot for the primary than showed up on June 9, and a whopping 42% of the county's active voters participated in the election.
These polling places also serve some of the largest amounts of voters in the state, with over 21,000 eligible to vote in Lumpkin County, almost 20,000 at the Coweta County poll and upwards of 16,000 that could have voted at the Coffee County location.
So, the success and speed of in-person voting relies on a lot of math, Sterling said.
"Keep in mind, we had 877,000 election day voters on June 9," he wrote in the memo to counties. "We anticipate 2.5 million election day voters in November. This then becomes a math problem that is bracketed on the back end by one thing…the scanner." 
The state estimates one person inserting their ballot in the scanner every 25 seconds could mean 1,725 people could be processed in a polling place over a 12 hour day. But many voting locations will have more people than that show up in November, and very rarely is there a steady stream of voters evenly distributed throughout the day.
Take Park Tavern in Atlanta, one of the main focal points of Georgia's primary election coverage and a stand-in for much hand-wringing and disaster proclamations for how voting can go wrong.
More than 2,300 people checked in and voted using voting machines from 7 a.m. until about 10 p.m. – the highest raw number of voters in the state, and third-highest voters per hour with an average of 150 check-ins every 60 minutes.
To put that into perspective, more people voted at Park Tavern on election day than 96% of the state's polling places had vote by any method in the primary.
Close to 300 voters were in line at the Atlanta restaurant/event venue before polls even opened, so even with poll workers processing 150 people an hour, it would still take that 300th person two hours to get to the front of the line.
As long as more people were lining up to vote than were coming out of the polling place, that multi-hour line could never get shorter. It is also important to note that because of the coronavirus pandemic, elections officials had fewer machines than normal inside polling places and lines stretched longer because of social distancing.
Sterling with the secretary of state's office likens it to filling a bucket with water and trying to keep it from getting too full. If more water is coming in than you can drain out, eventually it will overflow.
The data sent to the counties is not a "report card," and a later check-in time does not inherently mean there were problems at the polls, especially in more rural precincts that saw fewer voters throughout the day. The data will be used to recalibrate training and resources as officials prepare for the Aug. 11 runoff and the November general election, which will see more voters and more pressure put on polling places across the state.
"We're pleased to see that despite historic turnout and unprecedented conditions, many of our Fulton County polling places were able to efficiently process tremendous numbers of voters on June 9," Fulton County Elections Director Rick Barron said in a statement. "As we look to make improvements in some of our other locations, we will look at these locations for best practices and lessons learned."
Here's an example closer to home: I waited three hours and 25 minutes to cast my ballot on election day at my neighborhood polling place in Atlanta, and I was number 110 to vote – so about 32 people an hour made it through before me.
But by the time the final person voted at 9:37 p.m., the average voter-per-hour number for the day had jumped up to 82 people every 60 minutes. As the day progressed, the lines were still there but the check-in and voting process times improved, allowing more people to vote more quickly – just not as efficiently as other places.
Also, more people voted on election day at my polling place than during the early voting period, which certainly could have contributed to the bigger wait time.
In Fulton County in particular, some of the delay with the voting process came from those who applied for an absentee ballot but instead (either by choice or because they never received it) wanted to vote in person.
Fulton County also had eight of the 15 highest voter-per-hour numbers in the state, so the data reiterates that how quick and easy it is to vote really depends on where you live, how your polling place is equipped and how many people show up on election day.
Only 14% of the state's polling places had more Georgians participate on election day than through the early and absentee process, including only two of the 20 polling places with the greatest number of election day voters.
Secondary Content
Bottom Content