Section Branding
Header Content
Report Shows No Fraud But Many Problems With Fulton Voting Process
Primary Content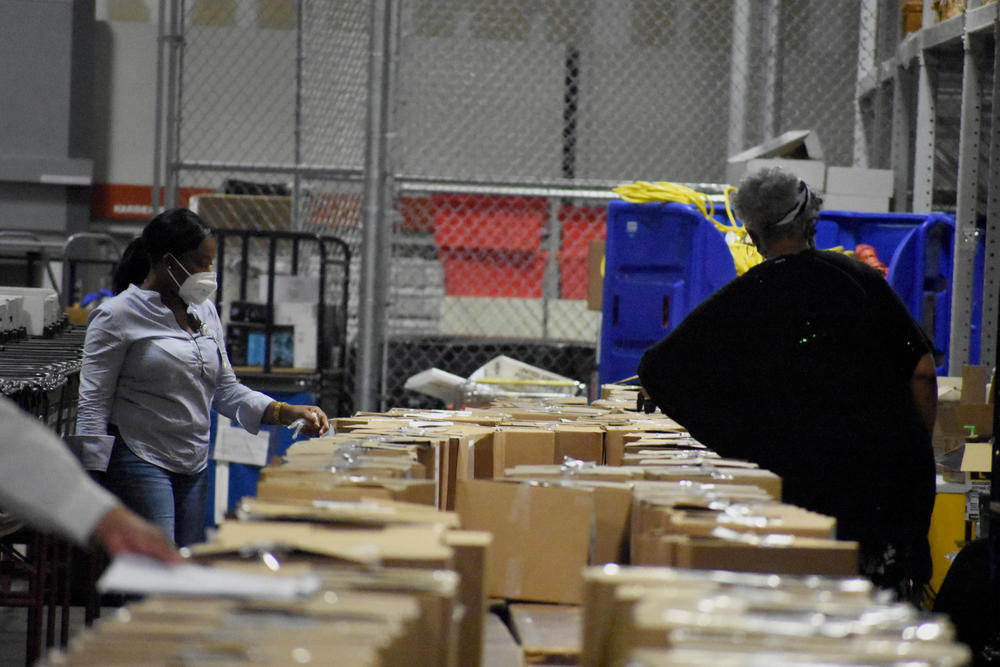 A new report from a nonpartisan monitor who observed Fulton County's recent elections found "myriad problems" with absentee ballot processing but no evidence of fraud or misconduct in the much-scrutinized county.
The 14-page report, obtained by GPB News, was delivered to the county in mid-January and was part of the reason three board members voted Tuesday to fire Elections Director Rick Barron.
Carter Jones, a consultant who has a background working with elections in foreign countries, spent nearly 270 hours observing all parts of Fulton's election process as part of a consent order between the county and the State Election Board just before the November election. In the report, he pushed back against claims made by former President Trump and other top GOP officials that Georgia — and Fulton in particular — perpetrated election fraud that altered the outcome of the election.
"At no time did I ever observe any conduct by Fulton County election officials that involved dishonesty, fraud, or intentional malfeasance," he wrote. "During my weeks of monitoring, I witnessed neither 'ballot stuffing' nor 'double-counting' nor any other fraudulent conduct that would undermine the validity, fairness, and accuracy of the results published and certified by Fulton County."
The report notes that the process of matching signatures on absentee ballot envelopes with those on file were appropriate, and leaned towards "give it further research" when there were questions about authenticity. Trump and other Republicans falsely claimed there were a large number of absentees that had mismatched signatures that were counted, and that a statewide audit of absentee signatures should be conducted.
Jones also wrote that many parts of Fulton's election process went smoothly, especially for the Jan. 5 runoff election, expressing confidence in the security of absentee ballot drop boxes, an overabundance of poll workers and training and polling places.
After 9:30 a.m. on Election Day in November, no polling place in the county had a line longer than 30 minutes, and Jan. 5 never had a line that long.
"Both of these should be seen as tremendous victories for the Fulton team, as they had allocated sufficient staff, resources, and procedures to ensure that all voters were able to cast their ballots quickly regardless of where they lived in the county," the report reads.
The county's performance in the risk-limiting audit that hand-counted more than 520,000 ballots by hand was quicker and more accurate than anyone anticipated, Jones wrote.
But in a year that saw record absentee-by-mail participation, Georgia's most populous county fell short with some of its procedures, with some of the harshest words for Registration Chief Ralph Jones' handling of absentee ballots.
"There were myriad problems with the absentee processing system at Fulton Government headquarters," the report states, including no chain of custody forms being used as ballots move from room to room and a failure to sufficiently protect spoiled and rejected ballots in the mail room.
Still, the report said, there is no evidence of fraud.
The report also recommends better training for partisan election monitors assigned to watch parts of the vote counting, noting several monitors repeatedly ignored guidance about mask wearing and a ban on photography, including one who yelled "THIS IS TREASON UNDER PENALTY OF DEATH!" at a county election worker who was trying to check the monitor's credential.
Another Republican monitor surreptitiously recorded a conversation with Ralph Jones and then submitted a complaint to the secretary of state's office.
Carter Jones, the report's author, was unavailable for comment at publication but is slated to discuss the report during Wednesday's State Election Board meeting at 9 a.m.
Secondary Content
Bottom Content