Section Branding
Header Content
'At A Crossroads': The Georgia GOP Can't Quite Let Go Of 2020
Primary Content
At the Georgia GOP state convention, much of the weekend was spent focused on last year's election and the party's defeats.
Outside the Jekyll Island Convention Center, the air was warm and breezy for attendees of the Georgia Republican Party state convention, but inside the crowded hall the temperature was a bit chillier for Gov. Brian Kemp.
After an introduction by former Sen. David Perdue, Georgia's first lifelong Republican to be elected governor since Reconstruction was booed and jeered by a segment of the crowd. 
Kemp has been a popular leader, applauded for his conservative stances on everything from education to the economy. He reminded attendees that they approved of handling of the coronavirus pandemic in the face of national criticism.
"We were reopening our economy; they were trying to pressure us into shutting it down," Kemp said. "And because of that, today we are setting records for the amount of investment in Georgia, the jobs that we are creating."
In his speech, Kemp touted a new bill that keeps "radical local governments from defunding their police," noted his support of Georgia's abortion bill blocked by the courts and blasted billionaires in New York and California who support Democrats. In recent weeks, Kemp pushed popular-with-conservatives bans on vaccine passports, critical race theory and masks in schools.
So why the boos? 
 
At the convention, which saw record attendance and a massive influx of first-timers, the ethos of the event was that the 2020 election was stolen, and it is up to Republicans to right that wrong and ensure it won't happen again.
Lawmakers received awards for pushing false claims of fraud and trying to overturn the election. Resolutions were passed censuring Secretary of State Brad Raffensperger, calling for draconian voting restrictions and demanding Georgia's Republican-picked voting system be scrapped in favor of hand-marked paper ballots — something that GOP lawmakers ridiculed Democrats for supporting just two years ago).
Kemp's defense of SB 202, the sweeping 98-page election law signed earlier this year, did little to quell the section of boo-birds in the back. 
"Let me also warn you and remind you that the left's 'cancel culture,' Major League Baseball, Stacey Abrams and Joe Biden have tried to continue to cancel and boycott our state," Kemp said. "They had been lying to you and the rest of the country about the Election Integrity Act, a bill that makes it easy to vote and hard to cheat, despite what anyone is telling you."
 
RELATED: What does Georgia's new voting law do?
The party ultimately avoided reprimanding Lt. Gov. Geoff Duncan, who is opting not to run for reelection after becoming a pariah for speaking out against Trump's election claims. But the most vitriol was directed towards Raffensperger — especially from his challengers.  
 
U.S. Rep. Jody Hice, backed by Trump and one of the loudest voices in spreading lies about the election, handed out "boot Brad" pins.
Former Alpharetta Mayor David Belle Isle presented a slick parody of "The Devil Went Down to Georgia," bashing Raffensperger and the Democratic Abrams. Most of the song's assertions are misleading at best and wrong at worst, but the message is clear: Raffensperger is not a real Republican because he did not overturn the election.
 
And then there's T.J. Hudson, the 17-year probate judge of Treutlen County who also served as the rural county's chief election official. His beef with the secretary of state isn't some alleged backroom deal with Abrams, but comes from a place of actually knowing how elections are run. 
He's angling to be chief election official because he said more training is needed for local elections officials and poll workers to better understand the new voting system — and to mitigate any claims that something nefarious happened if people don't like the results.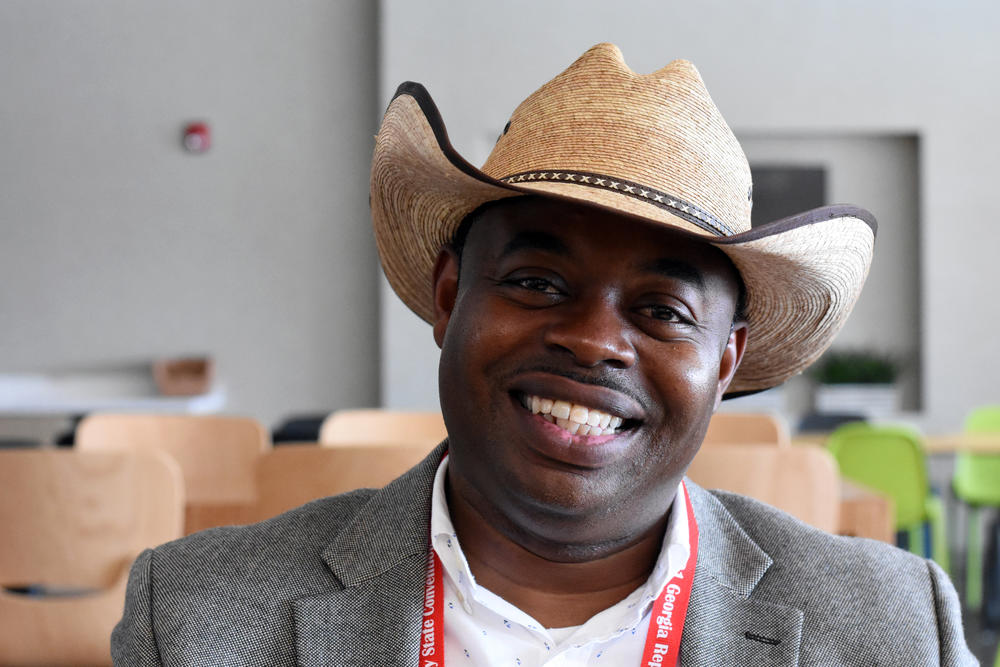 After the chaos of 2020, from a pandemic-delayed primary to the conspiracies about November, Hudson said Georgia needs someone with actual election experience at the helm.
"If you want a congressman, then you vote for that guy," Hudson said. "If you want a former mayor, you vote for that guy. If you want an engineer, you vote for that guy. If you want an election superintendent, you vote for me!"
There's a palpable anger among the grassroots in Georgia's GOP, and a misinformed belief that rampant fraud cost Trump a victory — despite five million votes being counted, hand-audited and recounted. 
In a video message from Trump, the former president touted "tremendous numbers" in the race he lost.
"We had some strange things happen, because I think we did better than anybody understands except the people in this room and the people, frankly, all over the country," he said.
The skepticism and conspiracy about Joe Biden's victory has paved the way for candidates such as Vernon Jones, a lifelong Democrat turned Trump supporter, to gain a foothold in the primary contest against Kemp and to energize the base around last year's election.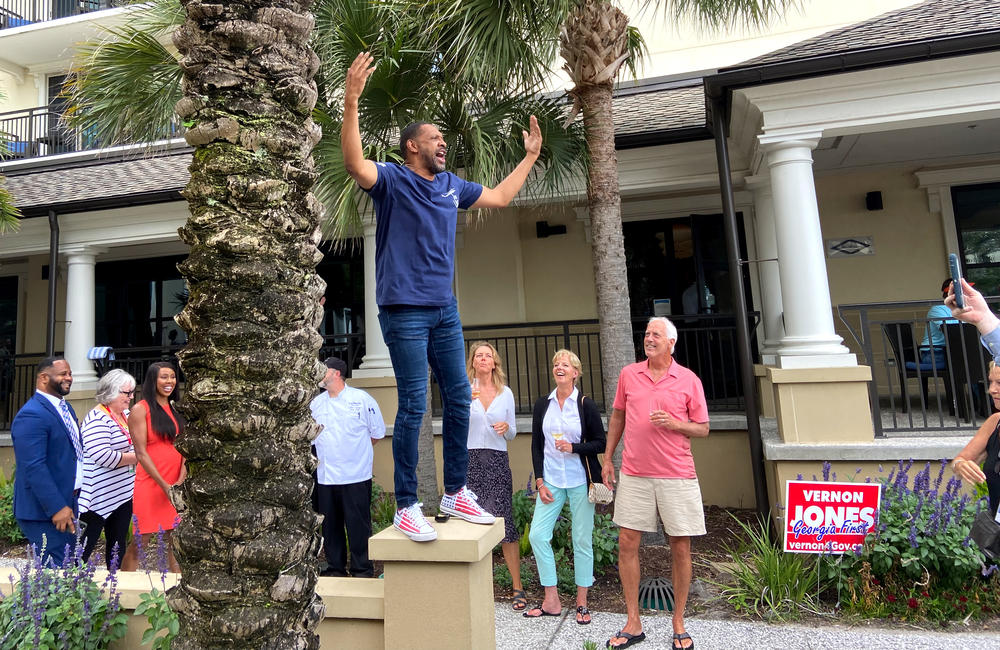 In the courtyard of the Westin on Jekyll Island, Jones emerged to cheers from a sizable crowd at his election kickoff event, strutting in to "Born in the U.S.A." before fist pumping on a retaining wall like a raucous spring breaker ready to tear up the town, wearing a shirt that said "Stomp my flag, I'll stomp your a**."
 
"When I look at what happened with this election integrity, and we got a governor who will not call for a forensic audit in all 159 counties, there's a damn dead cat on the line," Jones said to cheers. "Why won't he call for a special forensic audit if he said the elections were fine? Why did he sign a new bill if he said the election was fine?"
But the forensic audit that Jones and other Republicans want can't happen and doesn't exist in the election world. Voting experts say multiple safeguards are already in place to ensure there aren't counterfeit ballots, that only legal votes are counted and that any wrongdoing is caught.
While much of the convention was spent in the past, there are those who are thinking about the party's future — who see that the Georgia of today is much different than five or 10 years ago when the state was solidly red.
After the close of the convention, where chairman David Shafer was reelected to lead the party, Surrea Ivy sat surrounded by family and droves of supporters congratulating her after her unsuccessful challenge to Shafer in the chairman's race.
She gave a strong speech, and many delegates said she was clear-eyed about what would happen if changes are not made. 
"What the Republican Party needs to do is get on the bandwagon of beginning to go back to the people," she said. "We've got to start building relationships. We've got to foster the platforms that we proclaim."
Ivy, a Black conservative who was spurred to get more involved in the party after last year's election, said the party is at a crossroads, and changes need to be made to make sure the GOP's message isn't so narrowly tailored to certain demographics or ideologies.
"If the Republican Party doesn't read the handwriting on the wall, and if they don't begin to embrace what is reality, then we can find ourselves destroyed," she said. "If we don't take culture into consideration, we will die."
 
There are signs that unity could be around the corner after next spring's primary, but it will be a long year between now and then. Former Speaker of the House Newt Gingrich sent a video message to the convention firing up the crowd for the next election cycle, reminding them that there is a lot of work to do to be competitive with a surging Democratic Party.
"There'll be some fighting between here and there, but that's fine," he said. "Healthy parties can afford family arguments, but in the end, the whole family has to get back together. We have to go win."
Both party leaders and rank-and-file voters agree that the stakes in 2022 are too high to lose sight of their goals, with control of the U.S. House and Senate potentially running through Georgia once more, not to mention control of the governor's office and other statewide positions.
 
A lingering concern is that newly energized grassroots voters who support candidates that won't win the primary will stay home in November and cost Republicans key races, such as what happened in January's Senate runoffs, though the prospect of Gov. Stacey Abrams is probably enough to send chills down the spine of even the most anti-Kemp Republican.
Secondary Content
Bottom Content