Section Branding
Header Content
Longtime Democrat Vernon Jones Mounts GOP Primary Challenge To Gov. Brian Kemp
Primary Content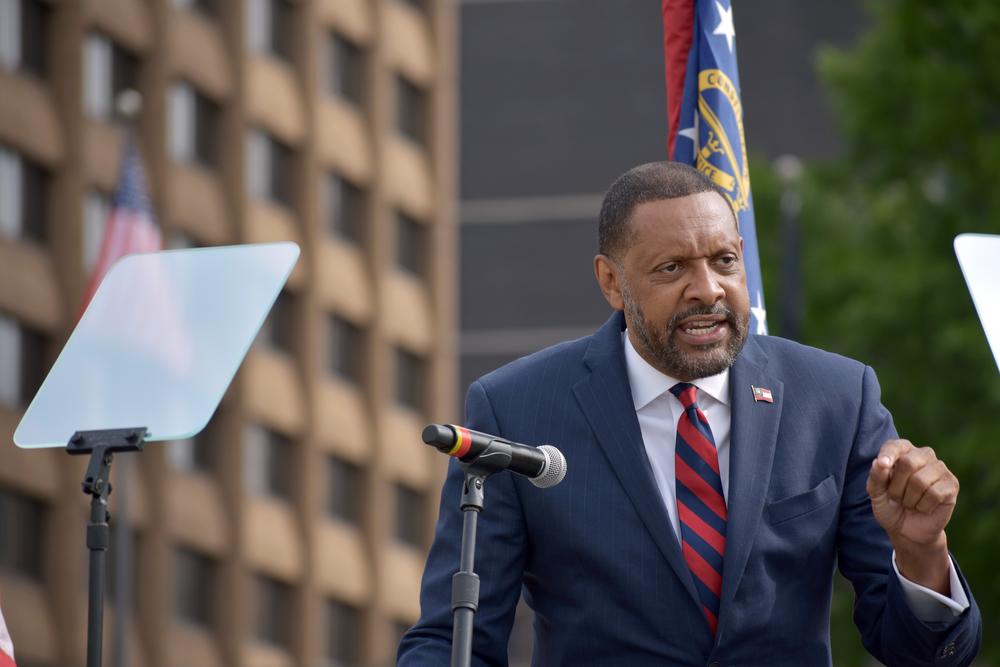 Spurned by Democrats and embraced by hard-core Trump Republicans, controversial former lawmaker Vernon Jones announced a bid to challenge incumbent Gov. Brian Kemp in the 2022 Republican gubernatorial primary Friday. 
Georgia's longtime status as a deep red anchor of the South unraveled in the 2020 election, with Democrats narrowly winning the state's 16 electoral votes and flipping both U.S. Senate seats — and control of the chamber — in January, and Jones is running on a platform channeling grassroots conservatives' disappointment (and conspiracies) stemming from Trump's loss.
"As a result of the governor's fear of Stacey Abrams and the left, he cost us two U.S. Senate seats and the president's reelection," he said. "As you know I have been battle-tested and proven. ... unfortunately, some of our current Republican leaders, including the governor, refuse to fight because the fear of Stacey Abrams.
 
A small handful of people showed up to Liberty Plaza outside the state Capitol on Friday to watch Jones' speech. Reading from a teleprompter and occasionally stumbling over his words, Jones pledged his campaign would focus on getting rid of the state's $107 million voting system (something the legislature and secretary of state's office are responsible for), promoting school choice and supporting law enforcement, decrying "Black Lives Matter antifa."
Jones has made few friends over his political career as CEO of DeKalb County, a state lawmaker and unsuccessful runs for DeKalb sheriff, U.S. House and U.S. Senate, but found a home with former President Trump, whose similar rhetoric and antagonistic media styles have garnered fans from some conservative grassroots voters.
Since resigning his state House seat and joining the Republican Party, Jones has been a fixture at Trump campaign rallies, including one in Macon where a maskless Jones was pictured crowdsurfing, and while Trump has not outwardly endorsed him, the two have met multiple times at the former president's Mar-a-Lago retreat.
But it will be an uphill battle. For one, Jones' lifelong record as a Democrat, including votes against Georgia's 2019 abortion legislation struck down by the courts, will pave a difficult path to convincing conservatives he shares their values — and Jones would not answer questions about those efforts after his speech. His tenure as DeKalb CEO was mired in controversy, too, including anger management classes and allegations of bid-rigging and sexual assault.
And while Kemp still remains in the bad graces of Trump because the governor refused to overturn the election for him, controversy and backlash from Republicans over business boycotts stemming from the state's new voting law has put Kemp's support back on firmer ground. Jones may seem like a long shot, but, as Kemp can attest, a Trump endorsement can go a long way in changing the winds of a primary. A 2018 tweet endorsing Kemp ahead of a runoff with then-Lt. Gov. Casey Cagle resulted in Kemp winning by a landslide. And Vernon Jones has been one of the main conspirators in spreading false claims of election fraud in Georgia and other states, something that a not-insignificant amount of Republican voters believe.
Jones said that his status as a Black Republican would prevent "the liberal media" and Democrats from being able to "play the race card" against him and that his stances would help him easily beat Stacey Abrams, the likely Democratic nominee who narrowly lost to Kemp in 2018.
"I joined the Grand Old Party not just to be a member, but to provide leadership," he said. "I've come home to the Grand Old Party bringing grand new ideas, grand new people and grand new opportunities."
Some Republicans are more skeptical that Jones' entry into the race will bring anything but grand new opportunities for already-surging Democrats, and while Kemp is the favorite to win the primary what Jones does — and how well he does — will be a litmus test for the Georgia GOP heading into a crucial 2022 election cycle.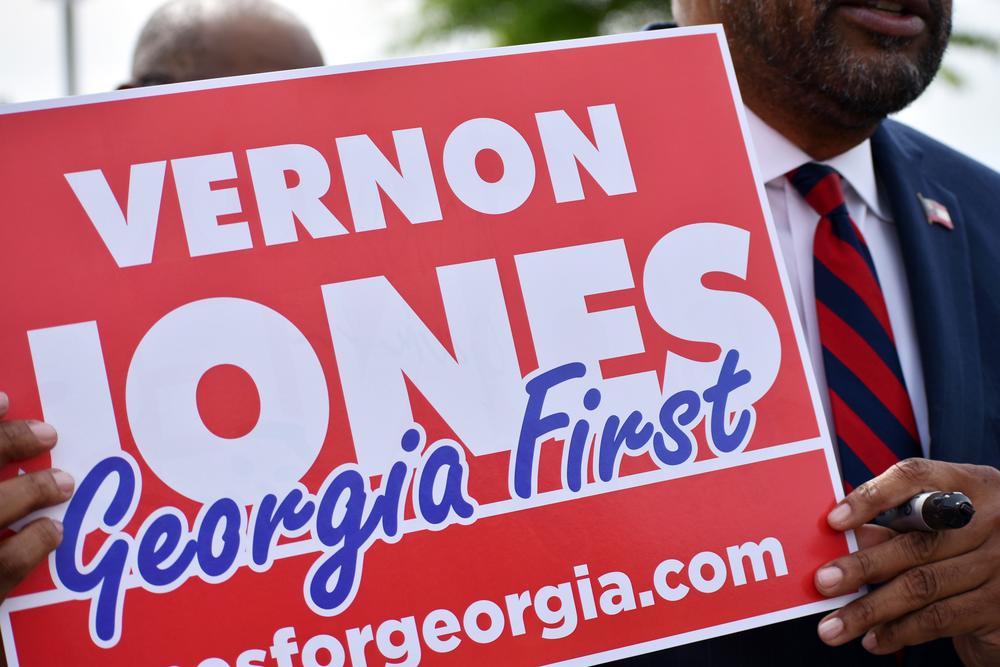 Secondary Content
Bottom Content