Section Branding
Header Content
Fulton County Fires Elections Director After Best (And Worst) 2020
Primary Content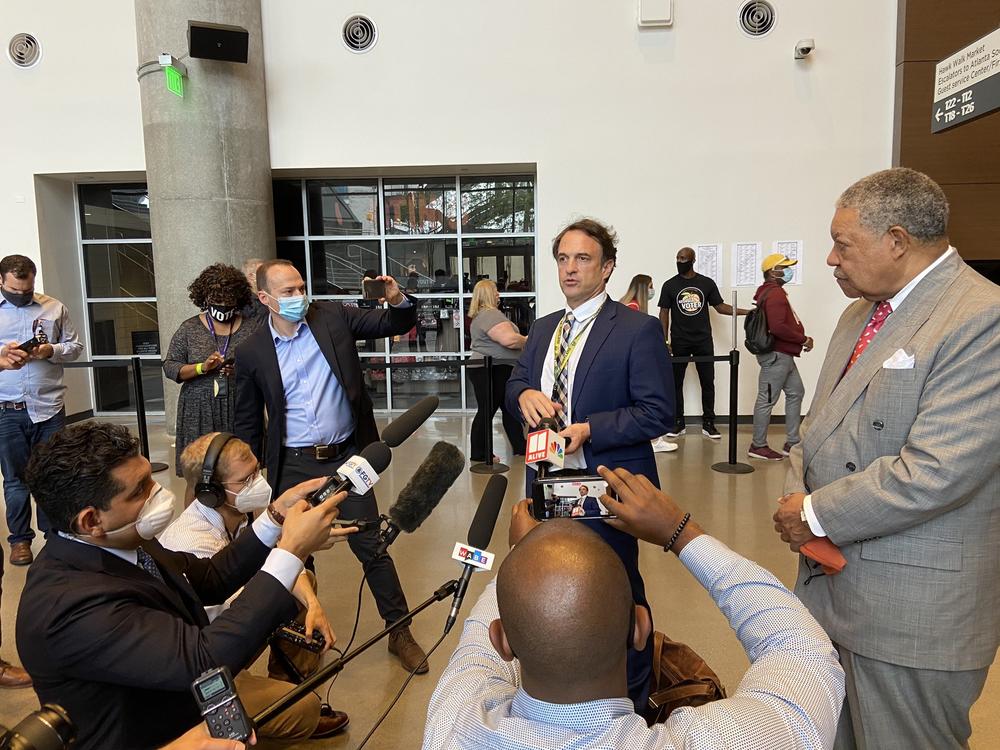 Fulton County's elections board voted 3-2 Tuesday to fire Elections Director Rick Barron, who oversaw both the much-maligned June primary and the November presidential election that saw record-setting early voting and few issues. Barron has served Georgia's most populous county since 2013.
The vote mirrors a 3-2 decision made during a closed-door session last Thursday, first reported by the Atlanta Journal-Constitution and possibly violating Georgia's open meetings law.
A spokeswoman for the county said the county attorney's office is currently reviewing whether the firing must be approved by the Board of Commissioners, since county code requires commissioners to ratify hiring decisions.
The two Republican-appointed board members, Mark Wingate and Kathleen Ruth, voted along with Democratic appointee Vernetta Nuriddin to axe the longtime voting chief, with board chair Mary Carole Cooney and Aaron Johnson, the other Democrat, voting against.
Ruth and Wingate did not sign on to the certification of Fulton's November election results, citing unspecified issues with absentee ballot processing.
During the public comment period, several employees spoke up in favor of Barron and a letter from the elections department was read aloud, noting Barron's work to conduct "fair and unbiased elections" through the difficulties of 2020.
"We ask that your decision be guided not by political party lines, candidate preferences or conspiracy theories," the letter read, asking instead that the board look at "the merits that fair and unbiased elections were conducted."
Nuriddin told the board that she did not want to dishonor Barron's contributions to the elections department, but said consistent issues with the county's handling of voting led her to call for his job.
"My decision was based on not 2020 — but 2017, 2018 and 2020," she said. "June was a nightmare, but we had so many issues every single election, even in November, and even in January."
The 2020 election cycle began with the statewide rollout of a new ballot-marking device voting system in time for a March presidential primary that was then delayed twice because of the coronavirus pandemic. Fulton and the rest of Georgia's 159 counties grappled with polling place closures and poll workers — primarily older and more at risk for the virus — backed out in droves.
While the secretary of state's office mailed all 6.9 million active voters an absentee application for the June 9 primary, county elections offices became overwhelmed with the number of applications and ballots being returned, which in turn contributed to longer lines on the day of the election.
Ten percent of the state's polling places stayed open past 8 p.m., and half of them were in majority-Black neighborhoods. More than 16,000 voters were assigned to Park Tavern in midtown Atlanta, and over 2,300 of them showed up to vote, including 300 before polls even opened. In Union City, the last voter at the Christian City Welcome Center did not cast their ballot until nearly 1 a.m. the next morning.
In the weeks following the June primary, Barron and other Fulton officials worked to improve the voting process while also running an August runoff, a September special election to replace the late Rep. John Lewis and prepare for the hotly contested November election.
The county added 50% more Election Day polling places, launched an unprecedented partnership with State Farm Arena to host a mega-sized early voting site, purchased two mobile voting buses to ease congestion for in-person early voting and pushed for 80% of its ballots to come in before Nov. 3 — a goal it reached.
For the presidential election, there were few problems and short lines throughout the day, and the January runoff saw similar success.
But dangerous conspiracies about Fulton County's ballot-counting sprung up in the days after Joe Biden narrowly defeated Donald Trump in Georgia, as Republican officials and right-wing media spread baseless allegations of absentee ballot fraud.
Election workers were threatened, misleading videos were posted and Fulton's Election Day successes were quickly drowned out by nationwide outrage from supporters of Trump who wrongly felt the election was stolen. While the Fulton County District Attorney is opening an investigation into attempts to influence the outcome of the election, state and local investigations have found no wrongdoing with how Barron and his election workers conducted the November presidential contest.
Secondary Content
Bottom Content