Section Branding
Header Content
Georgia Democrats Fall Far Short of Goal to Take State House
Primary Content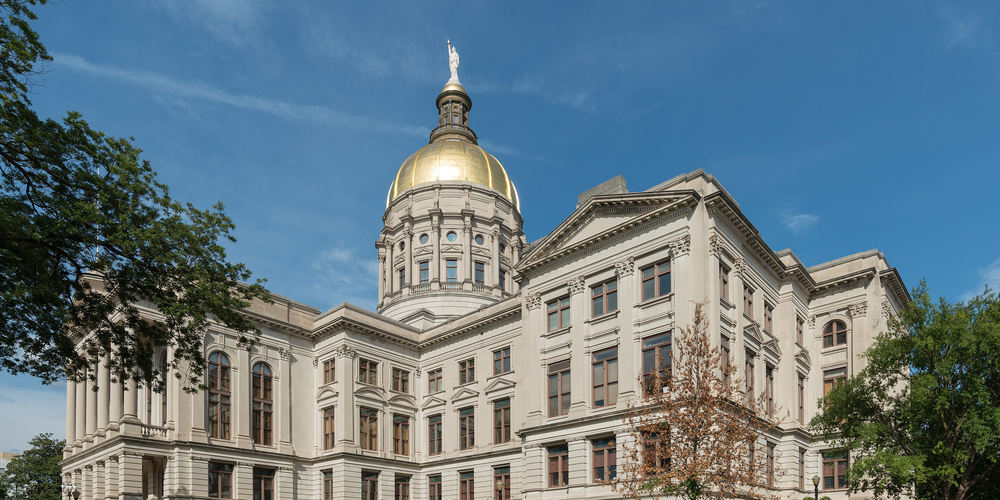 Democratic efforts to overturn Republican control of Georgia's state House fell far short of the goal in the Nov. 3 elections. 
Although votes are still being counted and have yet to be certified, it appears Democrats will pick up just one or two of the 16 seats they needed in order to gain a majority in the 180 member House.  
The shortcoming is especially stinging for Democrats, coming ahead of next year's redistricting process in which the General Assembly will redraw the state's legislative and congressional district boundaries. Without a majority in either chamber of the Assembly, Democrats will have little influence over a process that will help determine the direction of state government for years to come. 
The continued minority role also means Democrats will be unlikely to make headway on issues such as expansion of Medicaid benefits or reform of GOP-preferred tax policy.  
Democrats also suffered a significant defeat of their own in the election. House Minority Leader Bob Trammell of Luthersville fell to Republican challenger David Jenkins, losing by about 3% of the vote.  
Trammell, one of the few House Democrats representing a rural district, was targeted by the Washington, D.C.-based Republican State Leadership Committee, which pledged to spend more than $1 million to oust the top House Democrat. In the last days of the campaign alone, the group spent more than $100,000 on ads in support of Jenkins.
Democrat-allied groups poured money into the effort to flip the House. Georgia Onward, a Political Action Committee formed in August to support Democratic House candidates, identified 20 presumably vulnerable Republican seats, mostly surrounding metro Atlanta in Cobb, north Fulton and Gwinnett counties. Voting rights organization Fair Fight and the National Democratic Redistricting Committee also donated to many of the Democratic hopefuls.
The Georgia WIN List, a political organization that backs female Democratic candidates, contributed to all three of the challengers who appear to have flipped Republican-held seats.
In Gwinnett County, political newcomer Rebecca Mitchell, an epidemiologist, defeated Republican House Ways and Means Chairman Brett Harrell by a wide margin. Mitchell received the maximum allowable contribution from the Georgia Onward PAC. She also received endorsements from former Vice President Joe Biden and Senator Kamala Harris as well as former Georgia gubernatorial candidate Stacey Abrams. 
Harrell, who had previously faced no Democratic challenges since 2010, conceded the race in a Wednesday morning tweet.
In a rematch from 2018, Democrat Regina Lewis-Ward, defeated four-term Republican incumbent Dale Rutledge of McDonough by more than three percentage points. In the previous contest, Lewis-Ward lost to Rutledge by three percentage points. 
Lewis-Ward declared victory in a Wednesday night tweet, although Rutledge has not publicly conceded. 
In another rematch, Democrat Shea Roberts leads Republican incumbent Deborah Silcox of Sandy Springs by a few hundred votes, making the race too close to call. Candidates can request a recount if the vote differential is less than 0.5%.
Silcox, who chairs the House MARTOC committee, was first elected in 2016, facing no Democratic opposition. Roberts, an attorney, lost the previous race to Silcox by almost five percentage points.
If the margins hold in these three races, Democrats will pick up a net total of two seats in the state House.
In 2018, after Democrats gained 11 seats in the state House as part of a national "blue wave," some strategists envisioned the party taking control of the chamber this year for the first time since 2004.
Voters had other ideas. 
Dan Franklin, who recently retired as a political science professor at Georgia State University, said he believes this year's presidential race spurred greater Republican turnout than in 2018, undercutting Democrats' hopes.
"Democrats were much more energized than Republicans without Trump at the top of the ticket [in 2018]," Franklin said. "But this election there was huge turnout and as it happens, because Trump was on the ticket he energized his base so that Democrats couldn't pick off the seats needed for a majority."
Several of the House Republicans seen as vulnerable by Georgia Onward and other groups held off their Democratic challengers by small margins.
Rep. Sharon Cooper of Marietta, a 12-term incumbent and chair of the powerful House Health and Human Services committee, fended off a repeat challenge from Democrat Luisa Wakeman, winning by about 1.5% of the vote.  Wakeman, a flight attendant and nurse, lost to Cooper by three points in 2018. 
In another Cobb County race, Rep. Ed Setzler, author of the controversial "heartbeat" bill that, with few exceptions, restricts abortions after a fetal heatbeat is detected, was challenged by 24-year-old high-school educator Kyle Rinaudo. As of Friday morning, Setzler was ahead of Rinaudo by less than a percentage point. 
In Fulton County, Rep. Charles Martin, chair of the House Higher Education Committee, easily defeated Democrat Jason Hayes, a physician from Alpharetta. Martin previously warded off a Democratic opponent in 2018, winning by eight percentage points. 
And in Gwinnett County, Rep. Chuck Efstration, a Republican who chairs the House Judiciary Non-Civil Committee, beat political newcomer Nakita Hemingway by less than three percentage points. 
Democrats also failed to capture an open seat in House District 110, which covers Butts, Henry and Newton counties. There, Republican Clint Crowe, a realtor, defeated Democrat Ebony Carter, a recent college graduate, by nearly 12 percentage points. The seat was left vacant by the resignation of Republican Andrew Welsh, chair of the House Appropriations Subcommittee on Public Safety.
Doug Shipman, a founder of Georgia Onward, said that while the number of close races was disappointing, the apparent net gain in seats is a reason for Democrats to be optimistic.
"We wanted to see as many of these candidates win as possible, and ultimately flip the legislature, but again this is still part of the same trend, each cycle we're seeing Democrats win more and more," Shipman said. 
Republicans also put up challengers to seats held by Democrats.
In Fulton County, Rep. Mary Robichaux, a first-term Democrat, held off an effort by Betty Price, wife of former U.S. Rep Tom Price, to return to the state House.  Robichaux defeated Price by more than 4 percentage points. 
In Gwinnett County, first-term Democrat Gregg Kinnard defeated Repubican Soo Hong, an attorney, winning by less than 3% of the vote. 
And in north Fulton County, Rep. Angelika Kausche, a first-term Democrat, easily defeated Republican challenger Jay Lin, a former Johns Creek city council member. Kausche won the seat in an open race in 2018, after Brad Raffensperger stepped down to run for Secretary of State.
On the Senate side of the General Assembly, Tuesday's election produced little movement, with only Republican incumbent P.K. Martin of Gwinnett conceding defeat to Democrat Nikki Merritt.  Prior to the election, Republicans held a 35-21 majority in the upper chamber.
Although the effort to flip control of the state House fell short this year, Shipman of Georgia Onward remains optimistic about the future of Democratic politics in the state. 
"In 2022, I think you're gonna see even more efforts across the state to elect Democrats," Shipman said. "I think that's just part of the trend with voters. I think you see that Georgia now is very much a purple state."
Secondary Content
Bottom Content