Section Branding
Header Content
GA Today: Rayshard Brooks case, absentee voting, U.S. Senate race
Primary Content

You've arrived at the online edition of the Aug. 23 Georgia Today newsletter, a twice-weekly publication featuring original stories from GPB News reporters and the latest headlines from around the state.
Prefer to receive the news fresh to your inbox so you don't miss any important headlines? 
Sign up here to receive the newsletter on Tuesdays and Thursdays.
Now, the news:
Absentee voting in Georgia has begun. Here's what you need to know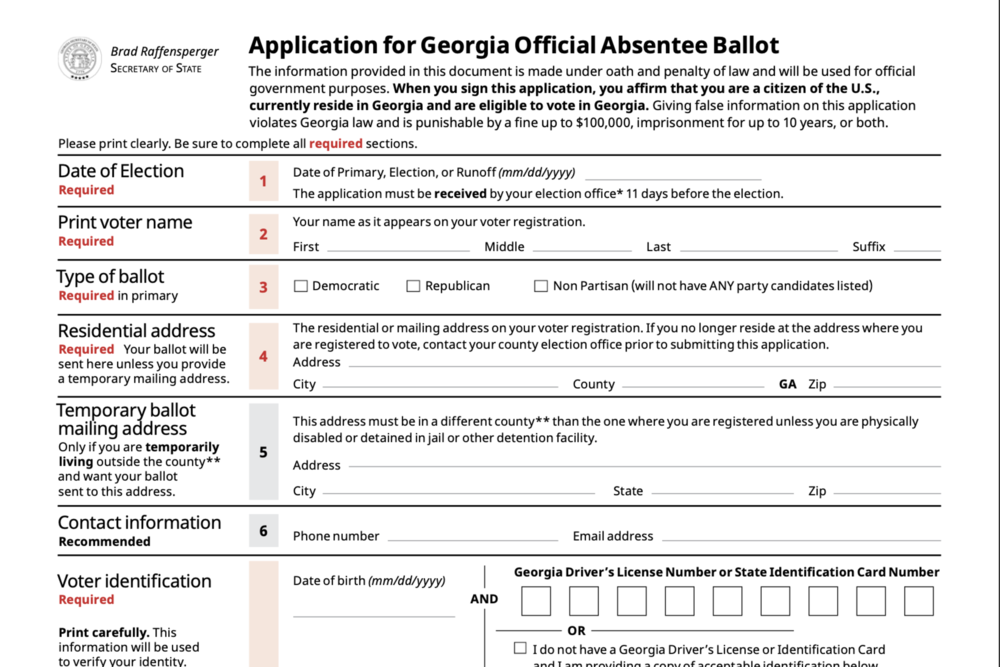 Yesterday was the first day you could request an absentee ballot for the Nov. 8 election.
GPB's Stephen Fowler reported on what you need to know to apply in the wake of changes to voting laws.
Getting an absentee ballot will look a little different this year, starting with the application.
You must include your voter identification information this time: that means the number on your driver's license or free state ID.
Also included are lines for your email and phone number so your local officials can contact you with any questions.
Once your application is accepted, be patient! Ballots won't start being mailed out to you until Monday, Oct. 10. But act sooner than later: The last day you can request a ballot is Oct. 28, and it must be received by the elections office before polls close at 7 p.m. on Election Day.
Political headlines
U.S. Senate races look like a jump ball. Georgia will help decide the majority
Georgia's U.S. Senate race is one of the most competitive in the country. 
Four months ago, NPR Political Editor Domenico Montanaro assessed Georgia's U.S. Senate seat, occupied by Democrat Raphael Warnock, to be the second most-likely to flip this November, and on this week's list of the 10 seats across the country that will decide the majority, Georgia remains in the No. 2 slot.
"U.S. Senate Minority Leader Mitch McConnell noted last week that 'candidate quality' could hamper Republicans' ability to win the chamber," Montanaro wrote, "giving Democrats hope of retaining the 50-50 Senate... But inflation remains the top concern for many voters, especially independents, and Biden continues to be unpopular — though many Democratic candidates are outperforming his approval."
Meanwhile in Georgia, U.S. Senate candidate Herschel Walker has declined an invitation to debate Warnock in Macon.
During an appearance in Wrightsville on Friday, Walker said he has no plans to attend the Oct. 13 debate, reports Macon station WMAZ.
Warnock accepted the invitation to participate about a month ago. Walker's campaign had not responded to the invitation since it was sent in June.
Walker has accepted a debate invitation on Oct. 14 in Savannah. The debate is hosted by the Nexstar Media Group and other television stations. 
What monkeypox outbreak? Little planning by colleges as students resume class
College students are heading back to campus following more than two years of a pandemic that led many schools to empty out for full semesters and later move to hybrid schedules to curb the spread of COVID-19.
But the attempt by colleges and universities to return to something resembling normal could be truncated by monkeypox, the viral disease that has steadily increased throughout the summer, challenging both the federal government and state and local public health officials. 
Higher education plans for dealing with monkeypox appear opaque or nonexistent. 
From 'whites only' to Georgia's biggest public beach: Tybee Island gets new historical marker
Today, Tybee is home to Georgia's largest public beach, drawing in people from all walks of life. But in the early 1960s, it was called Savannah Beach. And it wasn't really a public beach: It was "whites only."
From 1960 to 1963, hundreds of young African Americans braved the whites-only waters, in the 'Savannah Beach Wade-Ins,' an act of resistance against segregationist Jim Crow laws, reports GPB's Benjamin Payne.
Many were arrested, starting with the 11 students who participated in the inaugural wade-in on Aug. 17, 1960. Sixty-two years later to the day, the Georgia Historical Society unveiled a new historical marker at the base of the Tybee beach pier, meant to commemorate the waders.
"This is part of the civil rights trail," said Georgia State Rep. Edna Jackson, speaking in front of a large group of people assembled at the beach. "For we shall never forget what happened here on the seashores of Tybee Island."
How do Joro spiders affect the ecosystem? UGA researchers need your help
It's that time of year again, when residents of North Georgia start to notice Joro spiders in backyards, on mailboxes, between power lines, and just about anywhere else the invasive yellow and black spider can hang up its sticky golden web, reports GPB's Devon Zwald.
Brittany Barnes, a research professional in the Forest Entomology Lab at the University of Georgia, has been looking for and finding Joros since about April or May, when they're small.
Not much is known about the Joro in North America. They are native to East Asia and are thought to have arrived in the United States on a shipping container roughly eight or nine years ago.
Barnes and other researchers at UGA have been studying the Joro all summer to better understand how they may affect the larger environment. They're looking for answers to questions such as: Are Joros edging out native spiders? Do Joros have any predators? What are Joros eating? Barnes invites members of the community to help answer some of these questions.
Appling County fourth grader grows prize-winning 109-pound watermelon
Most farmers don't expect to grow watermelons that weigh as much or more than they do.
But Madelynn Murphy did just that earlier this month when the University of Georgia Cooperative Extension verified all 109.5 pounds of her entry in the 2022 Georgia 4-H Watermelon Growing Contest.
"Growing watermelons teaches basic plant science in a hands-on and fun way," said Appling County Agriculture and Natural Resources agent Shane Curry. "Pretty much every kid thinks it's neat to have a 100-pound watermelon in the backyard. We've been fortunate over the past few years to have a lot of kids that are really good at it, and they keep getting better.
Headlines around the state
The Atlanta Journal-Constitution:
Decaturish: 
Red and Black:
Secondary Content
Bottom Content