Section Branding
Header Content
Battleground: Ballot Box | How to vote absentee by mail in Georgia under SB 202
Primary Content
Georgia's voting laws have changed a lot since the 2020 election cycle, when Georgia voted for President Joe Biden and two Democratic U.S. senators.
One of the biggest differences can be found in the way you vote by mail. There's now a shorter window to request a ballot, new requirements to prove you're the one requesting and voting that ballot as well as changes to when you can use drop boxes to return it.
It can be a lot, and potentially confusing — but it doesn't have to be.
On this week's episode, we'll walk you through what you need to know to use a mail-in absentee ballot under Georgia's new voting law to make sure your vote counts.
CLICK HERE TO DOWNLOAD A GEORGIA ABSENTEE APPLICATION
No-excuse voting by mail has been an option for Georgia voters since 2005, but its popularity has grown over the past few years — and became a crucial part of the 2020 elections during the coronavirus pandemic.
In the November 2020 presidential election, a record 1.3 million Georgians used absentee-by-mail voting, overwhelming local elections offices and raising Republican skepticism of a voting method they created — and predominantly used — until Biden won the state.
Since then, lawmakers have passed a massive new voting law, SB 202. It changes a lot of things about election rules in Georgia — especially absentee by mail voting.
RELATED: What does Georgia's new voting law SB 202 do?
So what do you need to do now?
First, you have to actually request a mail-in ballot from your county elections office by filling out an application. That request form includes personal identification information, like the date of the election, your name, the party ballot you want for a partisan primary, date of birth, address where you are registered and the address to which you want the ballot to be mailed.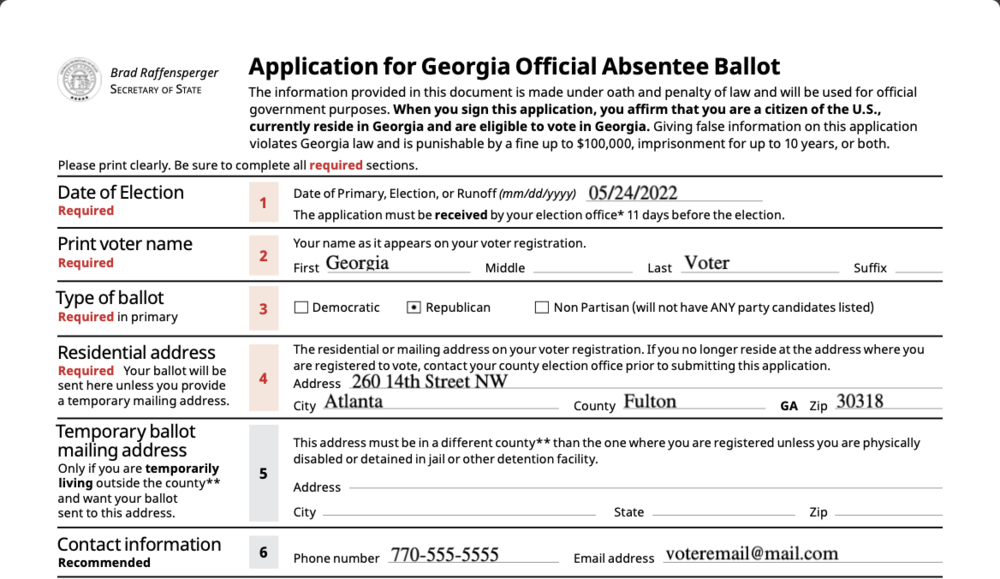 New this year, you must put your driver's license number or free state ID number. If you don't have one of those forms of ID, you must include a copy or photo of another ID.
That includes a passport, Georgia voter ID card, or other valid government photo ID. If you don't have or want to use one of those, you can also include official documents that show your name and address, such as a current utility bill, bank statement, paycheck, government check or other government document.
This is a hugely important change to note!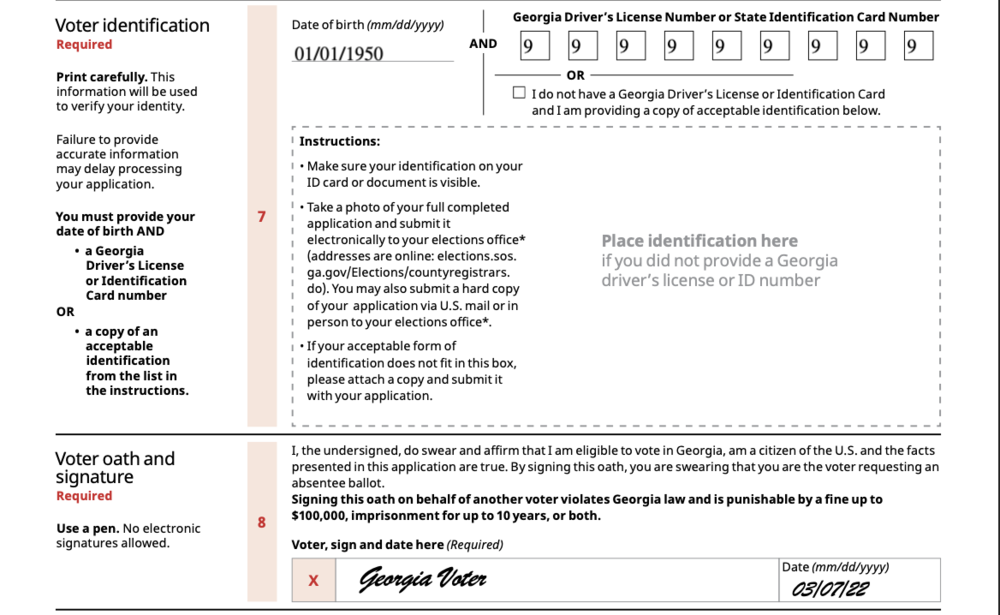 The application also has a space for your phone number and email address. This will help elections officials contact you if there are any issues with your application or ballot. And don't forget to sign and date your application!
The window of time to request your absentee ballot using an application has also changed under SB 202. Requests can only be made starting 78 days before an election — that's 11 weeks. And it won't come immediately.
For the May 24 primary, that window began Monday, March 7. For the Nov. 8 general election, that window begins Monday, August 22.
The last day you can request an absentee ballot is 11 days before Election Day, or two Fridays before. For the 2022 primary, that's May 13. For the November election, that's Oct. 28.
Most voters will have to request an absentee ballot for each election, but there are exceptions. If you are 65 or older, have a physical disability, are an active member of the military or are a spouse or child of an active service member or live overseas, you can check a box to receive an absentee ballot automatically for the rest of the election cycle. 

Once you've completed the application request, you can return it by mail, fax, attach it to an email or drop it off in person to your local elections office.
Local elections officials will verify your application by comparing the name, date of birth and voter ID on the application with what is in your voter registration file. This is a change from before, when your county office would try to match your signature on the application to a signature on file. Lawmakers said this new way will be a less subjective way to check the legitimacy of your request.
The ballots will be mailed starting 29 days before the 2022 primary (Monday, April 25) and general elections (Monday, October 10). For runoffs, now held four weeks after the regular election, ballots will be sent as soon as possible.
When you get your ballot, make sure you fill in the ovals of your choice as fully and clearly as possible. Don't use a circle, underline, check mark, "x" or anything other than filling in the oval completely, so the scanner can read your votes without having to send it to a human team to verify your choices.
And the other important deadline to consider — when to return it. Your ballot must be received by your county elections office by 7 p.m. on Election Day. There are several ways to return your ballots: by mail with the included envelope, hand-delivered to your county elections office or in drop boxes.
Drop boxes were introduced in 2020 by emergency rule during the pandemic, but the new state law makes some changes. Now, all 159 counties must have at least one.
However, there's a cap on the number of boxes: no more than one per 100,000 active voters or one for every early voting site, whichever is smaller. And drop boxes can only be placed inside early voting sites and accessed during early voting hours instead of 24/7.
Your local elections office can give you information on drop box locations, early voting sites and hours, which differ from county to county.
Don't forget, if you return your absentee ballot in the mail, leave enough time to ensure the ballot arrives to your county elections office by 7 p.m. on Election Day. 
When you return your absentee ballot, remember to sign the envelope, include your date of birth and other voter identification information it asks for, like your driver's license number or last four digits of your social security number.
And don't worry: The envelope is designed so your sensitive personal information will be hidden once it is sealed.
Just as in the application process, your local elections officials will verify your ID on the ballot envelope with what is on file. If it matches, your ballot is accepted. 
If there is an issue, like a missing or incorrect ID number, your county will contact you and provide a way to fix the problem and make sure your vote is counted. 
By the way, you don't have to just blindly trust that your ballot made it on time and is counted: You can check the status of your ballot, find your polling place and contact info for your county elections office and more on the state's My Voter Page: That's at mvp.sos.ga.gov.
Now that we've covered the basics, there are some other changes worth noting. 
State and local governments cannot send out unsolicited absentee applications to voters. Third-party groups can still send you an application — but they've gotta put in big letters that it is "NOT an official government publication, that it is "NOT a ballot" and tell voters who is sending the blank request.
It's also important to note if you think you've received multiple ballots in the mail, it's probably just an application for a ballot — and this rule change should help you spot the difference.
Ballots will now be on special security paper, and will include your precinct name along with your precinct ID.
Military and overseas voters will now have an additional set of absentee ballots mailed to them with their regular ballots — ranked choice instant-runoff ballots. On these ballots, voters can rank their choices for certain races in the event they head to a runoff, and send them back with their primary or general election ballots.
MORE: Georgia Secretary of State's guide to absentee voting
Remember, all of this is new to most Georgia voters. So if it has your head spinning, lets go over the basics.
The key points to remember are:
Request and return your ballots sooner than later;
Make sure to include your voter identification information;
Fully fill in the ovals of your choices so the scanner reads your vote with no issue; and
Track the progress of your ballot and other important voting information online at the state's My Voter Page — mvp.sos.ga.gov
And if you have any questions about voting, voting by mail or changes to election law after 2020, feel free to reach out. I'm on Twitter at @stphnfwlr and my email is sfowler@gpb.org.
Battleground: Ballot Box from Georgia Public Broadcasting is produced by Stephen Fowler, our editor is Josephine Bennett. Our engineer is Jesse Nighswonger, who also wrote our theme music. You can subscribe to the show on Apple Podcasts or anywhere you get podcasts. Thanks for listening.
Secondary Content
Bottom Content