Section Branding
Header Content
Battleground: Ballot Box | The primary paradox of David Perdue's run for governor
Primary Content
One of the biggest races on the ballot this November will decide who leads the state of Georgia for the next four years. From the moment Republican Gov. Brian Kemp narrowly defeated Democrat Stacey Abrams in 2018, a rematch has seemed inevitable.
That is, until Donald Trump lost Georgia in 2020 and decided Kemp had to go. 
Consider last fall's rally in Perry, where the former president openly mused that a Democrat would be better than a Republican that fell on his bad side for not overturning the election.
"Stacey, would you like to take his place? It's OK with me," Trump said to jeers. "Of course having her, I think, might be better than having your existing governor, if you want to know what I think. Might very well be better."
RELATED: Battleground: Ballot Box | Why the Georgia's governor race is so chaotic
After many names were floated as and much waiting, Trump's desired candidate arrived in the form of David Perdue, freshly ousted from the U.S. Senate by young upstart Sen. Jon Ossoff. Staring straight to the camera, Perdue launches his run for governor by driving a wedge further into Republican party politics in the Peach State while offering that he alone can be the one to mend the breaks.
"I'm David Perdue. I'm running for governor to make sure Stacey Abrams is never governor of Georgia," he said. "Unfortunately today, we are divided and Brian Kemp and Brad Raffensperger are to blame."
So how did we get such a high-profile clash? Are conservative primary voters hungry for another option as governor? And what is the pitch?
On this week's episode, we take a closer look at Perdue's campaign for governor by following him on the trail across four stops.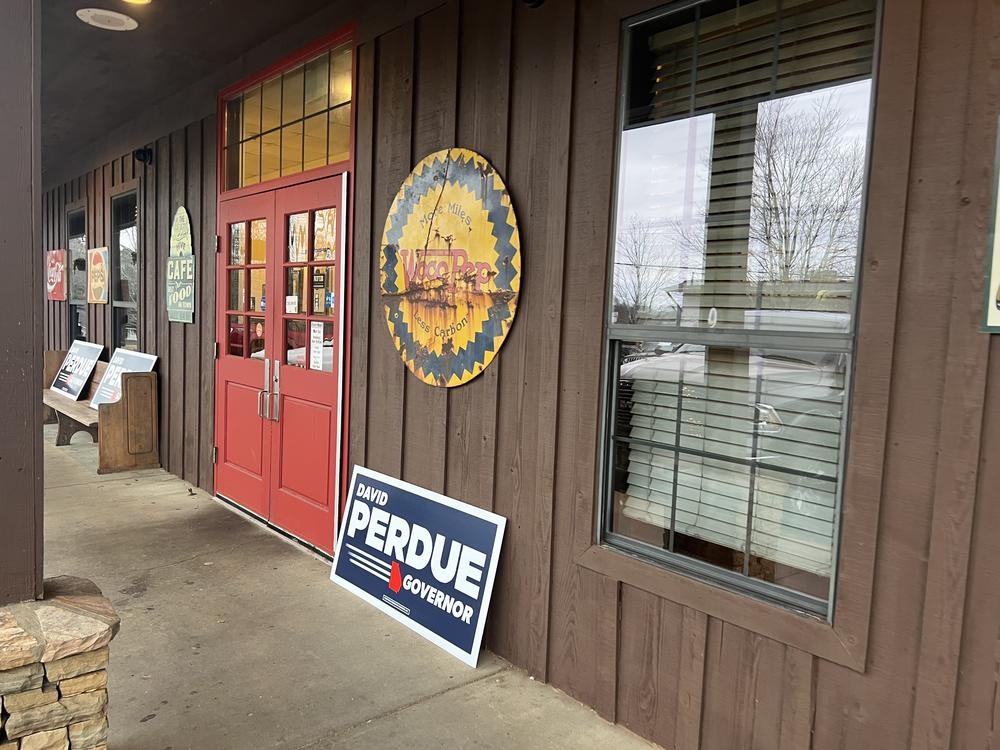 It's a Wednesday morning in Gainesville, and the line wraps is wrapped around the drive-thru at Longstreet Cafe.
Inside, while diners are being served breakfast, David Perdue is serving up a Donald Trump endorsement video, part of a stump speech for why voters should help him unseat a popular conservative incumbent governor in the 2022 primary.
"A message from President Donald Trump: David Perdue is a great leader and a wonderful guy. He has my complete and total endorsement. Brian Kemp has to be defeated in the Republican primary and we have somebody who's outstanding and will easily beat Lying Stacey Abrams. She is a disaster for Georgia. She's a disaster for our country. David Perdue must win for the good of the USA. David Perdue is going to win the general election big and I mean, very big. The people of Georgia love David Perdue. He's produced for the farmers. He's produced for the manufacturers. He's been producing all of his life. So go out and vote for David Perdue. He's going to win. He's going to lead you to many victories. We cannot let Stacey Abrams win. Vote for David Perdue."
Perdue would probably rather be in Washington right now, but he's happy to see friendly faces, both old and new. He lost his bid to stay in the U.S. Senate in January 2021 to now-Sen. Jon Ossoff after barely missing an outright win in November 2020.
One of the main reasons for his defeat: A large number of Trump-supporting conservatives skipped the runoff, thanks in part to Trump and other Republicans promoting false claims that the election was rigged.
Herein lies the Perdue paradox. He's running to try to capture the voters who stayed home by validating their feelings about the election, while also somehow convincing them that this time, it's different. 
"I'm running for one reason," Perdue said, wearing a casual vest and jeans. "I made the decision that I don't believe our governor can beat Stacey Abrams, and here's why: to win in Georgia, you've got to get normal Republicans, you've got to win the people in the suburbs, new people moving into Georgia and you've got to win the Trump vote. I just don't think he's going to get the votes."
But Georgia's 2020 election was not "stolen" or "rigged." Unprecedented turnout, coupled with shifting voter behavior because of the coronavirus pandemic and two uniquely unpopular candidates led to razor-thin margins. New rules and procedures led to some turmoil and isolated problems on Election Day and afterwards, but there's no evidence of widespread fraud, and not in a manner that could've changed the outcome of the election.
At his campaign tour kickoff the day before in Alpharetta, Perdue outlined his main policy platforms, which include eliminating the state's income tax, tackling crime and an eye-raising proposal for elections.
"I think it's high time that we take care of voting integrity in the state," he said. "We've had laws forever, I don't believe they've ever been enforced before, so what we're proposing is an election law enforcement division."
Perdue also says there should be outside audits of statewide elections, beyond the risk-limiting audit that was recently signed into law.
He's adopted Trump-like rhetoric about elections, too, frequently highlighting that "over my dead body" will he allow Democrats to be in charge.
Perdue is betting that Trump's displeasure with Kemp's refusal to overturn the 2020 election and the looming threat of Democrats flipping statewide elections is enough to propel him past a lifelong conservative that, by many measures, is one of the most successful Republican governors in the country.
Following along with Perdue on the campaign trail, it's clear he might be on to something.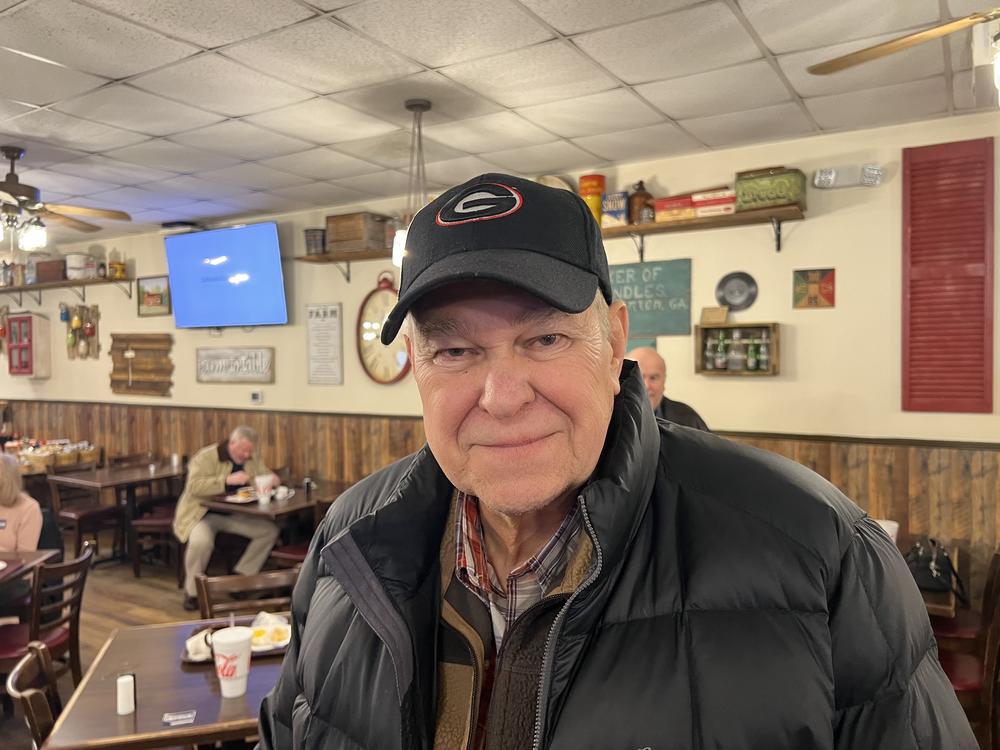 At the diner in Gainesville, Lanier Griffith just happened to be there for breakfast, but said he definitely liked what Perdue had to say.
"Well, I think he's a down-to-earth guy," he said. "He's for the people and certainly wants to keep the government out of a lot of things that Stacey Abrams wants to try to undo. And so I think he wants to make sure that the voting is positive and that there's not any corruption there."
Sure, Kemp kept Georgia's economy going, limited pandemic restrictions and offered other victories, Griffith said, but on the major topic of the 2020 election?
"I still think that he fell down when he had an opportunity to go in and take over the voting machines and count and do whatever, but he didn't do it you know?"
And, Lanier Griffith said, Trump's endorsement would help definitely help Perdue.
"Together with Trump's endorsement, we could pull everybody together in the Republican Party and get everybody to vote in November," Perdue said. "And that's the reason I got into this race. I could not stand by and watch this train wreck happen."
As he wrapped up his visit in Gainesville, Perdue painted the stakes of the election as higher than any in recent history — and that's something supporters and opponents would likely agree on.
"Now I will tell you this, this election is bigger than me, and it's bigger than Brian, even bigger than Stacey," he said. "It's about the future of our state and our country. I need you to vote. The main thing we've got to do here in Hall County is get everybody out to vote. I'll live with the consequences."
A couple hours later, at the Covington Municipal Airport, a larger group of Perdue supporters milled around as Glenn Ozburn warmed everyone up by pointing out it was Groundhog Day.
"Well, speaking of rodents, they're talking about Punxsutawney Phil, they came out and said six more weeks of winter, and then all of a sudden they followed that up," he said. "Another rodent came out: Brian Kemp came out of the governor's mansion, and you know what? He saw David Perdue's shadow. He ran back into the governor's mansion and told his wife, 'Hey, we got to pack it up because we only have six more weeks in this governor's mansion.'"
Ozburn, and others present at the campaign stop, said Perdue offers up an alternative to Kemp.
"And I want to tell you what, there's a lot of people that aren't happy with what Brian Kemp's doing," Ozburn said. "And you can go ask Morgan County, for instance. It looks great on the media about the Rivian and other facilities coming in to Morgan County. But you go talk to the people that live down there and they're not completely happy. They want an option. They want an alternative. And David Perdue offers that."
After an introduction, Perdue played the Trump video for a second time, launched into his familiar stump speech and afterward worked the room. 
There's someone opposed to the Rivian deal, the proposed mega electric vehicle factory that is set to bring billions of dollars and thousands of jobs to a sleepy rural community. There's someone who didn't like Kemp's picks for wide-ranging boards, judgeships and other appointments. And of course, there are those who don't like him because of the election.
Later that afternoon in Greensboro, Raquel Torres opened up her Mexican restaurant for a campaign event, excited about Perdue's experience as a U.S. senator and support for small businesses.
"He is a great person," she said. "He can do a lot of stuff for us, for all the small business owners." 
People like Brian Burdette, who introduced Perdue, acknowledge this is an unprecedented time in Republican politics, to have a prominent challenger to an incumbent governor. He also said the party needs someone like Perdue, who practices what he preaches.
"I think Brian has let a lot of folks down," he said. "As I said in my intro, he's not governing the way that he campaigned four years ago, and I've been doing this for 30 years in this, in this state and and here locally. And, you know, I know what I'm talking about. I've seen it in the past. Unfortunately, folks get in office and they don't govern the way they campaign, and that's it. Nothing personal."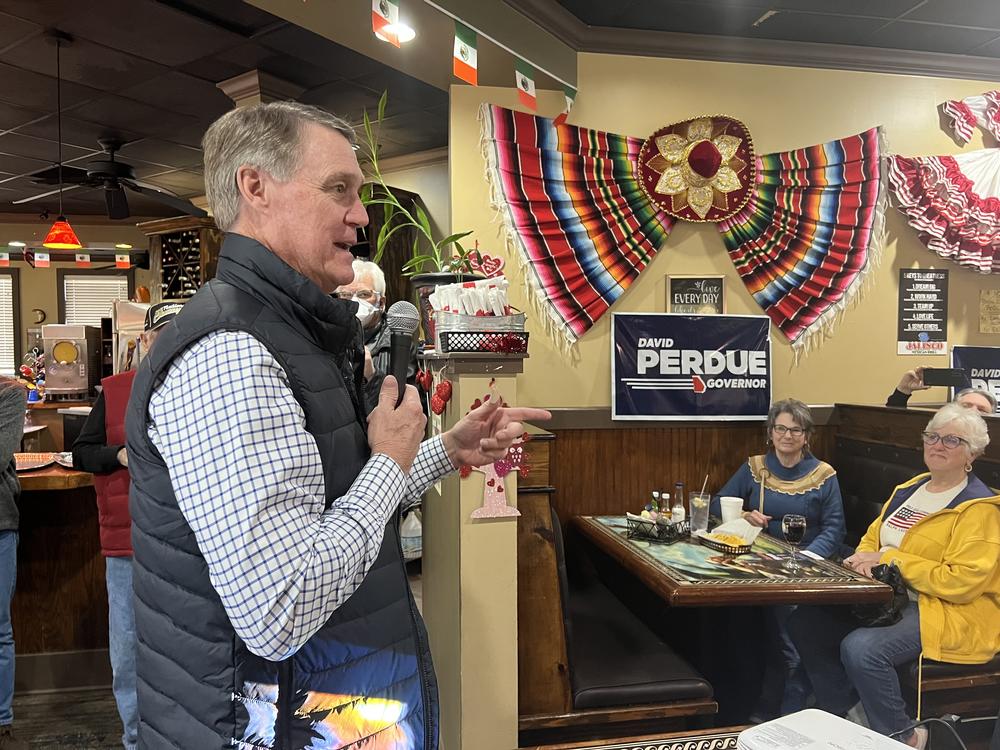 As some in the crowd eat queso and chat amongst themselves, there's some technical difficulties playing Trump's video at this third stop of the day, but Perdue takes it in stride.
"Oh, I'm sorry you missed that," he quipped, segueing into a story about Trump and the video. "We worked hard to get him and he did such a fabulous job. We went down there and we did this big speech for him, a script, and he was supposed to read it off a teleprompter, and he got about halfway through the first take and he said — I won't tell you what he said — but he said, 'I'm not doing that.' And he threw the script away and he talked for 20 minutes and we cut some parts of this and it created an audio introduction."
On the 2020 campaign trail, Perdue was knocked for keeping a relatively closed off schedule. He skipped the Atlanta Press Club debates with Jon Ossoff, and had to quarantine because of COVID exposure in the final days of his runoff campaign.
But this time, it's a little different. Events are publicized, press releases are proactive and it seems like Perdue wants to win this race just as much as Trump wants Kemp to lose.
"Here's my goal: I want a Republican back in the White House, y'all, to stop this madness right now," he said to cheers. "To do that, we have to win this governor's seat. You will not convince me in any way, shape or form that if Stacey Abrams wins in November that a Republican will win the presidency in '24."
And while Kemp is projected to win the GOP primary, Perdue's path got a little easier this week. Vernon Jones, the Trump-supporting Democrat turned Republican, announced he is leaving the governor's race to run for Congress. He threw his support behind Perdue in the governor's race. 
Because, at the end of the day, whether it's Perdue or Kemp that wins the primary, both hope Republicans can quickly move past the knock-down, drag-out fight and unite to win in November against Abrams.
"My commitment to you is, I'm going to do everything I can to make darn sure Stacey Abrams is never governor of the state of Georgia," he said at the last stop of the day.
Battleground: Ballot Box is a production of Georgia Public Broadcasting. Our producer is Jess Mador, our editor is Wayne Drash. Our engineer is Jesse Nighswonger, who also wrote our theme music. You can subscribe to the show on Apple Podcasts or anywhere you get podcasts. Thanks for listening.
Secondary Content
Bottom Content