Section Branding
Header Content
Vernon Jones Rides Pro-Trump Wave Into Primary Challenge Of Gov. Brian Kemp
Primary Content
Democrat-turned-Republican gubernatorial candidate Vernon Jones held a fundraiser on Lake Lanier with country star Travis Tritt. GPB's Stephen Fowler reports.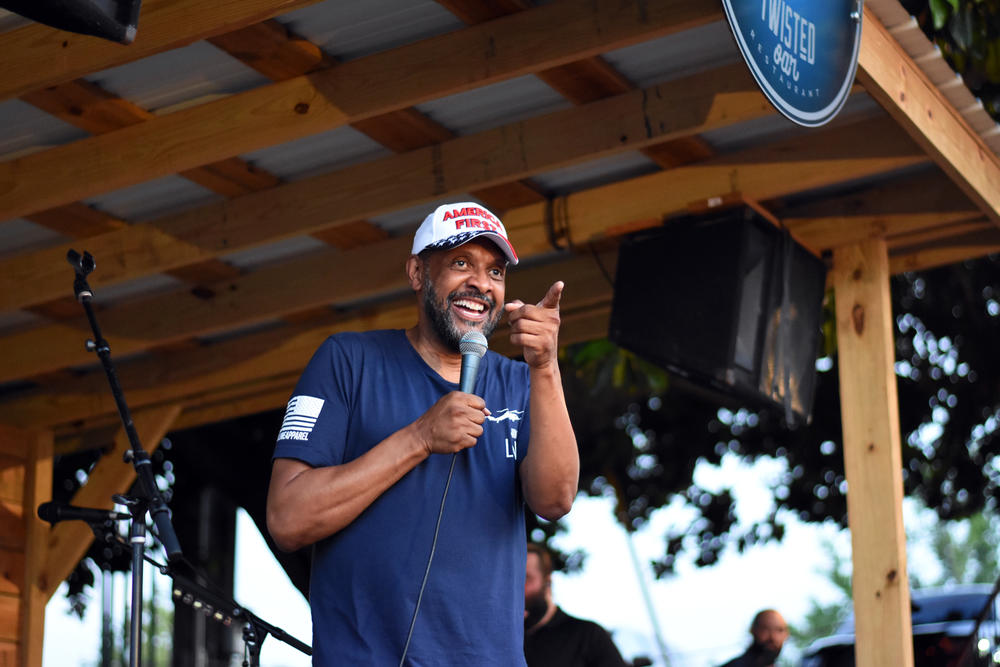 Democrat-turned-Republican gubernatorial candidate Vernon Jones was in his element Wednesday night, arriving via boat parade to the dock of a packed bar by Lake Lanier on a 115-foot houseboat called "Life Sentence" alongside country music star Travis Tritt.
Challenging an incumbent governor from the same party might seem like unnecessarily rocking the boat, but Jones sees it as a successful strategy in the battle for the future of the GOP.
 
At a campaign fundraiser and concert at the Twisted Oar the former state lawmaker and CEO of DeKalb County said Gov. Brian Kemp represents the past of the Republican Party, one that does not support former President Trump and his vision, while Vernon Jones represents the future.
Kemp has been the target of frequent attacks by Trump for not overturning the 2020 election results, creating an opening for Jones to court the conservative base with a different kind of campaign. From a crowded hotel party at the state convention to local GOP meetings across the state, Jones says grassroots involvement following President Joe Biden's victory in November has swelled — especially in support for his candidacy.
"It's like a sleeping giant has been awakened," he said. "Why? Because they see where their country has gone; they fell asleep at the wheel and now they've seen what's going on."
Some of Jones' main campaign talking points include attacks on: transgender rights, the Black Lives Matter movement, national Democrats, former Democratic gubernatorial nominee Stacey Abrams and hot-button culture war issues such as "cancel culture" and the educational concept known as "critical race theory."
"We're going to take this country back; we're going to send Joe Biden back to the basement," he said to a crowd of more than 200 people. "And Brian Kemp, get ready to get the hell out of town because we're going to take Georgia back."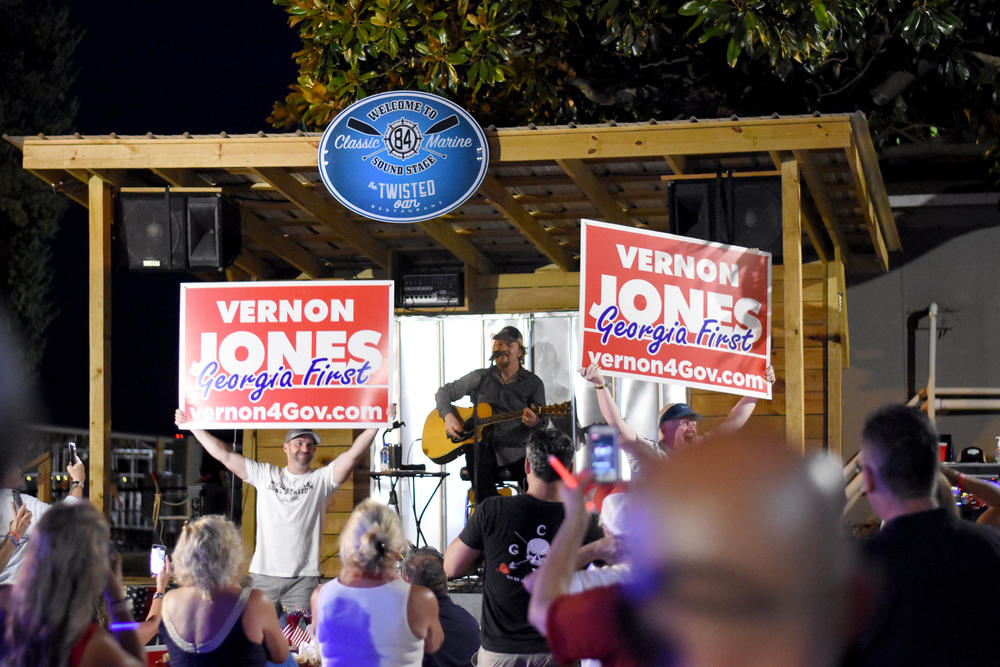 While Jones has staked out a lane to the right of Kemp in his campaign so far, in recent weeks the governor has reminded voters of his conservative bona fides by banning vaccine passports and visiting the U.S.-Mexico border.
In his campaign kickoff last week in Perry, Kemp attacked his detractors on the left and the right by listing his accomplishments, defending Georgia's sweeping new voting law and positioning himself as the one who can beat Democrats after the party lost both U.S. Senate seats and the presidential race last year.
Like many Republicans, Jones has assailed Georgia's election system and the integrity of the 2020 election, pushing for a so-called "forensic audit" of a contest that has been counted three separate times.
Some of the rhetoric from Trump and other leaders caused Republican voters to stay home, and in a demographically shifting state Jones told the crowd that more needs to be done to expand the party's base and outreach if they want to win.
"We've got to grow the party: traditionally, the Republican Party has been able to win without the minority vote," the Black conservative said. "I hate to say it, but you're just fresh out of white conservatives — you don't have any more. You're fresh out like it's at the grocery store."
The answer is capitalizing on outreach to younger voters and people of color, he said, something he can do more than other candidates.
Bernard Kerik, a former New York City Police Department Commissioner and advisor to the campaign, said that Jones has the leadership ability to energize conservatives of all stripes into a winning coalition — especially in restoring faith in the election system.
"I'll say this: Vernon Jones is a Black Donald Trump," he said. "He does what he says he's going to do, and he doesn't stand for nonsense."
That sentiment was echoed by country music star Travis Tritt, a friend of the campaign who performed an acoustic set at the Twisted Oar and told the crowd that Georgia is a red state in need of a leader that can restore faith in how votes are counted.
"Georgia is not a blue state; it is a red state," the Georgia native said. "It always has been. "And in order for us to return to believing in our election process, we need people that are willing to stand up and call a foul a foul, and call cheating cheating." 
The Grammy-winning artist played several songs that could serve as apt metaphors for Jones' insurgent campaign, from a song about "the working man" to a wistful remembrance of the old days "when the world turned slower and you could smoke in a bar" to classics like "I'm Gonna Be Somebody" and "It's A Great Day To Be Alive."
Tritt said that most politicians lack common sense, but not the man he came to support.
 
"Vernon Jones spells one thing for Democrats," Tritt said. "T-R-O-U-B-L-E."
Just like the sun eventually set on the outdoor stage, Jones said that the sun was setting on establishment Republicans like Brian Kemp, and that the 2022 primary election would set the tone for how the party would move forward — in a pro-Trump direction.
But for now, he's in a race that sees him swimming against the current of a well-liked incumbent, questions about his past as a Democrat and a lack of a Trump endorsement for him or anyone else in the race. But Jones likened himself to a salmon swimming upstream that can emerge victorious.
"I'm campaigning across the state like our country's life depends on it ... because there's so much at stake: safe neighborhoods, quality education, job opportunities," Jones said. "In terms of the excitement and motivation I'm bringing, I'm drawing that from people. And yeah I'm an animated person, there's no question about it. But I'm passionate about my state."
Secondary Content
Bottom Content