Section Branding
Header Content
For Georgia Republicans, Perry Rally Shows It's Trump's World — Or Else
Primary Content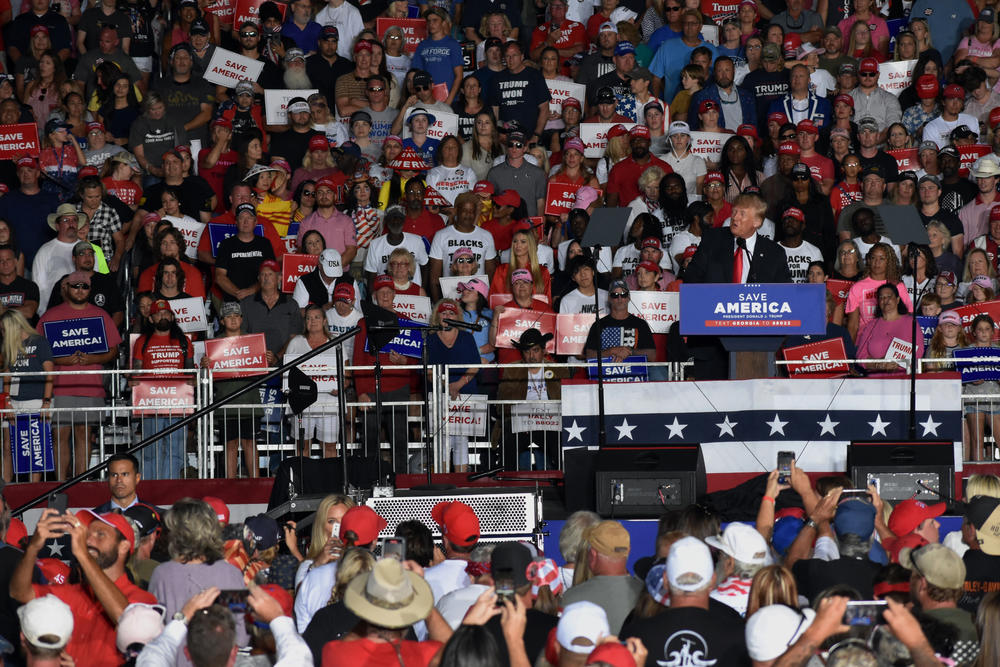 It's been 327 days since polls closed in the November 2020 election, but if Donald Trump has his way that race will continue to be the primary focus of Georgia Republicans for years to come.
At the "Save America" rally in Perry Saturday, the former president touted a hand-picked slate of GOP primary challengers, launched withering attacks on incumbent Gov. Brian Kemp and other Republicans deemed not loyal to his cause and continued to make the false claims about winning the 2020 election that helped Democrats pick up both U.S. Senate seats and the presidency.
Not since Sherman's March to the Sea more than 150 years ago has Georgia seen someone so intent on burning everything to the ground — at least figuratively this time — like Trump is doing to those within his own party that do not cater to his whims.
Thousands flocked to the Georgia National Fairgrounds in Perry to participate in what seemed like a political alternate reality show where it was repeated, time and again, that the presidential election was stolen and must be re-litigated over and over, even as a crucial midterm election cycle draws ever closer.
"We never forget 2020, just in case you have any question, we're not forgetting," Trump said early into his nearly two-hour speech that was largely about the 2020 election he lost to President Joe Biden.
RELATED: Mike Collins Launches 10th Congressional District Bid In Trump's Image
A common shared enemy for Republicans across the spectrum is Stacey Abrams, the former Democratic gubernatorial candidate who nearly beat Kemp in 2018 and is believed to be his likely challenger next year. But Trump's only mention of Abrams came as a setup to excoriate Kemp for failing to overturn the 2020 election.
"Of course, having her I think might be better than having your existing governor, if you want to know," he said. "Stacey, would you like to take his place? It's OK with me!"
Kemp, the first lifelong Republican governor since Reconstruction, has been put in a nearly impossible position by the former president's attacks, being deemed not conservative enough by a Trump base that would otherwise support Kemp's policy accomplishments and painted as too conservative and Trump-like by Democrats who have wooed suburban moderates.
In Trump's world, overwhelming evidence of fraud — in places he won, in places he lost and in places that happen to have high numbers of Democrats — requires lawmakers to take an extraordinary (and likely impossible) act of auditing and decertifying election results, and the speakers preceding him were chief defenders of that call.
Throughout his speech, Trump mentioned numerous already-debunked claims about ballots in Georgia and Arizona, where the results of a partisan review confirmed Biden's victory while making speculative and unfounded claims of fraud. Georgia's ballots were counted three different times, including once by hand, and officials say numerous processes and safeguards in place before results were tabulated ensured no counterfeit or illegal ballots were included in the total.
Each tally confirmed Biden as victor, the first time a Democrat carried the presidency in Georgia since Bill Clinton in 1992.
Still, the 2020 election was the main focus of the evening as much of the Republican base in Georgia refuses to move on from November at the potential expense of losing in 2022.
MORE: At GOP Fish Fry, Georgia Republican Candidates Break Bread And Brace For Tough Primaries
Secretary of State candidate Jody Hice was briefly drowned out by the crowd chanting "Audit! Audit!" while Georgia Republican Party Chair David Shafer led them in the same chant before saying Biden suffers from dementia. Rep. Marjorie Taylor Greene took breaks between implying another member of Congress was in a fake, incestuous marriage to call for a so-called "audit" of Georgia. She also falsely — and repeatedly — claimed Trump won the state.
Lt. Gov. candidate Burt Jones said he is leading the charge to get rid of Georgia's Dominion ballot-marking device voting systems, and conspiracy theorist and Constitution Party of Georgia Election Integrity Director Garland Favorito spread misinformation about Georgia elections.
Democrat-turned Pro-Trump gubernatorial candidate Vernon Jones, who is not yet endorsed by Trump but had one of the loudest reactions from the crowd, called for a 159-county "audit" of Georgia's elections and railed against Kemp and Biden's policies.
"You have turned this country from sugar to" a four-letter word, Jones said, before leading a call-and-response that had the crowd chanting the same word deriding the Democratic agenda.
"Donald Trump is the undisputed heavyweight champion of the Republican Party," Jones said. 
For Democrats and Republicans alike, Trump's role as leader of the party after his defeat is not in question, but some Republicans are worried about the impact on future elections after tens of thousands of Trump supporters did not vote in the dual Senate runoffs that saw the GOP lose.
IN-DEPTH: Who Stayed Home More In Georgia's Senate Runoffs? Rural White Republicans
For his part, Trump does not seem to care about any present or future that is not focused on the past.
"This is the greatest movement in the history of our country, perhaps the greatest movement in any country, and we're going to make sure that we see it to the end," he said before a fireworks display lit up the night sky.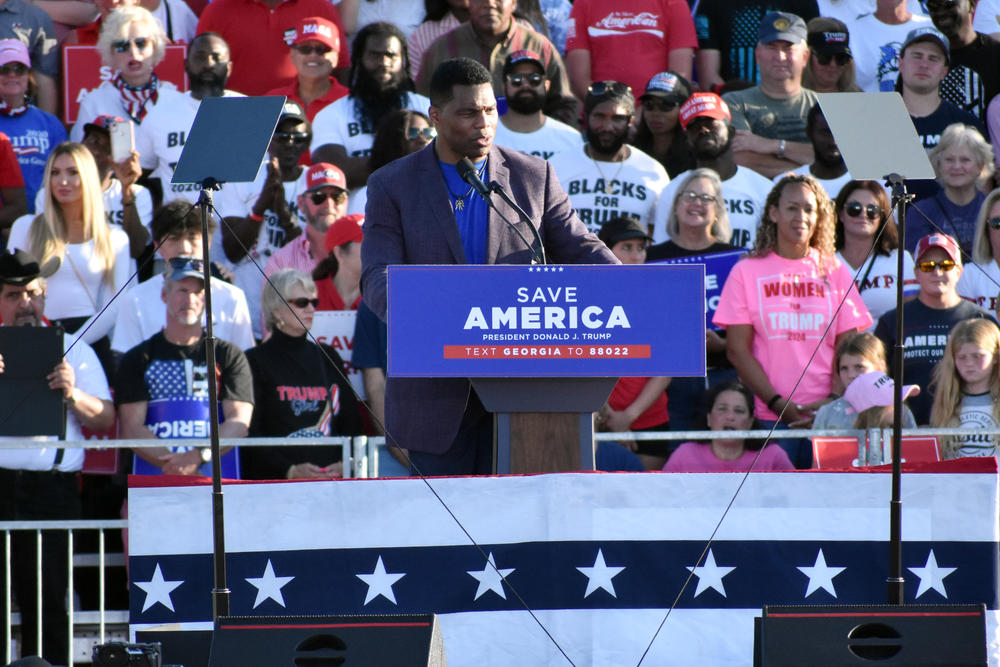 Beyond Trump, the main attraction of the rally was U.S. Senate candidate Herschel Walker's debut campaign appearance.
The former University of Georgia football standout took a different tone than his fellow Republicans, delivering a solid speech that painted broad strokes about a desire to run for office because of a love of country and a reputation as a non-politician that would best serve Georgians.
"The Constitution is not just a piece of paper that we can wad up and throw away," he said. "The Constitution is a solid rock that we live by, those are the foundations that this country was built on."
In a message that might get lost within Trump's singular focus on remaking the party in his image, Walker said that leaders should spend more time working with people that disagree with them and "come together as a people."
Secondary Content
Bottom Content