Section Branding
Header Content
Herschel Walker's Senate run is heavy on Fox News spots and curated, closed-door campaign stops
Primary Content
Herschel Walker has been no stranger to the limelight over the years, but his bid to become a U.S. senator so far has been a quieter, closed-door affair.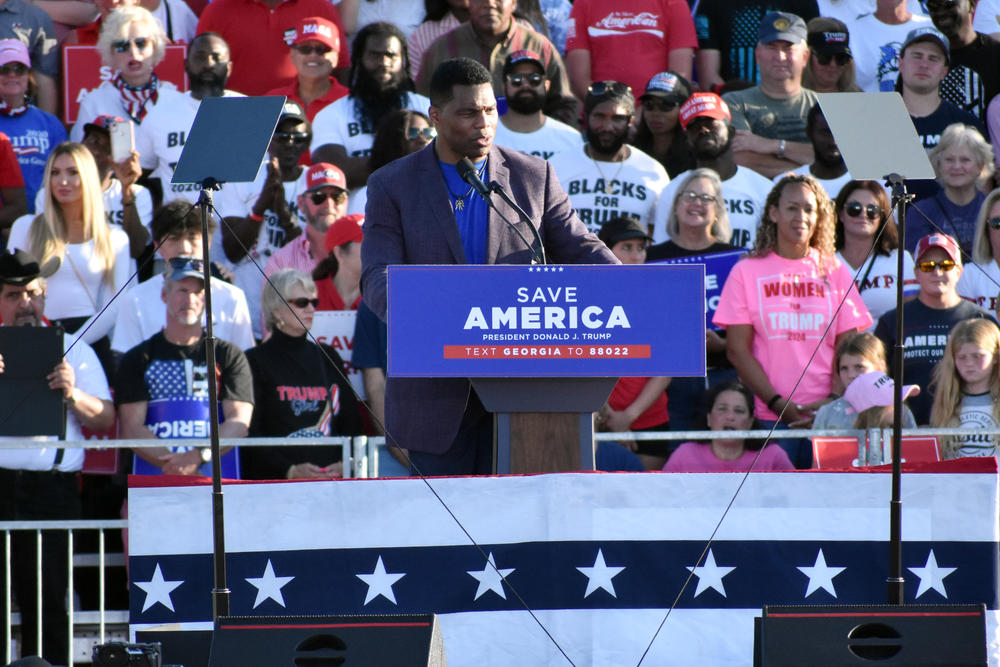 Herschel Walker has been no stranger to the limelight over the years, but his bid to become a U.S. senator so far has been a quieter, closed-door affair.
The former Heisman Trophy winner, U.S. Olympian and successful business owner has the endorsement of former president Donald Trump in the GOP race to challenge Sen. Raphael Warnock, but the opening weeks of his campaign have been largely conducted in private.
Apart from a prominent speech at a Trump rally in Perry, the former University of Georgia football star has largely juked typical campaign events, fundraisers and media interviews in favor of friendlier conversations on conservative media outlets such as Fox News. 
A GPB News analysis finds Walker has done more than two dozen interviews in the eight weeks since launching his campaign, almost exclusively with Fox News personalities like Sean Hannity.
"The crop of 2022 Republican candidates just got a lot stronger tonight, as football legend Herschel Walker announced that he is jumping into the Georgia GOP Senate primary to take on incumbent Democrat Raphael Warnock," Hannity said Aug. 25, the day Walker's campaign officially launched. "We need leaders like you. You are a leader, a natural-born leader."
The next morning, Walker joined Fox and Friends and said the key to Republicans winning in future elections is to "get out and see the people."
"I think you've got to get out and you've got to see the people and let the people know who you are, let the people know what you can do for this state," he said. 
A few days later, Walker's campaign skipped one of the largest Republican events of the year, the 8th District GOP fish fry in Perry.
Agriculture Commissioner Gary Black, one of three other Republicans vying for the party's nomination, said showing up to events like the fish fry was important connect with the voters a senator is supposed to serve.
"Those folks are the personnel committee for the state of Georgia," he said. "The United States Senate seat is a job, it's not celebrity. There are people that need to be served because it's a job under our Constitution. The personnel committee will hire who they want to do that job."
Kelvin King, another candidate, recently visited all 159 counties in 30 days on a grassroots listening tour to introduce himself to voters and learn about their concerns. Latham Saddler has also crisscrossed Georgia, spoken with local conservative radio shows and held events covered by the press.
The race to challenge Warnock is seen as one of the biggest pickups for Republicans seeking to retake control of both chambers of Congress in the 2022 election, and comes as the party is in an identity crisis about how much of Trump's legacy and focus the GOP should embrace moving forward.
For some conservatives, Trump's endorsement of Walker is secondary to questions about what Walker actually believes and would do if elected.
Former U.S. Rep. Doug Collins, who endorsed Black, said on his radio show late August that Walker's campaign was "heavy on coming from Wrightsville, Georgia, and very low on policies and beliefs." 
On the opening day of the University of Georgia football season, Walker chatted with Fox Sports personality Clay Travis — who has complained about ESPN mixing sports and politics — with most of the conversation about football.
One anonymous party insider supporting Walker's campaign vented days later to the Washington Examiner that the former University of Georgia standout "appears to have gone back to the comfort of his war room" instead of blanketing the state with campaign appearances.
Democrats and Republicans alike have questioned Walker's campaign strategy, arguing he is hiding from voters, the media and potentially hard questions about policy positions. Conservative radio hosts across Georgia and beyond have commented on Walker's lack of presence.
"For me, the million-dollar question is, is 'Herschel Walker a conservative? Yes or no?' And then I like to see the record," conservative commentator Todd Starnes said on his radio show in early October. "That's all. And I think that is a fair thing to ask."
Walker's campaign website has five sentences of biography, an email sign-up list and a donate button — and no issues page. His interviews with national right-leaning media outlets have rarely dealt with policy questions pertinent to working in the Senate. The campaign has often deflected on questions of the day on topics ranging from vaccines to Mitch McConnell to abortion, and according to Facebook's Ad Library, the Walker campaign has spent nearly $280,000 on ads that feature Trump and fundraising pleas with no mention specific issues or stances. 
 
So at best, what kind of U.S. senator Herschel Walker would be is gleaned from soundbites that are publicly available, like his speech at the Trump rally in Perry, where he stayed positive and avoided the sorts of false claims of election fraud that the former president and other Republican speakers made throughout the night.
"I'm conservative because I like law and order; I'm a conservative because I like school choice; I'm a conservative because I like border control; I'm a conservative because I like a fair election," he said before saying the country is not racist. "The Constitution is not just a piece of paper that we can wad up and throw away. The Constitution is a solid rock that we live by. Those are the foundations that this country was built on."
 
Before the rally, Walker gave an interview to far-right outlet One America News, the day after the rally joined Fox and Friends to discuss Trump's endorsement and days later told Bill O'Reilly that border control was the top issue the government needs to address.
On Oct. 6, Walker did a local interview, joining North Georgia conservative radio station Voice of Rural America to discuss the importance of his faith and said that while Trump's endorsement is great, he would focus on running the campaign his way.
"Trump is not running, Herschel Walker is running, and I've already been out there on the campaign trail in different cities doing different things," he said. "One of the things I said at the very beginning: The media is not going to run my campaign. And I'm not here for the media, I'm here for the people of Georgia."
Getting out to Georgians is a recurring theme in his interviews, including two interviews during which Hannity asked Walker about a promise to go into "every town, every city and every church, any place you're invited."
"I don't care whether you're a Democrat or a Republican; I am here to represent you," he said. "Everything that the Democrats want, I guarantee is what I want."
 
Walker has also joined conservative Georgia-based radio shows in recent weeks, like The Morning Xtra and Word on the Street, and the campaign said he did interviews with local radio hosts in Augusta and Savannah.
"We've got to get out and vote," Walker said on The Morning Xtra show. "You know, if you don't vote, how in the world can you talk about something is wrong? We're looking in the rearview mirror talking about the past. We've got to let the past go and move forward. We can't stay back in the past. That's the worst thing that we have to try to do."
Beyond the highly managed campaign rollout, Walker's past has dogged his candidacy from the start, from his self-reported struggles with mental health to his long residency in Texas to questions about the veracity of his business exploits.
Even the best-laid plans to stay under the radar can go awry, like last week when the campaign had to cancel a fundraiser in Texas following a report in the Atlanta Journal-Constitution that the sponsor had a swastika made of vaccine needles as a profile picture on social media. A campaign spokeswoman initially defended the image as "clearly an anti-mandatory vaccination graphic" before backtracking and saying "the symbol used is very offensive and does not reflect the values of Herschel Walker or his campaign" — one of the few instances the campaign has shed light on Walker's values.
Walker has apparently held a listening tour of stops across the state, such as a recent festival in Hiawassee with singer Lee Greenwood, visits to Savannah and Marietta. But these visits with businesses and small groups of voters have happened without advance notice, so the only record of his campaigning are curated photos and videos on social media.
 
New campaign finance reports show Walker raked in nearly $3.8 million in his first five weeks, with the majority of itemized cash coming from out of state, so the closed-door fundraisers, private events and national media interviews appear to be working.
 
As Walker is the most visible candidate in Trump's slate of GOP challengers seeking to remake Georgia politics, it's unclear how long a campaign for public office conducted largely in private will continue. But with more than six months until the Senate primary, the playbook seems to be settled for now.
This story was updated Oct. 21, 2021 at 7:00 a.m. to include more interviews Herschel Walker conducted with local conservative radio shows and an article in the Marietta Daily Journal.
Secondary Content
Bottom Content