Section Branding
Header Content
Gary Black's Senate Campaign Rooted In A Decade Of Service As Ag Commissioner
Primary Content
Gary Black is one of the most popular politicians in Georgia, but it still might not be enough to get him through a Republican primary for U.S. Senate. GPB's Stephen Fowler reports.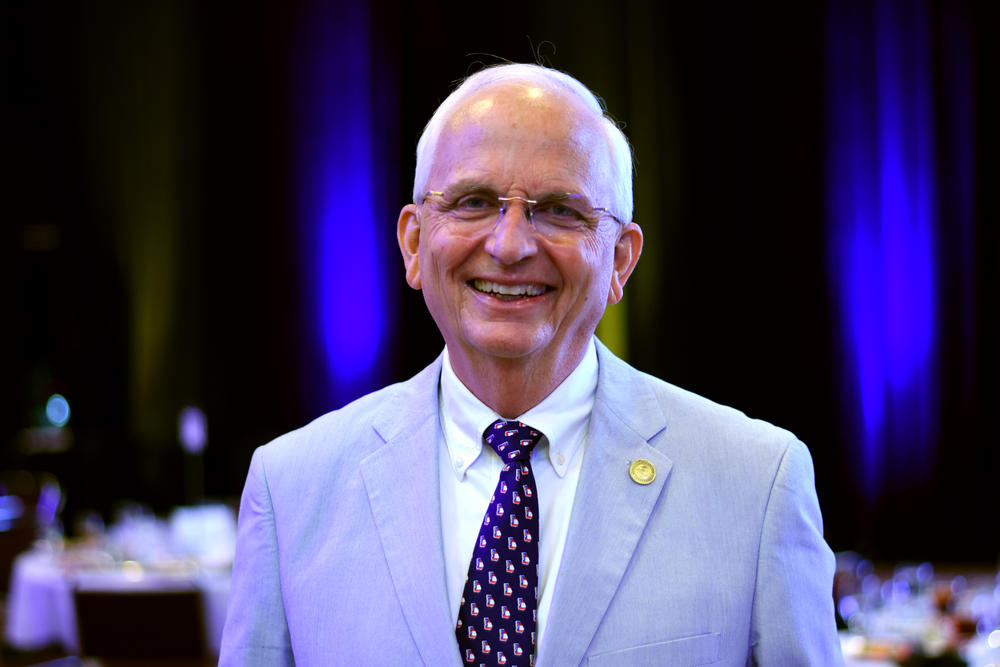 Agriculture Commissioner Gary Black is one of the most popular politicians in Georgia, but even that might not be enough to win the Republican U.S. Senate primary in 2022.
  
The affable farmer has outperformed others on the top of the ticket since first winning office in 2010, but now that Donald Trump has hand-picked former University of Georgia football player Herschel Walker for the primary, Black has found his campaign in the difficult position of explaining why the former president — still very popular with the base — is misguided.
Black has many prominent Republicans on his side, including former U.S. Rep. Doug Collins, former Gov. Nathan Deal, a third of the state's GOP lawmakers and almost half of the state's sheriffs, including some Democrats. He's got stronger name recognition than two other challengers
RELATED: GOP Senate Candidate Kelvin King Spreading His Message To All 159 Counties
He's known as an approachable champion for agribusiness, Georgia's top industry, through programs such as the Georgia Grown initiative. But now, he's playing intraparty hardball, attacking Walker for being a longtime Texas resident and first-time candidate. 
"I know for a fact in my heart that this election is way too important for an experiment," he said at an event in Marietta this summer for suburban women. "It's trust and experience that's gonna carry us to victory."
After Democrats flipped both of Georgia's U.S. Senate seats and the state's Electoral College votes, and as the direction of the Republican Party veers ever closer to Trump's image, Black's friendly drawl has taken on a sharper tone in trying to convince voters that he is the proven conservative in the race who could actually beat Sen. Raphael Warnock next November.
 
"I believe the nice guy and the tough guy can be the same guy," Black said. "I believe we have to get back to grassroots person-to-person politics. That's a blueprint that I've used for victory, time and time and time again."
While Walker gets acclimated with voters across the state in smaller-scale meetings and limited media appearances on friendly outlets, Black said his decade crisscrossing the state as agriculture commissioner puts him in a better position to be relatable and responsive to the needs of Georgians.
  
"One lesson I've got in my career is wherever I go, I would suggest to you if I break down in the state of Georgia I'm probably not 20 minutes away from $50 to get home," he said.
His policy platforms include improving the relationship between federal agencies such as the FDA and EPA with farmers, improving rural infrastructure and tackling immigration issues including the current crisis on the Mexico border. It also includes standard conservative fare like "cancel culture" and opposition to so-called "critical race theory" in education.
Still, the political climate of Republican politics in Georgia post-2020 has taken Black's campaign in unexpected directions, such as a press conference in a Buckhead grocery store parking lot supporting the Atlanta neighborhood's cityhood movement because of rising violent crime.
"I am shocked with the notion that we have many Atlantans today who are in fear in their own homes because of the crime crisis we're facing," he said earlier this month.
Black entered the Senate race knowing that Walker and Trump loomed large over the contest, but he has been undeterred in his push to break past what some feel is a foregone conclusion and showcase his statewide support that isn't as flashy as a Trump statement or a Heisman-sized reputation.
After a Georgia Chamber of Commerce event in Columbus, a prominent Democratic lawmaker clapped him on the shoulder and said he would be the best challenger. Hundreds of supporters packed into Black's farm in Northeast Georgia early September, where a slew of GOP heavyweights put their hats in his corner.
At the 8th District GOP Fish Fry in Perry last month — just a stone's throw away from where Trump and Walker will take the stage at a massive campaign rally this weekend — Black took a break from joking around and carving watermelon in the shape of Georgia to get serious about why he's running.
 
"The United States Senate seat is a job — it's not celebrity, it's not the other elements," he said. "There are people to be served because it's a job under our Constitution."
The voters of Georgia are the personnel committee, he said, and his experience, platform and ideas best suit him for the job of serving in the Senate.
With Democrats poised to potentially take control of the state sooner rather than later, he said it's imperative Republicans elect someone who can actually get the job done — not just a popular figure.
Secondary Content
Bottom Content