Section Branding
Header Content
GOP Senate Candidate Kelvin King Spreading His Message To All 159 Counties
Primary Content
Only Texas has more counties than Georgia, and Kelvin King would know. By the time the sun sets Aug. 28, the first-time candidate will have visited all 159 of them in 30 days, an ambitious plan to raise awareness of his campaign.
It's been an exhausting trip. There were times he didn't really know what day it was or where exactly he was, traveling on two-lane backroads across Georgia farmland or stuck in traffic inside metro Atlanta. 
  
On a mid-August Tuesday, King was in Columbus for the meeting of the Republican Women of Muscogee and Harris County. 
Joined by his wife, Janelle, he launched into a familiar stump speech about his background in the Air Force, his role as a small business owner and his belief that conservative principles of smaller government, lower taxes and fewer regulations were best for Georgia.
After Democrats flipped the state's 16 electoral votes and both U.S. Senate seats, Republicans are now on offense, and this Senate race is a chance to regain control of the chamber — if the GOP can settle its internecine squabbles over the direction of the party.
"We know we've been a little fractured over the last nine months or so," King told the crowd. "We got kind of punched in the gut a couple of times, but we've got to move past that and unite the party, because if we don't unite our party, we may suffer again."
King, 47, said he's the one best equipped to challenge Democratic Sen. Raphael Warnock, a fundraising powerhouse who won a special election runoff in January and has become a visible champion for a more progressive agenda. King is a Black conservative who says more government spending isn't the answer to making the country better, and says his unique background means he can say and do things other candidates can't.
"I'm not about taking losses," he said. "I didn't jump into this race to take a loss. I jumped into this race to help the party get a 'W' and get this seat back."
  
But a message is no good if nobody hears it, so he launched a tour that will make stops in every single county in Georgia. 
    
He's visited coffee shops, meat 'n' threes and everything in between, practicing his campaign spiel and asking plenty of questions about what voters aren't getting from their elected officials. 
  
In Quitman County, Georgia's second-least-populated, he talked with a restaurant owner in Georgetown about supply chain issues.  
 
"I haven't had a hard time with employees; I've had the same staff and most of them have been here longer than I have," Curt Perryman of Michelle's Restaurant said. "It's mostly just some of the food products that we can't get right now.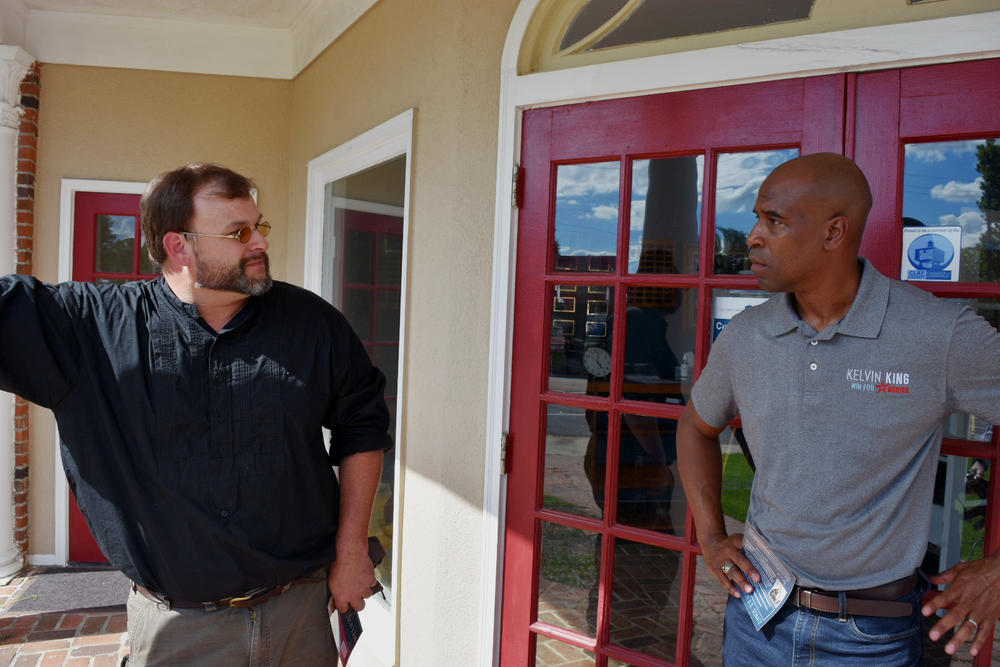 Down the road in Fort Gaines, he chatted with Trenton Tye, a professional blacksmith about how to revitalize small rural towns that are losing businesses and population. Tye said plenty of studies and presentations from people far away have been made, but none of them stuck.
"I don't think there's been a single initiative that has actually functioned well down here, even in a place like Albany," he said. "So there's a lot of votes to be had if you can crack that nut: How do you help revitalize these old brick towns?"
It's conversations like these — totally unscripted, beyond the campaign talking points — that King hopes can make his message shine through. It's still early in the primary cycle, and King is one of three other GOP Senate candidates that are now overshadowed by former University  of Georgia football star Herschel Walker's candidacy.
But he says taking this "retail politics" approach better positions him to understand voters' stances on issues that actually affect them, instead of the other way around. 
  
"We're going out and we're speaking to every unique county in the state of Georgia to get their sense of what's going on, what their needs are," he said. "It's definitely going to create a better senator out of me."
What's good for Fort Gaines isn't the same as what works for Gainesville. Albany isn't Atlanta. But King said there are some things that all Georgians want — and that he can deliver. 
"We all want to be safe, we all want to have the opportunity to raise our families and kids and want our kids to be well educated," he said. "Those are the things that are similar. Those are the things that all Georgians feel, and that's why I say it's only one Georgia, because there are nuances in every county. But overall, those are the things that we're looking for."
While Warnock is crisscrossing the state touting President Joe Biden's massive infrastructure package, King says his ideas for a better Georgia include tax cuts, fewer regulations, lowering barriers to growing small businesses and limiting reliance on the federal government. 
He wraps up his 159-county tour in Houston County on Saturday at the 8th Congressional District GOP Fish Fry in Perry.
Secondary Content
Bottom Content