Section Branding
Header Content
Georgia 2020 Election Deniers Setting Sights On Higher Office
Primary Content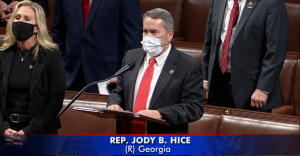 For the past seven months, a group of Republican lawmakers have engaged in efforts to cast doubt on Georgia's election integrity and overturn the results of a 2020 presidential race that was counted three times — each count upholding President Joe Biden's victory.
Now, some are parlaying their election skepticism into bids for higher office, launching campaigns for Congress, the governor's mansion and the office of the top election official in the state, according to a GPB News and Georgia News Lab analysis.
There is no evidence of widespread fraud in the 2020 election, as confirmed by the original tally, a hand-counted risk-limiting audit of all the nearly five million votes for president, and a machine recount requested by the Trump campaign.
But that hasn't stopped prominent supporters of former President Donald Trump from promoting falsehoods about absentee ballot fraud, floating claims of illegal voting and parroting allegations of conspiracies that have been thoroughly debunked by election officials.
Last month, a lawsuit backed by a well-known conspiracy theorist seeking to inspect 147,000 absentee ballots in Fulton County for evidence of counterfeits received the endorsement of former Sen. Kelly Loeffler and the state Republican Party. There is no evidence of counterfeit ballots or any other wrongdoing among Fulton's absentee votes, and most of the allegations in the suit have long since been addressed by elections officials.
This week, amid growing calls by some Republicans to conduct a "forensic audit" of Georgia's ballots, state Sens. Burt Jones (R-Jackson) and Brandon Beach (R-Alpharetta) visited Maricopa County, Ariz., where a widely derided "audit" is underway.  Election experts have called that endeavor "performance art," a "clown show," and "a waste of taxpayer money."
Georgia's state Senate has been ground zero for election misinformation since even before the election was certified for President Biden. Sixteen senators — including Jones, Beach and former Sen. William Ligon (R-Brunswick) — signed on to an amicus brief for a Texas Supreme Court lawsuit that sought to nullify the results of four states, including Georgia. Georgia's Republican Attorney General Chris Carr called the failed suit "constitutionally, legally and factually wrong."
Beach, Jones and Matt Brass (R-Newnan) were each stripped of committee chairmanships for their roles in pushing false election claims (and supporting Jones' leadership challenge to President Pro Tem Butch Miller) but other lawmakers who have questioned the outcome of the vote have experienced few consequences for their actions. Some have even gained power in the Capitol.
Instead of running on conservative policies that the state's Republican-controlled government has enacted over nearly two decades in power, some candidates have adopted a campaign strategy of feeding into lies and misinformation about the election process — a process also controlled by Republicans. Caught in the crossfire are staunchly conservative incumbents who resisted calls to meddle with November's presidential results.
Vernon Jones, a former Democratic state lawmaker-turned-Trump supporter, is mounting an insurgent campaign to defeat Gov. Brian Kemp in a primary next year on the grounds that Kemp did not do enough to throw the election for Trump and frequently makes statements blasting Georgia's $107-million voting system, which he voted for in 2019.
Most recently, at the Georgia GOP state convention on Jekyll Island, Jones ramped up the pressure for a so-called "forensic audit" of Georgia's election system (something election experts say cannot be done in Georgia) while attacking Kemp.
"When I look at what happened with this election integrity, and we got a governor who will not call for a forensic audit in all 159 counties, there's a damn dead cat on the line," Jones said to cheers. "Why won't he call for a special forensic audit if he said the elections were fine? Why did he sign a new [elections] bill if he said the election was fine?"
Falsehoods about the election dominate the primary race for secretary of state, where several challengers are seeking to knock off the Republican incumbent, Brad Raffensperger. Raffensperger has become a pariah within the party for resisting overtures from Trump and others to overturn the election and find fraud.
U.S. Rep. Jody Hice's (R-Greensboro) campaign for Raffenperger's post was launched with Trump's support on the premise of false claims about the election. Hice, one of the leading proponents of election misinformation in Congress, told right-wing media outlet Newsmax in November that he was not "convinced at all, not for one second, that Joe Biden won the state of Georgia." He also falsely claimed absentee applications were sent to "illegal voters'' and echoed debunked claims about suitcases of ballots added into the totals.
Hours after the Jan. 6 insurrection attempt at the U.S. Capitol, Hice objected to certifying Georgia's electoral votes and came under fire for a social media post that morning calling the planned objections "our 1776 moment."
Just asking questions
While the conspiracy-driven positions of candidates such as Jody Hice and right-wing media outlets like the Gateway Pundit and One America News Network may be some of the loudest voices on the election, some of the most influential figures occupy less extreme positions on the spectrum of election skepticism.
Two of the most visible proponents of misinformation about elections are Burt Jones, who recently said he will soon be announcing a run for statewide office, likely lieutenant governor, and Beach, who is considered a likely candidate for Congress.
Georgia GOP chair David Shafer presented the pair with "Warrior Awards" at the state Republican Party convention over the weekend.
"He led the charge, he cosigned lawsuits, he cosigned amicus briefs for lawsuits," Shafer said of Sen. Jones. "And when it was all said and done, when the General Assembly convened in January, he was stripped of every committee assignment of value because the only people punished or held to account in the last election cycle were the people who called out the election wrongdoing."  
Since November, Jones has repeatedly made comments that sowed doubt about the election system that he voted to authorize in 2019. Last month, he called for an audit of last year's election and suggested on a conservative radio show that, if fraudulent ballots were found, the legislature could reconvene in a special session and overturn results that have already been counted and certified.
"It could change the ultimate outcome of the presidential race as well, if you produce enough ballots to close the gaps that were there," he told Brian Pritchard on FetchYourNews. "But at the end of the day, I think we have to put all options on the table for the legislative and executive branch to seek out what the next steps would be." 
In addition to signing on to the failed Texas Supreme Court case, calling repeatedly for a special session of the Georgia legislature and attending unofficial legislative hearings that spread conspiracies about the election, Jones joined a group of Georgia lawmakers in signing a letter in early January calling on then-Vice President Mike Pence to delay certification of the Electoral College votes for 12 days, "to allow for further investigation of fraud, irregularities, and misconduct in the November 2020 general election."
Jones has said he planned to deliver the letter to Pence in person at a Jan. 5 dinner at the vice president's residence to which he'd been invited. 
In an interview with Oconee Radio Group, Jones said that in speaking with Pence and his team ahead of the dinner, he determined that the hoped-for delay "was not going to happen."
"We drafted a letter and got some signatures on it," Jones told GPB News, "but I never delivered the letter because I knew it wasn't going to do any good one way or the other."
Also present at the dinner was another signatory to the letter, Sen. Tyler Harper (R-Ocilla). Harper, who joined the amicus brief in the Texas suit, was a signatory to the petition for a special session, and attended sham committee hearings on the elections in December, is now seen as a likely candidate for state Agriculture commissioner in 2022. 
Both Jones and Harper said they returned to Georgia after the dinner and were not in D.C. when the insurrection erupted the next afternoon.
Jones said his questions about the election come from numerous calls he fielded from constituents who said they personally encountered problems with voting and absentee ballots and he said he is troubled by inconsistent statements from the secretary of state's office explaining problems reported during the vote counting.
He told GPB News that a Georgia Bureau of Investigation examination of evidence gathered in failed lawsuits — plus a court decision in the ongoing Fulton County ballot inspection case — would help answer concerns Republicans have with the election.
"I think the findings from that potential court ruling [in the Fulton case] — with or without the GBI's help — will put some closure to it," he said. "You know, you're never going to satisfy everybody, but it could potentially put some closure to it, but it could also potentially open up a bigger deal."
Amber McReynolds, a mail-in voting expert and former Denver elections chief, said these lawmakers pushing for forensic audits don't understand the election process and are responding to "conspiracies and lies."
"The legal attempts all failed due to a lack of evidence, so now this [audit] situation is attempting to create evidence that does not exist to simply continue the lie," she said.  "If these legislators or those pushing this actually felt there was something wrong in the election process, they would request to audit their own races."  
The GBI investigated claims of absentee ballot fraud in Cobb County, but found that only two ballots out of more than 15,000 needed further scrutiny — and it found no counterfeit ballots at all.
The secretary of state's office and Fulton County officials have devoted numerous press conferences and press releases to knocking down fantastical claims of wrongdoing — from claims of supposedly "pristine" manufactured ballots to tales of suitcases of ballots secretly being added into the count.
The risk-limiting audit that resulted in a full hand count of Georgia's ballots confirmed the original vote tally, and while the State Election Board is currently investigating dozens of complains from the 2020 election, the only cases referred to the attorney general's office have been isolated instances of alleged double voting or potentially illegal ballots cast.
 
A coordinated effort
Georgia isn't the only state that has seen a push to overturn the election and destabilize trust in the voting systems.
Republican lawmakers in Georgia and four other battleground states — Arizona, Michigan, Pennsylvania and Wisconsin — have spent months chasing false claims of fraud, attempting to overturn the election and changing election laws in the wake of Trump's defeat, all in a loosely coordinated fashion.
More than 80 legislators from these states, including 12 from Georgia, signed a letter in early January calling on Pence to postpone the count of the Electoral College votes for "at least" 10 days, "affording our respective bodies to meet, investigate, and as a body vote on certification or decertification of the election." 
As justification for the delay, the letter cited "extensive and well-founded accusations of electoral administration mismanagement and deliberate and admitted violations of explicit election laws" in Arizona, Michigan, Pennsylvania, Wisconsin and Georgia. 
The letter grew out of a Jan. 2 Zoom meeting of nearly 300 state lawmakers organized by the political nonprofit organization Got Freedom, a self-described "election integrity watchdog."  President Trump addressed the meeting at one point. Also on the call were Trump's personal attorney Giuliani, White House trade adviser Peter Navaro and Justice Department official John Lott Jr. 
Trump's participation, according to Politico, came immediately after his now-infamous call to Raffensperger, urging the Georgia secretary of state to "find" enough votes to overturn the state's presidential election.
In a message to participants after the call, according to Breitbart, Got Freedom director Phill Kline, a former Kansas attorney general, urged lawmakers to sign the letter asking Pence for "delay on ratifying the election" so states could "further investigate the lawlessness with which the presidential election was conducted."
In the message, Kline reportedly indicated that a letter to Pence had been drafted by state Reps. Daryl Metcalfe of Pennsylvania, Mark Finchem of Arizona and Georgia state Sen. Beach. Klein confirmed to the Georgia News Lab that Beach had been one of those who drafted the letter.
On the night of Jan. 5, Beach's son-in-law, Rep. David Clark (R-Buford), tweeted a copy of the signed letter to Pence, tagging Beach, Burt Jones, Rep. Sheri Gilligan (R-Cumming) and William Ligon, whose term as Georgia state senator had recently expired.
Clark, who recently announced he is stepping down from his House seat to concentrate on his nutritional supplement business, did not respond to messages seeking comment.
In an interview with the Georgia News Lab, Beach denied working on the letter that bears his signature and that Kline claims he helped draft.
"It's just not true, I didn't sign any other letter,"  Beach said. "We were going to send a letter from the [Georgia] Senate, and [Sen.] Marty Harbin drafted it. Burt Jones was gonna deliver it, and he never delivered it." 
When pressed further, Beach said he had no recollection of the letter from national legislators or what Clark posted on social media.
In all, 12 current or outgoing Georgia lawmakers signed onto the letter, including state Rep. Timothy Barr (R-Lawrenceville), who recently announced he is running for the U.S. House seat being vacated by Jody Hice.  
Barr said he joined the letter out of concerns about the integrity of the election. 
"There were enough abnormalities and irregularities in the election that it left questions in my mind as to the certainty of the results," Barr told the Georgia News Lab. "I felt it was my job to ensure my constituents' concerns were heard. This is why I signed the letter to Vice President Pence."
Similarly, Burt Jones said his continued pursuit of extraordinary remedies for an already-decided election is rooted in a belief that the legislature is the final authority if there are disputes.
"I've always been clear that your legislatures should control how laws are applied in every state," he said. 
Arizona state Rep. Finchem, one of the architects of the national letter, issued a statement in January saying he flew to Washington to deliver the letter and "evidence of fraud" to Pence on Jan. 6.  
It remains unclear whether Finchem, who has played a prominent role in efforts to try to overturn the presidential election, ever delivered the letter because of the events that transpired that day.
Neither Finchem or Metcalfe responded to messages.
The push to use manufactured controversies over the 2020 election as a campaign strategy for 2022 goes beyond isolated candidates seeking a leg up in the primary, and is becoming a mainstream part of Republican politics. 
Over the weekend, at the state GOP convention on Jekyll Island, Georgia Republicans passed a resolution calling on the legislature to go further than the sweeping new voting law, SB 202, and eliminate no-excuse absentee voting and make other draconian changes to Georgia election law.
David Shafer, fresh off reelection as party chair, has added his voice to those calling for a forensic audit and traveled to Arizona with Jones and Beach.
On the John Fredericks Radio Show, a right-wing radio outlet growing in popularity among the state's grassroots Republicans, Shafer pointed out his role as a co-plaintiff in Trump's election challenge lawsuit (eventually dropped by the campaign) and said he "absolutely" supports the audit.
"There's many questions about the election that have never been answered," he said. "And I think a forensic audit would answer those."
As the official platform of the Georgia Republican Party zeroes in on pushing discredited claims about voting and elections, the actions of these ambitious candidates have the ability to shape the outcome of future elections — for better or worse.
Secondary Content
Bottom Content