Section Branding
Header Content
GPB NEWS VOTING BLOG: Day 2 Of In-Person Voting Begins After Record Turnout
Primary Content
The second day of in-person early voting has begun after Monday's record turnout in Georgia, a battleground state that is closely watched for both its electoral outcome as well as how its elections are run. 
Here is a snapshot from around the state. 
Update 2:24 p.m.: Hours And Hours Of Waiting At Gwinnett Site
Outside of the Mountain Park Activity Building in Stone Mountain, several hundred lined up to vote. Many who had arrived as the sun began to come out were still waiting to vote by mid-afternoon.
For Denise Johnston, the stakes couldn't be higher. She worked in trade shows before the pandemic began and said she heard from her partners in China about the coronavirus concerns long before the United States responded.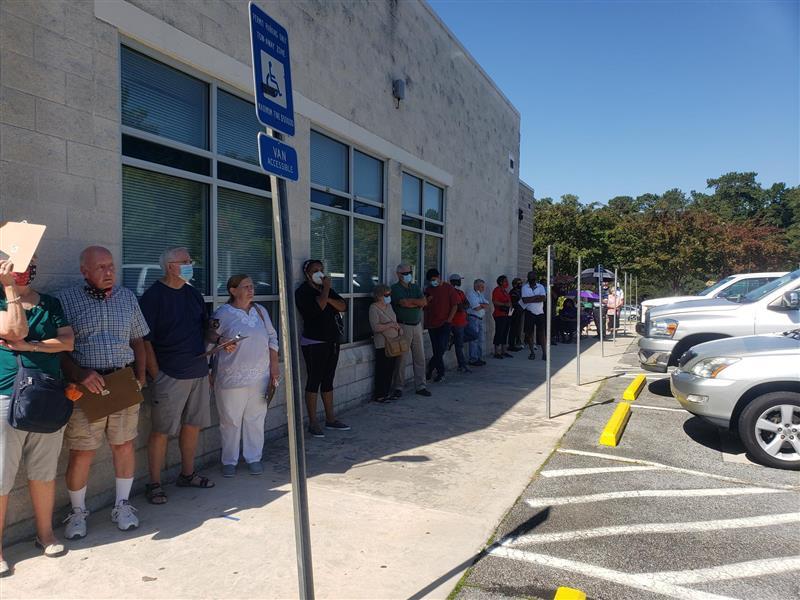 "My life was basically destroyed. My career was completely shattered and gone, there is no Plan B," she said.
Among the voters at the Gwinnett County site was Christiana Jackson from Snellville. She said both her children and her were sickened with COVID-19 earlier in the year. She said testing was a nightmare, compounded with the stress of being a restaurant owner that employs 11 other people.
"I want to see things change, because some things are just not political," she said. -- From Sarah Rose with GPB News
12:51 p.m.: State Farm Arena Running Smoothly
While many voting precincts experienced long lines and wait times for a second straight day, State Farm Arena – Georgia's largest voting site with 60 check-in stations and 300 voting machines – ran smoothly on Tuesday.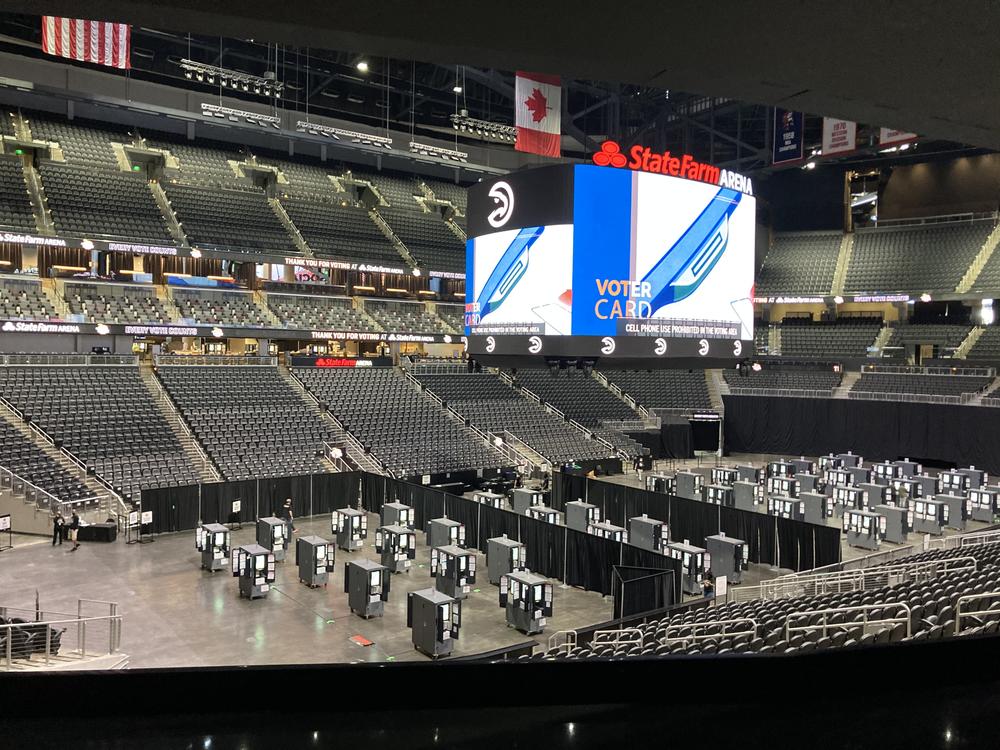 Voters got in and out of the arena in about 20 minutes for much of the morning. More than 2,700 voters cast their ballots at the Fulton County site on Monday, the first day of in-person early voting.  -- From Wayne Drash with GPB News
9:55 a.m.: Cherokee County Sees Another Day Of Large Crowds
Voters turned out in droves early Tuesday at the South Cherokee Annex on Main Street in Woodstock where polls opened at 8:30 a.m.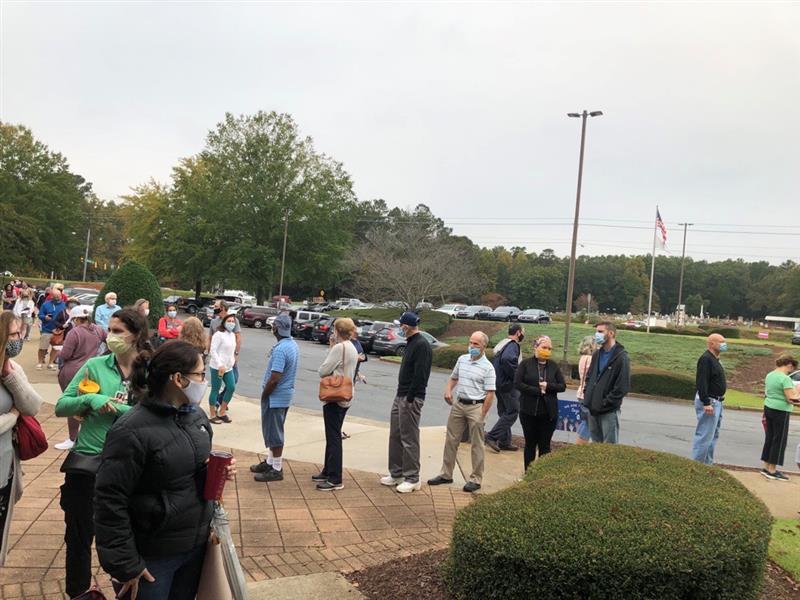 More than 2,800 people cast their ballot in Cherokee County on Monday, according to the Secretary of State's office. 
9:15 a.m.: Day 2 In Savannah Begins With High Turnout
About 100 voters lined up outside the Chatham County Board of Elections to cast their ballots ahead of polls opening. Voters on Monday reported waiting in line for hours -- in some cases up to seven hours.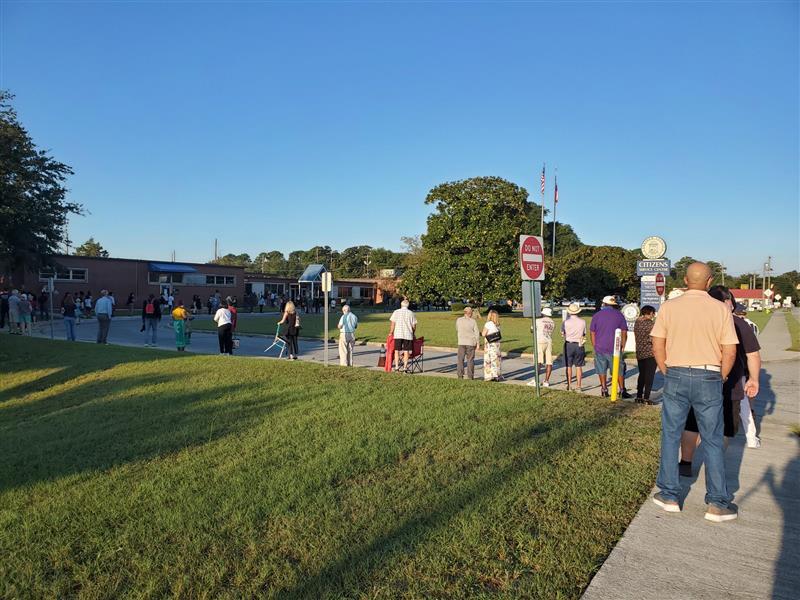 The line here moved smoothly once doors opened at 8 a.m. -- From Emily Jones with GPB News 
8:08 a.m.: Georgia Has Record Turnout
The Secretary of State's office said nearly 128,000 Georgians cast their ballots on the first day of in-person early voting. That turnout is far above the 90,000 who voted on the first day of early voting in 2016.
The turnout is even more impressive considering several counties were closed because of the holiday and didn't have voting. — From Stephen Fowler with GPB News
Monday 5:18 p.m.: 4-Hour Wait At One Voting Site In Atlanta
It took about four hours for many voters to cast their ballots at Adams Park Library in southwest Atlanta. There were only four machines at the library, snarling lines that wrapped around the building.
To help people in wheelchairs and those over the age of 65, election workers let those people move to the front of the line.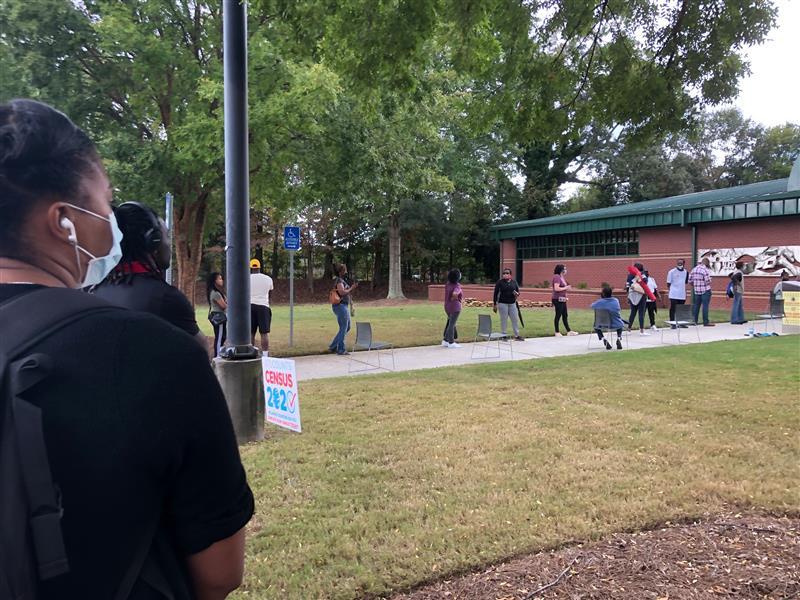 An election worker said there were only four machines because of a lack of space. — From Sean Powers with GPB News
2:35 p.m.: Heavy Turnout In DeKalb
Heavy voter turnout continued in the early afternoon in DeKalb County at a voting site on Agnes Scott College campus. Even in the 2 p.m. hour, the line wrapped around the building along the sidewalk.
Like elsewhere in the state, voters wore face masks and socially distanced while waiting. — From Sandy Malcolm with GPB News
2:11 p.m.: Cobb County Voters Spend Hours In Line
Estimated wait times reached five hours in Cobb County at the main elections office. More than 166,000 Cobb residents have already requested an absentee ballot, as officials encourage voters to avoid long lines on Election Day by casting their ballot early. — From Stephen Fowler with GPB News
12:55 p.m.: Huge Turnout In Coweta County
Katie McKoy in Coweta County said there was a massive turnout at her voting location in Sharpsburg, with a diverse array of voters braving the long lines.  "It's a beautiful thing to see," she said via email. "Everyone seems peaceful and patient."
She said nothing would prevent her from casting her ballot.
She told GPB News that her experience was "smooth and easy."
"The poll worker told me that there were a lot of software issues. There were about 30 machines in the room," she said. "According to the machine that scanned my ballot, I was voter number 275. It was open at 8:00 a.m., and I voted at 1:30 p.m."
McKoy said she had also heard that a voting location in downtown Newnan had equally long lines.
-- From Jade Abdul-Malik with GPB News
11:56 a.m.: A Fist Bump Breaks The Political Divide
GPB News' Grant Blankenship captured a powerful moment in Macon. "What color do we all bleed?" Biden supporter Carlton Kitchens asked Trump supporters Brad Emerton and Barbara Peacock while asking for a fist bump outside the Macon-Bibb County Board of Elections on the first day of early voting.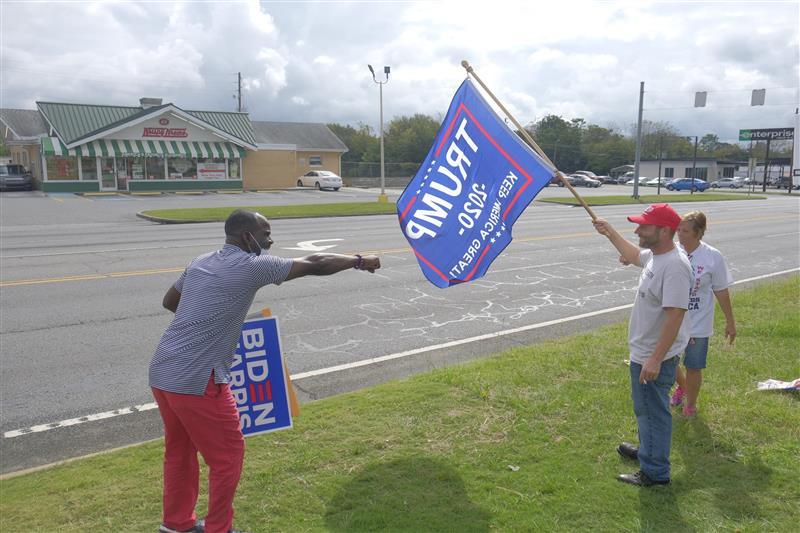 The request led to this — a fist bump across the political divide: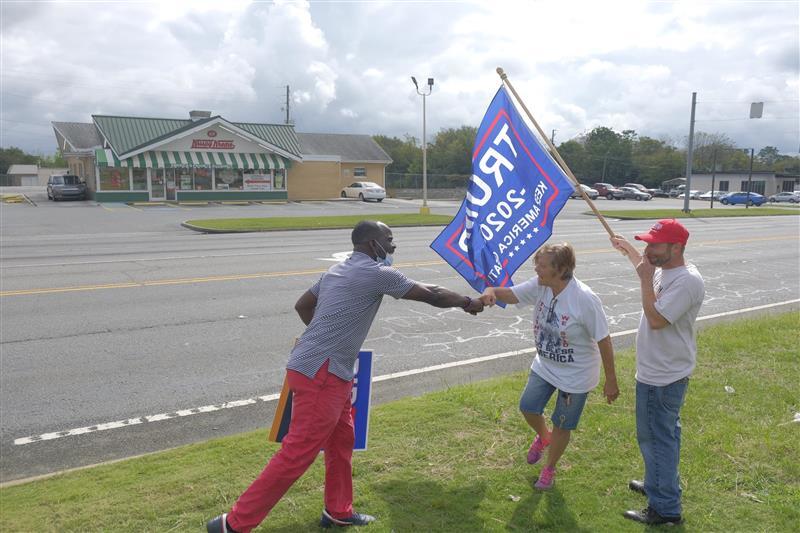 10:41 a.m.: Voters Flock To State's Largest Early Voting Site
The lines at State Farm Arena snaked past closed concession areas as hundreds of machines fill the arena floor.
An issue with poll pads used to check in voters caused a delay for about half an hour, but voting continues to run smoothly inside the state's largest early voting site.
Fulton County is home to 11% of the state's voters, and hundreds of Atlanta Hawks staff have been trained in Georgia's new voting system to assist with the process. — From Stephen Fowler with GPB News
10:03 a.m.: Reports Of Issues At Fulton Precinct
Some voters did not receive the correct ballot at the C.T. Martin Natatorium and Recreation Center in Fulton County. The early voting precinct is home to two state Senate districts, districts 38 and 39.
Some voters in the first hour did not receive the correct ballot and the special state Senate race for District 39 was not on their ballots. The poll manager says the issue has now been corrected and voters are now receiving the proper ballots. — From David Armstrong with the Georgia News Lab
9:50 a.m.: Macon Voters Head To The Polls
The line to vote at the Elaine Lucas Senior Center in Macon stretched outside the building 15 minutes before opening of the polls. The senior center is one of three early voting locations in Macon for the 2020 election.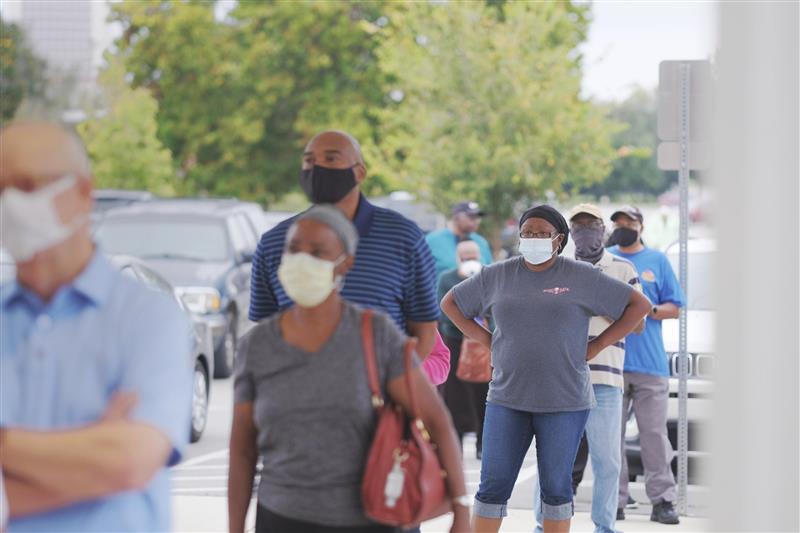 It is the first time the site has been used for early voting. The line moved slowly in the first hour, but voters acted cordially to one another, offering chairs to seniors so they can sit while waiting.
There were reports of connectivity issues with some machines, slowing the process.
— From Josephine Bennett and Grant Blakenship with GPB News
9:30 a.m.: Cherokee County Voting Site Swells With Voters
About 200 people wrapped around Smith L. Johnston Jr. Cherokee County voting precinct before the 9 a.m. opening. The line was so long it wrapped around parked cars in the parking lot. Some voters came prepared with chairs in hand.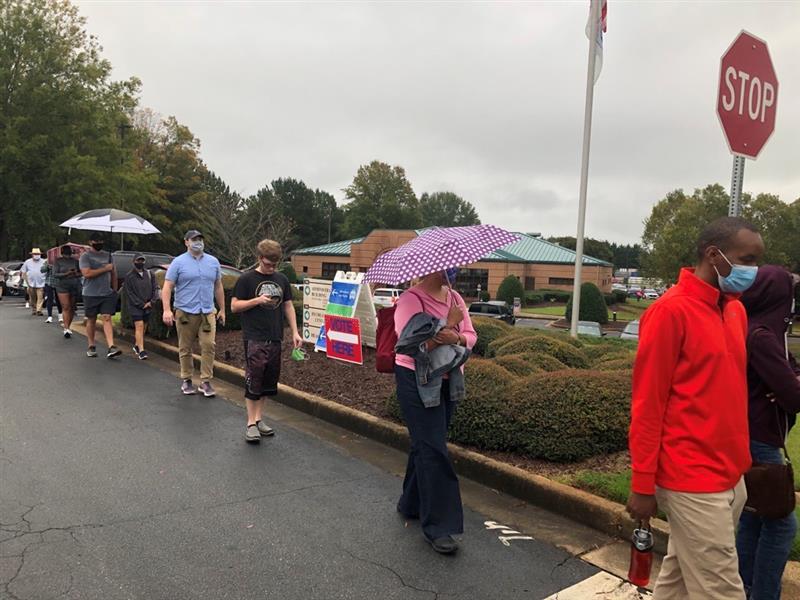 Those who were 75 or older were allowed to go to the front of the line. -- From Ellen Eldridge with GPB News 
8:55 a.m.: Lines Snake Around Fulton Voting Precinct 
More than 200 voters lined up outside the C.T. Martin Natatorium and Recreation Center ahead of the 8 a.m. precinct opening. Some said they arrived as early as 5:30 a.m. in preparation of casting their ballot in this historic election.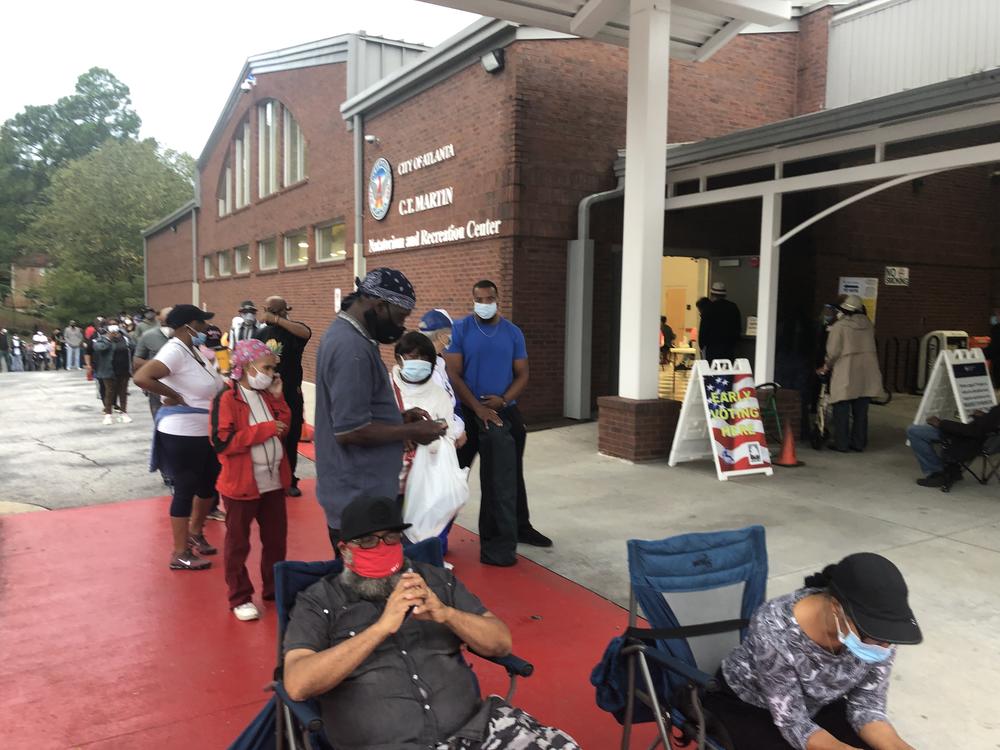 — From David Armstrong with the Georgia News Lab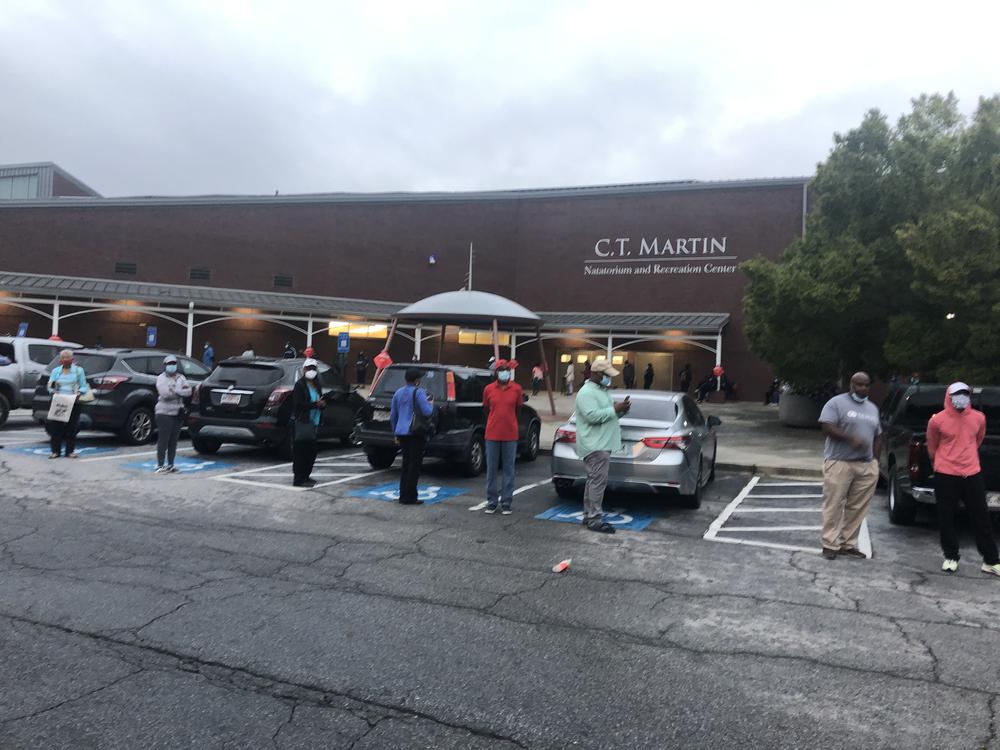 Secondary Content
Bottom Content