Section Branding
Header Content
Democrats Sue Georgia Counties Over Long Lines At The Polls
Primary Content
Democrats are suing the secretary of state and several Georgia county elections officials over long lines at the polls.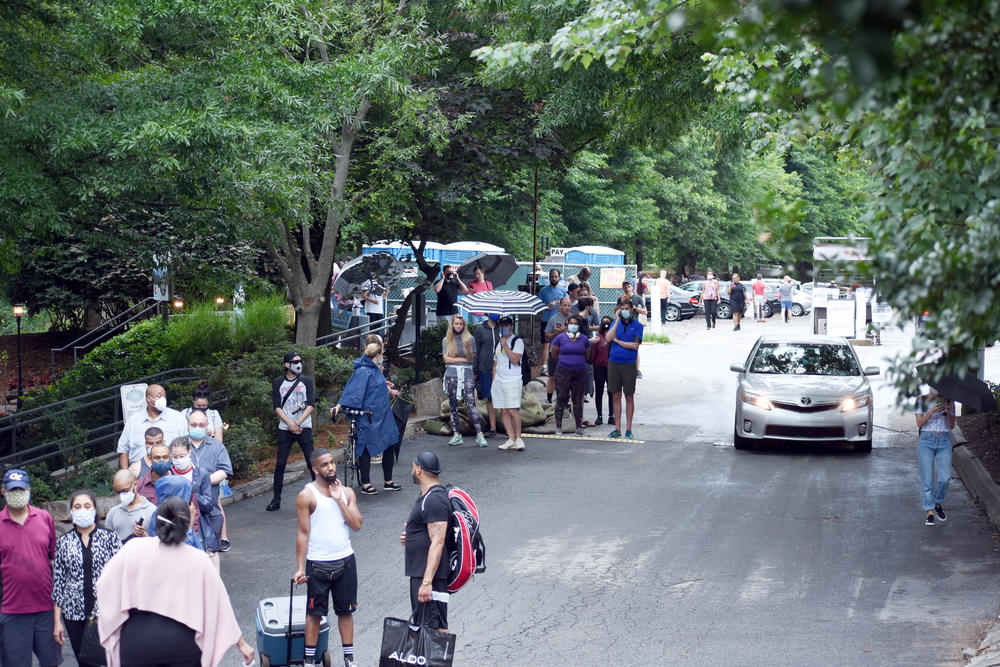 A new lawsuit filed in federal court Thursday alleges Georgia's secretary of state and several counties are disenfranchising voters through long lines at the polls caused by shortages in staffing, resources and voting locations.
The 81-page lawsuit claims local elections officials have a history of neglecting to adequately accommodate in-person voters, citing problems in Fulton, DeKalb, Cobb, Gwinnett, Clayton, Henry, Douglas, Bibb and Chatham Counties from as far back as 2008 to make their case.
RELATED: Georgia's Predictably Problematic Primary Becomes A Reality
"This is a problem with a clear solution, and there is no reason elections officials should not take the reasonable steps to make sure Georgians don't stand in line for hours to vote," Democratic Senatorial Campaign Committee chairwoman Catherine Cortez Masto, a U.S. Senator from Nevada.
At a virtual press conference marking the 55th anniversary of the Voting Rights Act, Democratic Party of Georgia chair Nikema Williams said that while the state should be the ones ultimately held responsible for problems with the primary, local elections officials were on the hook as well.
"We added counties as a defendant in this lawsuit because we want to make sure that we're getting this right," she said. "And at the end of the day, what matters to us is that voters are not negatively impacted at any level of the of the electoral process." 
The DSCC, Democratic Party of Georgia and three Georgia voters are plaintiffs. Lucille Anderson, a 71-year-old Black voter in Fulton County, said long lines at her Union City polling place throughout the day meant she was unable to vote. In the filing, lawyers said Anderson attempted to wait in line to vote four different times over the course of 12 hours before giving up.
Sara Alami, another Fulton County voter, was one of untold thousands of voters who applied for an absentee ballot but said she never received it. Alami waited from 6:30 a.m. until just after noon to cast her ballot at an unnamed polling place.
Also in the court filing, Gianella Contreras Chavez, a Hispanic voter in Cobb County, said she waited around eight hours total to vote around 1 a.m. the next day at an unnamed polling place during early voting. After arriving at the location around 4:30 p.m., she checked in after 5:30 p.m. and "was given a letter on a piece of paper and told to come back when she received a call from the poll workers."
During the final days of early voting, several counties around the metro Atlanta area saw longer lines and 80 fewer places to vote on election day. Statewide, about 10% of the polling places were relocated because of the pandemic.
The lawsuit also says that Henry County "dramatically reduced the number of polling locations for the June primary," but an analysis of polling place changes by GPB News and the Georgia News Lab shows no such reduction.
Georgia's primary election was marred by problems with the state's new $104 million touchscreen voting system that prints out a paper ballot, primarily in large metro counties that had more voters show up and fewer poll workers with less experience.
MORE: Here's What The Data Shows About Polling Places, Lines In Georgia's Primary
Ten percent of Georgia's polls saw the last person cast their ballot after 8 p.m. on primary election day, and half of them served majority-Black precincts, a GPB News analysis of check-in data found. 
Hourly data showed how problems poll workers had with the election system ground voting to a halt at numerous locations across the state, like when Cross Keys High School in DeKalb County ran out of emergency paper ballots after just 20 voters or when Christian City Welcome Center only processed about 660 voters from 7 a.m. to well after midnight.
GPB ANALYSIS: Hourly Voting Data Shows Where Georgia's Process Failed – And Flourished
Since the start of the pandemic, elections officials across the state have warned of longer lines at the polls on election day, as more locations that serve as polls backed out, older poll workers quit because of COVID-19 concerns and fewer machines would be used to comply with social distancing guidelines.
A record 1.2 million Georgians voted absentee by mail in the primary, and both state and local guidance is urging voters to use that method for the Nov. 3 general election. While Republican Secretary of State Brad Raffensperger's office mailed absentee applications to 6.9 million active voters for June, there are no plans to do so for November.
Instead, the state is developing an online absentee ballot portal to streamline the request process for voters and county workers alike, part of a plan the state announced to help better prepare for the general election.
Secondary Content
Bottom Content