Section Branding
Header Content
Hourly Voting Data Shows Where Georgia's Process Failed – And Flourished
Primary Content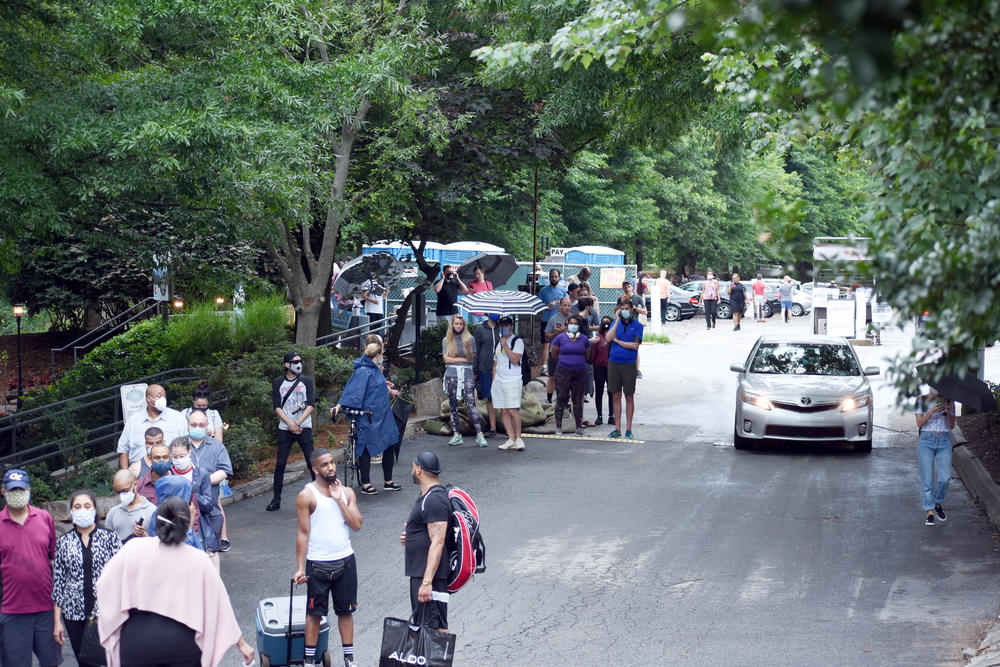 In the first hour of voting on June 9, 148 people used the state's new poll pad check-in system to cast their ballot in Georgia's primary election at the Newnan Centre polling place in Coweta County. Across the metro Atlanta area at Cross Keys High School in DeKalb County, that number was one.
As national media outlets, voting rights groups and concerned voters continue to turn their eyes towards our state's election administration, GPB News is publishing another set of data from the primary that paints a more complicated and nuanced picture of what went wrong – and right.
MORE: Here's What The Data Shows About Polling Places, Lines In Georgia's Primary
Analyzing the hour-by-hour check-in data from the secretary of state's office, some larger trends about voting emerge.
Across the state, there were more people processed as the day progressed, peaking with 104,422 voters from 5-6 p.m., more than double the number of voters in the first hour of the day.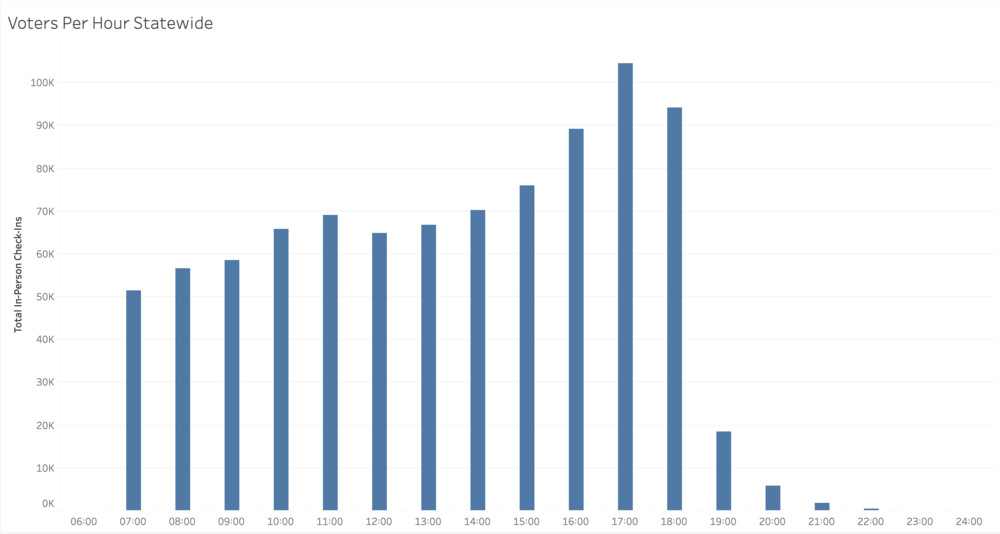 Some of the largest polling places mirror that trend. At its slowest, the Newnan Centre saw 88 check-ins from 8-9 a.m. At its peak, 216 voters passed through in the 4 p.m. hour, more than a quarter of the state's polling places saw the entire day of voting.
Some voting locations that saw their first voters well after 7 a.m. did not see many voters, period.
In Baldwin County at the CTY 4 precinct, the first check-in came at 9:12 a.m. and the last at 6:43 p.m.
The busiest hour was at 1 p.m., where a dozen voters came through.
Some voting locations that were flagged as problems on Election Day also show those problems in the data.
RELATED: Georgia's Predictably Problematic Primary Becomes A Reality
Cross Keys High School, where voting was halted for several hours after poll workers had issues with ballot-marking devices and then ran out of backup paper ballots after just 20 voters, has two hours where nobody checked in on a poll pad.
Coan Park Recreation Center in DeKalb saw the first check-in at 7:06 a.m. and only four others used the poll pad for the rest of the hour.
Numerous reports of poll workers having issues with the machines led to a backup and voting using the poll pad ground to a halt until the 9 a.m. hour. No more than 60 people voted in an hour at Coan Park for the rest of the day, or about 561 total voters.
In Fulton County, the Morningside Baptist Church location started off processing 79 voters the first hour, then up to 175 voters from 4-5 p.m. before the final five voters cast their ballots from 9:00 to 9:13.
All Fulton County polling places were ordered to stay open until 9 p.m., but only 42 of them saw voters cast ballots after 9. About half of them had more than 10 people in line by that time.
A notable polling place is the Christian City Welcome Center, which finished voting after midnight on June 10. Of the 660 or so that cast their ballots at that location, more than a third were after 7 p.m.
Fulton County officials have moved that polling place to Oakley Elementary for upcoming elections, along with other larger polling places with longer lines, like two of the precincts that voted at Park Tavern, three that voted at Liberty Baptist Church and the C.T. Martin Recreation Center.
This dataset is also available to use and download here, and GPB News will continue to analyze the data in the coming weeks.
Secondary Content
Bottom Content