Section Branding
Header Content
Holiday Traditions: The Tree
Primary Content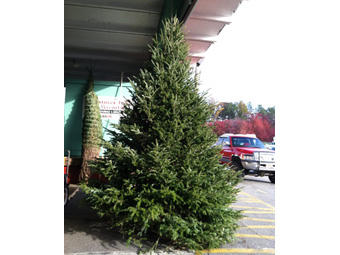 In the Holiday Traditions: Community post, I mentioned our live Christmas tree. Going to get it is a traditional event that leaves my son clapping and cheering while the tree is hoisted onto the car. Could he do that for an artificial tree? I don't care to find out. Our tree gets decorated with colored lights. You purists can have your sweet, white twinkle lights. My husband grew up with white lights, but I refused to budge on this point. Does anyone remember the BIG colored twinkle lights? You know, they were usually used in outdoor décor -- not at my childhood home! I feel that by using the tiny, indoor variety I have already compromised. Strangely, we have no tree-topper tradition. We used a slightly creepy angel one year, but she has mysteriously disappeared. Since then, it's been a big ribbon bow or gawdy, glittered star.
Next, we put on each ornament; most are handmade and all of them have a story attached. My husband and I re-tell the stories to each other each year, remembering the time we were attacked by a great swoop of sea gulls on our honeymoon in St. Augustine, and sharing that story with my son, who at four finds it incredibly hilarious. He is not wrong about that. Some of our ornaments are from our parents' collections, like the hand-painted Fire Mouse and Police Mouse that my husband's aunt made for him when he was a boy. Each year, he pauses and remembers past Christmases for a moment before choosing the right place for his favorite ornaments. In the end, the tree looks mildly haphazard – we aren't winning any awards and it wouldn't be featured in a magazine – but, it's our family tree. And, in a way, it tells our family's story.
My son gets a new ornament each year. Quite by accident, each year's ornament has been a reflection of his Halloween costume, commemorating his favorite holiday. So far, he's got a tiny "roaming gnome," Charlie Brown, a monkey, and this year's ornament, Buzz Lightyear. He gets to put those up and tell his own stories of trick-or-treating with friends. Easily, he's distracted into some four-year-old's story telling rant and there is no telling where we'll wind up. But, he gets to participate fully in the tradition.
By far, this is my favorite Christmas tradition inside our home. It's special and sweet and I sincerely hope it's building the same treasured memories for my son that is for my husband and me.
What kind of tree are you using and what traditions do you have about how it gets decorated? And, please, weigh in on this tree-topper situation. I have zero convictions and feel like I'm missing out on a quintessential tradition opportunity.
Update: We had a very successful tree shopping experience at Atlanta State Farmers Market and got our 6-7 ft. tree for only $35, cash or check -- no cards if you're heading that way. And, this year, the tree is topped with an enormous, puffy bow.
Read more from this series:
Holiday Traditions: Community
Holiday Traditions: Charity
Holiday Traditions: The Tree
Holiday Traditions: Crafts
Secondary Content
Bottom Content