Section Branding
Header Content
Holiday Traditions: Community
Primary Content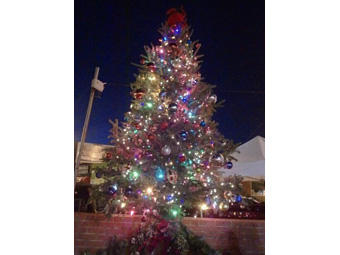 Fall is my family's favorite holiday season, and as such it is full of must-have traditions. We have to go to our favorite pumpkin farm where my son gets to have any pumpkin he can carry (a rule that I'm certain we'll need to amend before he's 12), and we simply must visit beautiful Dahlonega. That's where I get my annual caramel apple from a local shop that uses only local Georgia apples.
Winter isn't such a bad season either and we have a few traditional events here, too. We enjoy the seasonal shopping flurry where we get extra deals and discounts to share with our favorite charity. We pick out a real, live Christmas tree, though we don't yet have a traditional place to get it. This year, we're trying out the Atlanta State Farmers Market for our tree. There are several other State Farmers Markets if you'd like to purchase a tree that way, too. We've yet to be disappointed in the Georgia produce we've gotten there and I'm certain the tree will be no different.
Another big holiday tradition is the Christmas Tree Lighting in our community. It's safe to say that I'm an extrovert and get a real thrill from being around other humans. It's especially fun at our community tree lighting festivities. Unlike other local festivals, the sun has set and there is no chance of getting a sunburn. Also, everyone there is sincerely buzzing with excitement anticipating this tree lighting. I mean, it's something we've seen before and have done in our own homes. But, it becomes magical when we're waiting for it to happen on the crowded sidewalks of East Atlanta Village. There's a bizarre garbage Grinch guy who roams around encouraging us to recycle, which is great advice. Street performers from the Imperial OPA Circus keep the crowd entertained while we await Santa Claus's arrival. Kids, pumped up on hot cocoa and candy canes are straining on parents' shoulders to touch the tree. It's magical.
And, this year, I've scheduled a big party at my house right in the middle of the tree lighting festivities. Still, holiday parties are pretty fun traditions, too.
My brother and sister-in-law have already participated in their local tree lighting celebration, but many other communities are hosting theirs this weekend. A simple check on Facebook or Google search should lead you to the specifics for your area.
What is your favorite holiday community event?
Read more from this series:
Holiday Traditions: Community
Holiday Traditions: Charity
Holiday Traditions: The Tree
Holiday Traditions: Crafts
Secondary Content
Bottom Content