Section Branding
Header Content
An Interview With Mercy Street Extras Casting Director Chad Darnell Part 2
Primary Content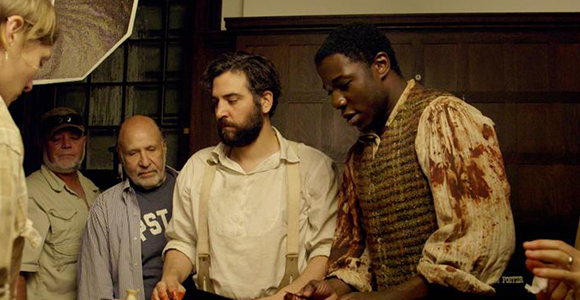 Last week, we introduced you to Mercy Street casting director Chad Darnell, who helped cast dozens of extras for the show. He explained his background in film and television as well as the criteria he looked for while casting extras. This time, he discusses what happens after an extra is cast, his day-to-day role and confirms in season 2 (yes there will be more Mercy Street !) he'll be even busier because the Civil War scenes are ahead!
GPB Family: What is a typical day for you while working on Mercy Street ? Is there such a thing as a typical day?
Chad Darnell: Our extras usually had to arrive anywhere from one to three hours before crew call (the time the crew reports to work) for hair, makeup and wardrobe. Because of all of the blood, make-up took a long time and we had multiple make-up artists working on the extras and touching them up throughout the day.
Kendall Cooper, my assistant, would check-in on everyone in the morning at the early call and I would arrive at crew call to make sure everyone was happy. I would have breakfast on set and check-in with the director in between scenes to show pictures for the next day's work or show actors for last minute speaking roles.
Because our "stage," which is a real historic building in Richmond was so old, we had terrible wi-fi service, so I would usually go back to the home I was renting about two miles away and start casting for the next day. I would go back at lunch time, get the call sheet for the next day and any additional information that needed to be handled.
During the day, Kendall would handle the SAG-AFTRA paperwork and assist the assistant directors on set with placing the extras in the scenes, because we were matching hospital beds from scene to scene and we might shoot one scene one day and the next scene three weeks later. It was like playing human Tetris! And she would also coordinate all the extras coming in for wardrobe fittings. Kendall never left the set, unless I needed her to walk the street to find skinny patient types.
When we moved to Petersburg, Va in the middle of the shoot to film the interiors of the "Green Home" and all the exterior street work, we stayed on set most all day long. Our entire wardrobe department had to be moved to Petersburg as well in order to do fittings. I think Kendall and I single-handedly kept Demolition Coffee and Saucy's BBQ in business during our Petersburg shoot!
At the end of each night, at "wrap," we received a final call sheet and at that point, we contact all the extras with their final call times for the next day (and would usually spend hours confirming them and replacing them).
GPB Family: Period dramas, such as Mercy Street, often require actors to learn new skills they might not have already known. What sort of skills would extras for Mercy Street need to know in order to be a part of the production? Were they difficult to learn?
Chad Darnell: We had several days of training for our extras playing doctors, nurses and orderlies. They worked alongside our other actors like Josh Radnor and Tara Summers and learned lots of period medical techniques from our medical advisors. And our incredible wardrobe team took great care to show how to sit, walk and stand in the heavy period clothing.
Episode 4 involves a ball and our cast and extras had to learn a dozen dances! Trying to find young men who could do all of these classical dances in Richmond was a massive challenge!
I've been an actor since I was child and took all kinds of dance classes when I was younger, so I got roped into being an extra myself! I hadn't danced in nearly twenty years. We had three rehearsals and shot the scenes over two days. It was the middle of the summer, the women were in corsets. The guys were in wool suits. The collar was the worst, because you couldn't move your neck. It was like a really hot straight jacket!
We were sweating like we were dancing on the surface of the sun. Everyone had to be completely touched up after each take. When we wrapped on the second day, it was so hot, I took off all my clothes the second I walked out of the house and walked back to the trailers.
Lisa Wolfinger, our incredible creator and executive producer, is also a classically trained dancer and I was honored to be her dance partner in a few of the dances. It was definitely a family affair. We had a blast, even though we were miserable from the heat.
GPB Family Civil War reenactments are very popular in the USA, especially in Georgia. Were any reenactors involved as extras on Mercy Street?
Chad Darnell: Not yet! We had some extras who are reenactors and they participate in the reenactments around the South, but as you'll see this season, our first six episodes focus on the triage in the hospital. And without giving anything away, I've already been told that season two is going to be huge and as one of the producers said, "you're going to be very, very busy." The war is coming...
Mercy Street airs on GPB Sundays at 10 p.m.
Secondary Content
Bottom Content