Section Branding
Header Content
More Lady Mary: Downton Abbey Coming Back For Sixth Season
Primary Content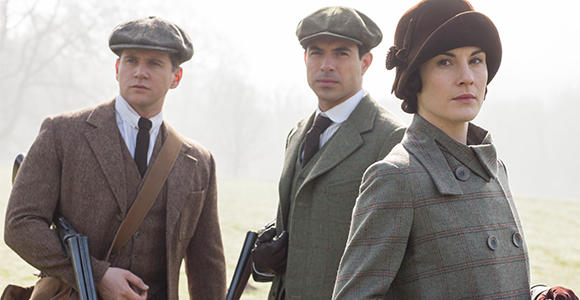 You'll be seeing more of Lady Mary. "Downton Abbey" has been renewed for a sixth season.
"How lucky can you get?" said MASTERPIECE Executive Producer Rebecca Eaton in an official media announcement. We agree!
The fifth season of "Downton Abbey" finishes up its run in the UK on Sunday, November 9th. Season 5 premieres on MASTERPIECE on GPB TV and other PBS stations on Sunday, January 4, 2015.
Some writers had speculated that the Crawley's days were numbered especially after creator/executive producer Julian Fellowes said "the show won't go on forever."
But he clarified to the Daily Express back in March that he couldn't say whether the show would return or not as ITV confirms each season after one ends.
Apparently ITV has put in the new season order.
More MASTERPIECE Too
Thanks to the popularity of shows like "Downton Abbey" and "Sherlock," PBS is expanding its hours of MASTERPIECE programs.
Some of the new shows coming in 2015 include:
Grantchester: - a six part mystery that premieres Sunday, January 18 at 10 p.m. about a cop and clergyman crime fighting team in the UK.
Wolf Hall: - an adaptation of the novel of the same name about Thomas Cromwell and Henry VIII's relationship.
The Manners of Downton Abbey: - a behind-the-scenes look at the world of Edwardian manners featuring Alastair Bruce, historical advisor to "Downton Abbey."
Additionally "Mr. Selfridge" starring Jeremy Piven returns for a third season, actor Aidan Turner from "The Hobbit" movies and the popular BBC show "Being Human" stars in a remake of the 1970s blockbuster "Poldark", and the drama "Indian Summer" about the waning years of the British colonial rule in 1930s India will air.
Ralph Lauren Corporation and Viking River Cruises will fund these programs.
Are you excited about a sixth season of "Downton Abbey"? And what do you think of the new MASTERPIECE shows premiering in 2015? Exciting huh? Let us know.
Secondary Content
Bottom Content