Section Branding
Header Content
Downton Abbey Season 4 Finale: Shirley's Back!
Primary Content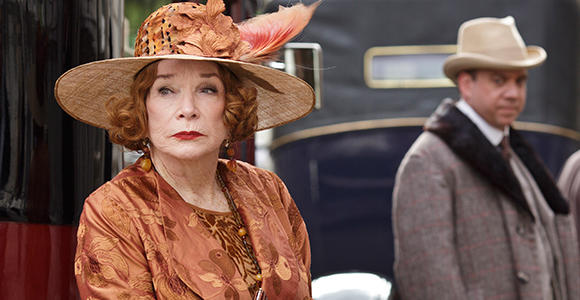 A sexual assault, an out of wedlock pregnancy, interracial love, a blooming love triangle and a mysterious murder: this season of Downton Abbey was crammed with every issue and plot twist Sir Julian Fellowes could drum up. Season 4 comes to a close too soon with a two hour finale on Sunday.
If the preview clip below is any indication, the last episode promises to end with drama and flourish with the return of our favorite American: Cora's mother as played by the fabulous Shirley MacLaine.
MacLaine added class and brash to the household in season three. She lightly sparred with Violet and invented the buffet to save a dinner disaster. It will be exciting to see what she does this time. She brings her son Harold, embodied in the actor Paul Giamatti. Cora's brother is considered a player. While I would never think to attach the word player to the Academy Award winning actor, it will be interesting to see what he does with the role.
Check out Shirley's return and Paul Giamatti's playboy look in this clip.
How will it all end? Will Bates be unveiled as Mr. Green's killer? Will Mr. Gregson finally turn up and reunite with Lady Edith? Will Lady Mary pick Blake or Gillingham or will a surprise new suitor come up? So many loose ends to to sew up!
What are your predictions? Let me know.
Secondary Content
Bottom Content