Section Branding
Header Content
Downton Abbey Season 4:Mary's New Loves, Branson and the Pesky Electric Mixer
Primary Content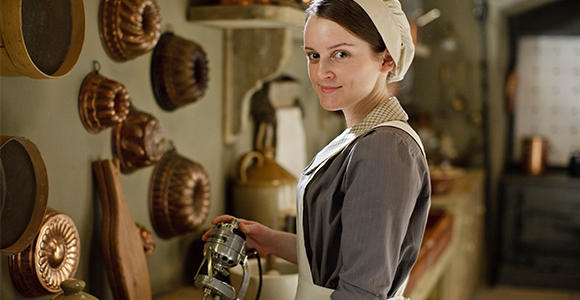 It's official. Lady Mary will be getting not one but two main love interests! How do I know this? She said so herself. That is Michelle Dockery said so. In a flurry of interviews for the Television Critics Association and the U.K. media, Dockery and other cast members are confirming and talking about storylines for Downton Abbey season 4.
Here is a compilation of what the cast is revealing about the plotlines and some of the photos that verify them. (Don't worry no major spoilers here!)
Mary will have two main beaus: Lord Gillingham and Charles Blake
"There are a few potential suitors, there's two main ones," Michelle Dockery tells E Online. "The new boys coming into the show, they're brave because I'm cursed. Mary is cursed isn't she? Because they all die."
Check out the photo of Charles Blake (Julian Ovenden on left) and Lord Anthony Gillingham (Tom Cullen on right.)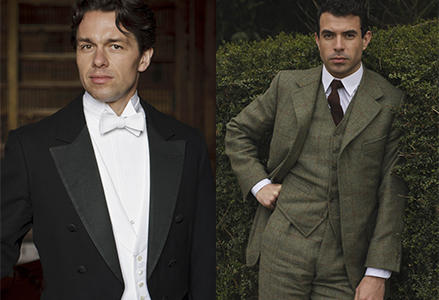 Don't expect Lady Mary and Branson to get Together
"They are very much friends, and he is her brother-in-law still," Dockery tells TV Guide. "They've become close because of what they've been through, and because Mary becomes far more involved with the running of the estate. But romantically, I don't think it's going anywhere. I hope not!"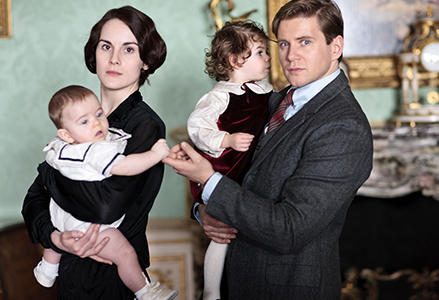 But Branson will get a love interest in the form of a governess, played by Daisy Lewis. (Read the Daily Mail story and check out the behind the scenes photos of Lewis in Downton garb.)
Speaking of Tom Branson - he'll take the reigns of running the estate and will be more integrated into the family
(Notice how Tom is now featured in the formal Downton Abbey servants, family photo on the family side.)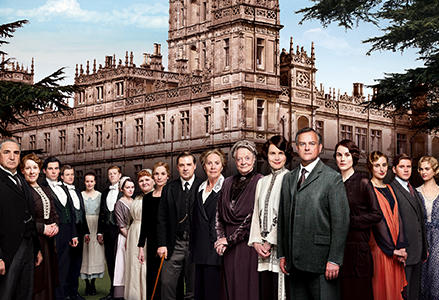 Lady Edith will be Carrie Bradshaw
"I like to think about her as the Carrie Bradshaw of the Twenties," Edith portrayer Laura Carmichael tells the Radio Times about her storylines. Season 4 will be Edith's time finally. Expect to see her tooling around London in flapper garb, driving a car and spending time with her current Mr. Big - the sort of married/editor Michael Gregson. He'll propose taking on German citizenship so he can run off with Edith. Um right, good luck with that, Michael!
There will be singing - lots of singing.
If Downton will seem like a musical this season, it is because singers have been added to the cast. They won't be shy about breaking into song either. Opera singer Kiri Te Kanawa will play real life twenties opera star Dame Nellie Melba. Actor Gary Carr will also lend his singing voice to the character Jack Ross, an American jazz singer.
Image from The Independent UK.
Producer Gareth Naeme tells the New York Post about Carr, "He's got a great voice."
An electric mixer joins the downstairs staff
Forget about last season's tension between the new footmen and ladies maid. This season an electric mixer will be the source of friction. Blame Daisy Mason for causing this conflict as she introduces the new appliance into the kitchen.
"She gets a new electric mixer which causes tension because Mrs. Patmore is like it's the work of the devil!" explains Daisy Maison portrayer Sophie McShera to the BBC. " 'I don't want anything to do with it. Why do we need it? You know we have our hands.'"
You can see how all of these plotlines play out when Downton returns January 5, 2014.
What do you think about some of the new storylines in season 4. What would you like to see happen?
Secondary Content
Bottom Content