Section Branding
Header Content
Battleground: Ballot Box | As midterms end, Georgia's political spotlight burns brighter than ever
Hero Image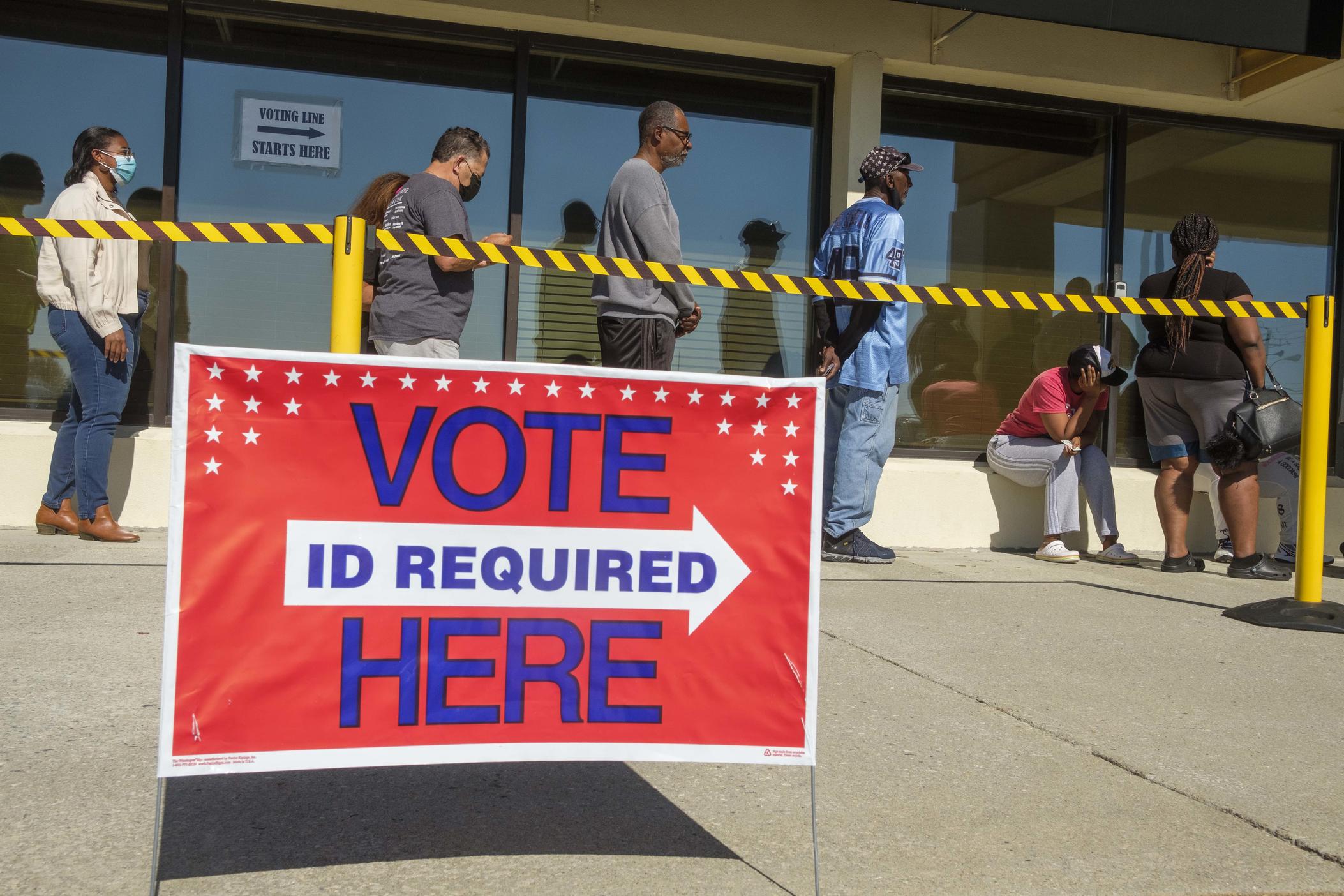 Primary Content
LISTEN: On this final regular episode, we look at the 2022 midterm elections in Georgia and how they will influence the future of American politics.
——
For the first time in what seems like forever, election season in Georgia is over.
Democratic Sen. Raphael Warnock won a full six-year term to the Senate on Dec. 6 by defeating Republican Herschel Walker in a sprint to the finish that was not without controversy and lawsuits. The four-week runoff, shortened by the sweeping 2021 election law Senate Bill 202, came on the heels of a decisive general election victory for Republicans, led by incumbent Gov. Brian Kemp and Secretary of State Brad Raffensperger over Democrats, who hoped for better results.
Through it all, Georgia has emerged as an even bigger political battleground state heading into 2024. From Democrats seeking to elevate the state in presidential primary politics, to Republicans plotting a potential post-Trump playbook, the Peach State is still a dominant force in the discussion of who we vote for and how those votes are counted.
This week, in our final regular episode, we look at the biggest developments in the past, present and future of Georgia politics.
How we got here
When this podcast first started in late September 2020, we promised to walk you through the good, the bad and the complicated mechanics of voting and elections in Georgia. Over the past two years, I've interviewed dozens upon dozens of elections officials, voters and candidates; sat through countless court hearings; traveled every corner of the state to cover campaign events and even sat through training as a poll worker.
And let me tell you: A lot has changed since then.
In early 2020, the largest-ever rollout of new voting equipment was completed just weeks before the coronavirus pandemic devastated the world and cast the state of elections into chaos.
Politically, in the weeks leading up to the election, Georgia was shaping up to be one of the must-win states for both Joe Biden and Donald Trump, with a flurry of visits by the candidates in the closing days.
"A few weeks ago, I spoke at Gettysburg about the need to unite our nation," Biden said. "Today, here at Warm Springs, I want to talk about the need to heal our nation."
Trump had been sowing the seeds of doubt about voting by mail and foreshadowing what would ultimately be a failed coup attempt following his November 2020 defeat.
The state remained in the headlines for its long lines to vote and issues with machines that had voters and elections officials concerned for Election Day.
"I have voted in every election and I've never stood in line this long," 71-year-old John Glover told us in fall 2020. "It's worth the wait. I'm prepared to stand 8 hours if I have to."
And Biden's victory in Georgia and other swing states gave way to different concerns as Trump and his allies in the GOP sought to actively overturn the election results by pushing false, misleading and sometimes dangerous claims of fraud.
The weekend before Congress met to certify the Electoral College results, Trump took the unprecedented step in a now-infamous call of pressuring Republican Secretary of State Brad Raffensperger to toss out the state's results and declare him the winner.
"All I want to do is this: I just want to find 11,780 votes, which is one more than we have, because we won the state," Trump stated at one point. "Flipping the state is a great testament to our country. It's a testament that they can admit to a mistake. A lot of people think it wasn't a mistake, it was much more criminal than that. But it's a big problem in Georgia, and it's not a problem that's going away."
Just a few days later, thousands of Trump's most vocal supporters, egged on by lawmakers like Georgia U.S. Reps. Marjorie Taylor Greene and Jody Hice, descended upon Washington, broke into the Capitol and tried unsuccessfully to overthrow the government.
A massive election law rewrite
Nearly two years later, the fallout from the January 6 insurrection attempt has spread across many facets of American politics and the midterm elections. But here in Georgia, an equally large change took place in the state legislature.
Senate Bill 202 is a massive omnibus voting bill that runs 98 pages and altered virtually every aspect of casting a ballot in Georgia, from overhauling access to absentee ballots and curbing drop box usage, to requiring quicker vote counting — and rather consequentially, shortening the runoff period from nine weeks to four.
Elections officials, already exhausted and worried after death threats and high turnover after the 2020 presidential race, were less than excited.
"The state of Georgia is at a point of crisis," Douglas County elections director Milton Kidd told me. "The level of institutional knowledge we're losing because of the state, either directly or indirectly, not defending election workers is creating an atmosphere of mistrust — not just around the elections process but around elections workers themselves."
At a 2021 elections conference on Jekyll Island, I spoke with countless local elections officials like Douglas County's Kidd who were concerned about the wide reach of the election law, Republican lawmakers' lack of understanding about how the voting process works and, in a bit of foreshadowing we'll get to later, expressed hesitation that it might be too much, too soon.
Those changes were further exacerbated by redistricting, the once-a-decade process of redrawing political boundary lines. In the previous 10 years, Georgia's population had grown larger, younger and more diverse, and we traveled to town halls across the state to hear peoples' pleas for the new maps.
Ultimately, Republicans in the legislature drew maps that retained their majorities and gave Democrats more seats everywhere except the U.S. House — with Democrats Rep. Lucy McBath and Rep. Carolyn Bourdeaux pitted in a member-versus-member primary representing Gwinnett County and opening the door for a new GOP congressman in the 6th District running north through Atlanta's suburbs.
This cycle was also the first redistricting where Georgia, and other jurisdictions with a history of racial discrimination in voting laws, did not have to get changes pre-approved by the federal government.
A look at Trump and the 2022 midterm cycle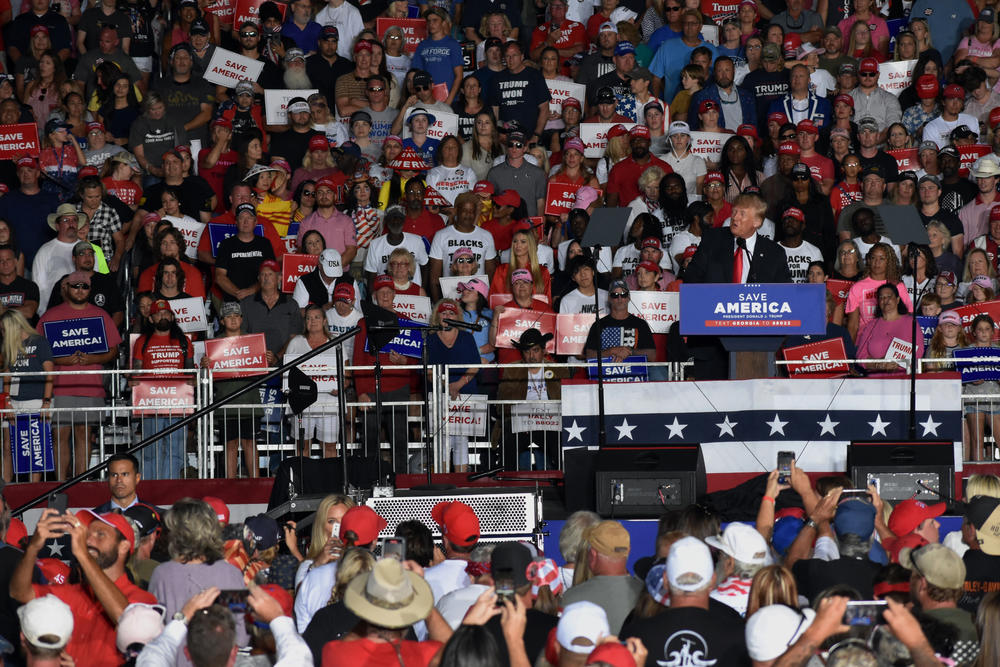 All the while, Georgia's politicos looked ahead to the 2022 primaries and general election, where Democrats were hopeful that Trump's obsession with the state could leave an opening for them to flip statewide races, like a September 2021 rally in Perry where a slate of pro-Trump primary challengers was beginning to take hold.
"This is the greatest movement in the history of our country, perhaps the greatest movement in any country, and we're going to make sure that we see it to the end," Trump said.
When his attempts to overturn the election in Georgia didn't work, he set his sights on punishing those who didn't commit crimes for him in the 2022 primaries, especially incumbent Gov. Brian Kemp.
He turned heads at that 2021 rally in Perry by arguing that Democrat Stacey Abrams might be better than Brian Kemp, solely because Kemp certified election results.
"Of course, having her I think might be better than having your existing governor, if you want to know," he said. "Stacey, would you like to take his place? It's OK with me!"
Over the next few months, a group of far-right Republicans emerged that earned Trump's endorsement and largely lined up to challenge popular incumbents deemed disloyal to the former president, ranging from relative unknowns like attorney general candidate John Gordon and Patrick Witt running for insurance commissioner, to David Perdue, the former U.S. senator who lost in the January 2021 runoffs.
Only former football star Herschel Walker and self-funded state Sen. Burt Jones won their primaries for Senate and lieutenant governor, respectively, as Republican voters (and some Democratic crossovers) decisively rejected the election denier slate to represent them in November.
Perdue lost the 2021 runoff in part because Trump's fraud claims kept Republican voters home. In 2022, he halfheartedly embraced those fraud claims and claimed the only way to unify the GOP was to divide it further by challenging Kemp.
"I made the decision that I don't believe our governor can beat Stacey Abrams, and here's why: to win in Georgia, you've got to get normal Republicans, you've got to win the people in the suburbs, new people moving into Georgia and you've got to win the Trump vote," Perdue said in a campaign ad. "I just don't think he's going to get the votes."
Hindsight is 20/20: Perdue suffered a massive defeat, losing 74 to 22 to Kemp in the primary, and the governor romped over Democrat Stacey Abrams, defeating her by a seven-and-a-half-point margin in November.
But at the time, Perdue and Rep. Jody Hice, who was challenging Secretary of State Brad Raffensperger, were banking that saying yes to the influence of Donald Trump was more worth it than voters potentially saying no — which they did, resoundingly.
Before the primary, in Commerce at what was the smallest Trump rally I have ever covered in the state, Jones the lieutenant governor candidate explained the stakes of primary voters not selecting pro-Trump challengers.
"It will set the stage for '24, because all eyes will be on Georgia this year," he said. "And if we don't win big — if we don't have a red wave — then it doesn't play well for us to put Donald Trump back in the White House in 2024."
Fast forward to today, and Burt Jones is the only Trump-backed candidate to win — and it remains to be seen what the former president's chances will be in 2024 now that he's announced his third campaign.
Legal fallout from post-2020
Another factor that will weigh heavily on the next two years is Trump's potential legal peril, both in Georgia and elsewhere.
In Fulton County, there is a special purpose grand jury assisting District Attorney Fani Willis to determine what, if any, laws were broken in the sustained pressure campaign to undo Trump's election defeat in 2020.
In Washington, the House committee investigating January 6 held hearings over the summer detailing what their inquiry found, including several high-profile witnesses from Georgia, like Fulton County elections worker Ruby Freeman, who faced death threats and more after Trump and his allies falsely accused her of committing fraud.
"I've lost my name, and I've lost my reputation," Freeman said. "I've lost my sense of security, all because a group of people, starting with No. 45 and his ally, Rudy Giuliani, decided to scapegoat me and my daughter Shaye to push their own lies about how the presidential election was stolen."
Secretary of State Brad Raffensperger was part of a cadre of primarily Republican witnesses and officials who gave bipartisan credibility to the argument that what the former president did was wrong and that there was no widespread fraud.
"I've been traveling through the state of Georgia for a year now, and I simply put, in a nutshell: What happened in fall of 2020 is that 28,000 Georgians skipped the presidential race and yet they voted down ballot in other races," he said. "And the Republican congressman ended up getting 33,000 more votes than President Trump, and that's why President Trump came up short."
The January 6 hearings and Trump's attack on democracy wasn't the only bombshell that rocked the political landscape this summer. The Supreme Court's ruling in the Dobbs v. Jackson case upended decades of precedent and sent control over abortion laws back to the states.
For Georgia, that meant 2019's House Bill 481 would become the law of the land — once it cleared the courts.
The ruling sent shockwaves through Georgia politics as Democrats saw an opening to paint the incumbent Republicans as too extreme for a diversifying swing state and Republicans saw a major policy victory that could motivate their voters to head to the polls.
 
The 2022 midterms
Two marquee races topped the ticket in Georgia: the gubernatorial rematch between Kemp and Abrams, and the Senate race between incumbent Democrat Raphael Warnock and Trump-backed Herschel Walker.
In the governor's race, Kemp's message never changed from when he was attacked by the right flank of the party before the primary: he reopened the state from COVID restrictions earlier than any other state as part of guiding the state's prosperous economy and used record budget surpluses to give money back to taxpayers.
"This team has put our state on the path to greater economic opportunity for all who call the Peach State home," Kemp said. "We've brought good paying jobs to every corner of Georgia, landed the largest economic development deals in our state's history, passed the biggest income tax cut on record and kept government out of your way and out of your pocket."
Abrams, after falling short by about 55,000 votes in 2018, tried to create daylight with the governor by arguing that yes, there should be tax refunds but that the governor did not do enough for rural Georgia and the surplus should be reinvested in other state programs.
"We have the resources, we just need the leadership to get it done," she said. "Once again, Brian Kemp's poverty of imagination has left too many of our people saddled with debt or excluded from opportunity.
"For the past 20 years, Georgians have been trained to believe that we can't afford to do what's right, that solving the big problems and making bold choices won't work. But when we have been bold, when we have been brave, we have been the best."
Here's what Emory Political Science Professor Andra Gillespie told me at the time about how voters would likely be more aligned with Kemp's view of the economy than Abrams. For example, if someone is unemployed but the overall economy is doing well, they might not blame elected officials.
"Similarly, you could be doing well economically, and you might be able to afford and withstand high gas prices and high food prices, but you are very much aware that people are hurting in your community," she said. "So if you see that happening, you still may take a very negative view of the people who are in power, and that's probably not going to work well for the president if he's running for reelection, and that certainly wouldn't be something that members of his party would want hanging over their heads as they try to run for reelection as well."
Support for the governor's COVID policies and economic plans are among the many reasons he resoundingly defeated Abrams, along with his refusal to bow to Donald Trump's wishes to reverse 2020.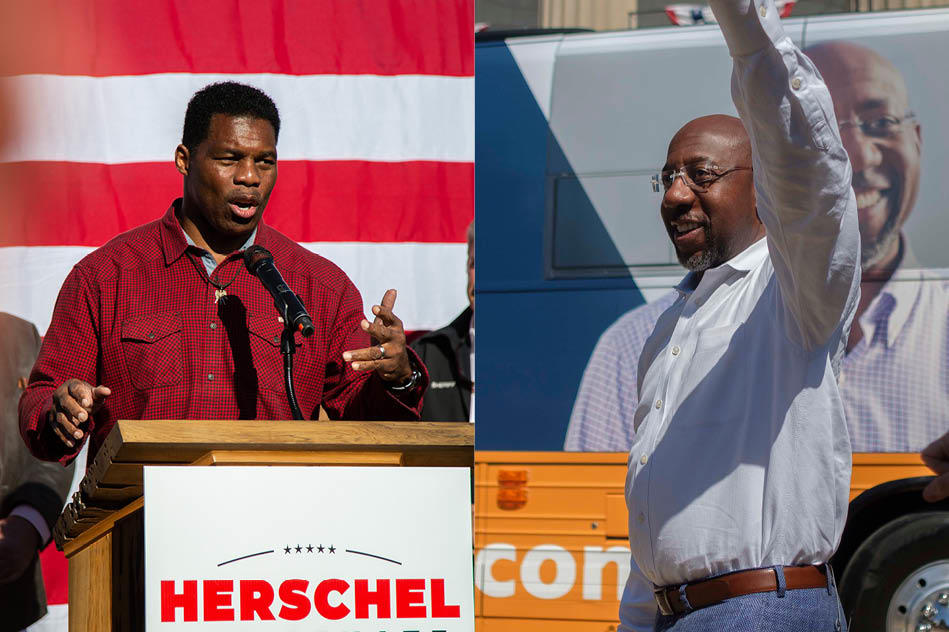 The Senate race had a different dynamic: After narrowly winning the 2021 runoff, incumbent Sen. Raphael Warnock was consistently rated one of the most vulnerable U.S. senators on the ballot.
But his opponent was Herschel Walker.
The former Heisman Trophy winner and University of Georgia football standout had no political experience before launching his campaign, and lived in Texas for several years leading up to the 2022 election.
His campaign was constantly fighting to get his message out on top of a neverending torrent of coverage about: lies Walker told about his past; nonsensical statements that showed little grasp of public policy; and damning revelations about alleged secret children and pressuring ex-girlfriends to have abortions.
And his message — repeated frequently by high-profile surrogates who gladly joined him on the trail and on Fox News, boiled down to: "Vote for me: I'm a celebrity and a Republican."
"I know that Herschel Walker is going to help build a Republican majority in the United States Senate," Sen. Tom Cotton from Arkansas said. "Herschel will be a leader in the Senate just like he has been a leader in sports and business."
Walker's campaign largely avoided interacting with anybody but the friendliest right-wing media and had often antagonistic relationships with journalists that did cover the campaign.
Then there was the great debate debate: after Warnock accepted three debates in Atlanta, Macon and Savannah, Walker refused to acknowledge those requests and instead accepted a fourth debate in Savannah — then claimed Warnock wouldn't debate him.
When the two did face off on the same stage, Walker went viral for pulling out a prop law enforcement badge to falsely claim he was a police officer after Warnock attacked Walker for his previous statements.
"One thing I have not done: I've never pretended to be a police officer, and I've never threatened a shootout with police," Warnock said.
 
A sprint to the finish in yet another runoff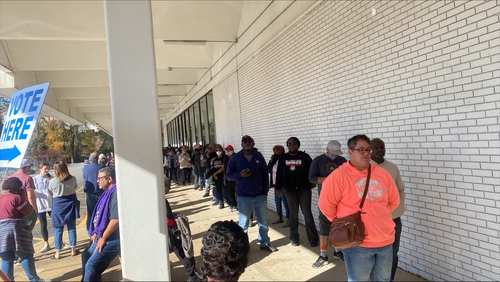 By now you know that the presence of a third-party candidate and Walker's weaknesses forced the election into a runoff, with Warnock getting the most votes in November.
Roughly 1 in 10 Republicans who supported Gov. Brian Kemp voted for somebody other than Herschel Walker, including a sizable number who backed Sen. Warnock.
In the four-week sprint to the finish, campaigns continued to flood a weary electorate with advertisements, mailers and door knockers to show up one final time, with a particular interest in targeting those split-ticket voters.
Warnock spent the runoff much like he spent the general, touting his work in Congress so far around lowering health care costs, painting himself as a bipartisan moderate willing to work with anyone if it helped Georgians and arguing the race was about "character and competence," including a campaign stop with former President Barack Obama.
Walker also spent the runoff much like the general, focusing on far-right culture war issues like transgender women competing in sports, attacking the use of pronouns and catering to an older, whiter Republican base that failed to get enough votes in the general.
And of course, there were viral moments of nonsense that reiterated to some why he was not ready to be a U.S. senator, like a lengthy tangent on werewolves and vampires.
On the election administration front, that sprint was compounded by local officials trying to wrap up the general election — including a statewide audit of the Secretary of State race — while preparing for the shorter runoff. It brought moments of levity — like rolling of Dungeons and Dragons-style dice to seed a computer algorithm that guided the audit — and stress as the new voting law put even more pressure on elections offices to move mountains with fewer staff, less time and, as we discovered, a crush of people shifting to in-person early voting.
Speaking of early voting, one of the major developments for the runoff was a lawsuit filed by Democrats, including Sen. Warnock's campaign, over early voting access.
At issue: State law requires only five mandatory days of early voting for the runoff, allowing optional days if counties are ready beforehand. But the state said a different state law barred early voting if it was the Saturday after a state holiday.
A judge disagreed, the state appealed and lost and then Republican groups unsuccessfully tried to get the Georgia Supreme Court to block Saturday voting.
Ultimately, we should note, nearly as many people showed up during that optional Saturday in mainly urban Democrat-heavy counties as the final margin of victory, so it's possible Republicans fighting extra access hurt them at the polls.
Georgia set records for in-person early voting several days during that five-day mandatory window, and even had a whopping 1.6 million people show up on election day. But the avalanche of voters did not help Herschel Walker. In fact, Warnock improved his margins in all but a dozen or so of Georgia's 159 counties to win by nearly 3%, and on election night the watch parties in Atlanta had totally different moods.
Herschel Walker conceded the race.
"So I want to thank all of you as well, because there's no excuses in life," he said. "And I'm not going to make excuses now because we put up one heck of a fight. And I think that's what — that's what we got to do, because this is much bigger. This is much bigger than Herschel Walker."
Warnock declared victory.
"It is my honor to utter the four most powerful words ever spoken in a democracy — the people have spoken," he said, while arguing this race was always much bigger than who would serve Georgia for the next six years.
"I am Georgia," Warnock said in his victory speech. "I am an example of an iteration of its history, of its pain and its promise. Of the brutality and the possibility. But because this is America, because we always have a path to make our country greater, against unspeakable odds, here we stand together."
What comes next?
So here we are at the end of what seemed like a never-ending election cycle, and Georgia is still at the center of American politics.
Heading into the next two years of Congress, it has two Democratic senators that will continue to play an outsized role in legislation shaped by the party's narrow majority and five Democrats in the House, nine Republican House members, ranging from Rich McCormick, who flipped a seat through redistricting and is part of the GOP's narrow majority in that chamber, to Marjorie Taylor Greene, a far-right figure who could have increased prominence in the party's future.
The direction of both political parties will wind its path through Georgia, too: Democrats could hold their 2024 convention in Atlanta and want to elevate the state to one of the earlier presidential primary contests as its demographic diversity and battleground status can make or break who holds the White House. Republicans have fresh election data to show there is a path forward to win elections and court independents without fully embracing Trumpism after multiple years of defeats.
And the state's growing population and thriving economy — plus the good and bad of its civil rights history — is making it a powerhouse of the South that will continue to see its influence grow as we continue to discuss who we vote for and how those votes are counted.
As we close the book on the 2022 election cycle, we'll also close the book on this podcast — though you should expect special episodes in the future when there are big topics that need a little bit more depth and explanation. In the meantime, you can follow all of GPB's political coverage on the air and on our website at GPB.org/politics.
Battleground Ballot Box is a production of Georgia Public Broadcasting, many thanks to the team who has made this show happen over the last two years: Josephine Bennett is our editor; Jake Cook is our engineer; Jesse Nighswonger wrote our theme music. Special thanks to Marylynn Ryan, Sandy Malcolm, Adam Woodlief, Teya Ryan and those who have had a hand in this podcast from its inception.
You can find every episode of this program on our website at GPB.org/battleground or wherever you get your podcasts. And you can find all the rest of GPB's stellar statewide coverage on the radio and at GPB.org. I'm Stephen Fowler. Thanks for listening and your support.
Secondary Content