Section Branding
Header Content
GA Today: $130 million to Grady Health System
Primary Content

You've arrived at the online edition of the Sept. 15 Georgia Today newsletter, a twice-weekly publication featuring original stories from GPB News reporters and the latest headlines from around the state.
Prefer to receive the news fresh to your inbox so you don't miss any important headlines? 
Sign up here to receive the newsletter on Tuesdays and Thursdays.
Now, the news:
 
Grady Health System to receive $130 million to prepare for Atlanta Medical Center closure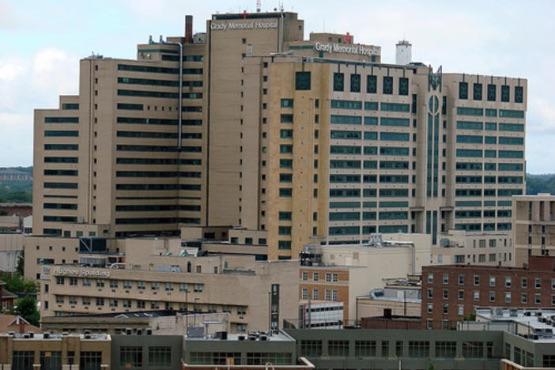 Today at the Georgia State Capitol, Governor Brian Kemp announced  a $130 million-dollar aid package for Atlanta's Grady Health System.
The move comes as the hospital prepares for the November closure of the city's only other Level One Trauma Center, Wellstar Atlanta Medical Center.
Gov. Kemp said the funding will help create 200 inpatient beds at Grady Memorial Hospital next year, as the hospital braces for an influx of patients, among those underinsured and uninsured. 
"What our team's desire was to come together with these partners to fill the gap that's been left by AMC closing," Kemp said. "This plan does that." 
Gov. Kemp's Democratic opponent for governor Stacey Abrams has seized on hospital troubles as a campaign issue. Abrams has criticized Kemp for refusing to expand Medicaid, which she argues would shore up hospital finances.
"During his leadership, we've lost six hospitals in the state of Georgia. But this is a solvable problem," Abrams said at a recent campaign stop. 
POLITICAL HEADLINES
Railway labor deal reached; Georgia train worker sues freight company
A strike that could have halted both freight and passenger trains as well as supply chains across the country appears to have been averted. 
After a marathon negotiating session lasting 20 hours, the White House announced early Thursday that a tentative agreement had been reached between rail companies and the unions representing conductors and engineers.
In a statement released this morning, the Georgia Ports Authority said it was "pleased the parties involved have reached a tentative agreement, averting a rail stoppage. GPA liaisons are in constant communication with CSX and Norfolk Southern and will continue to follow developments closely."
Meanwhile, in a lawsuit filed Friday in U.S. District Court for the Southern District of Georgia, Chase Highsmith of Waycross says that CSX Transportation terminated his employment as a carman and railroad car inspector in 2021 in part for reporting safety violations to federal regulators, GPB's Benjamin Payne reports.
A spokesperson for CSX declined GPB's request for comment.
RELATED 
As monkeypox cases slow, state health department is 'cautiously optimistic'
State health epidemiologists said they are "cautiously optimistic" about a decline in monkeypox cases over the past few months in Georgia as well as the nation. GPB's Ellen Eldridge explains.
Since monkeypox first appeared in Georgia, 1,607 cases have been reported by the Centers for Disease Control and Prevention, with 86% of infections occurring in the metro Atlanta area.
Dr. Cherie Drenzek, an epidemiologist with the state health department, said in Georgia only a few children have contracted monkeypox.
"These children actually were close household contacts of known monkeypox cases, but we've only seen less than a handful of these pediatric cases," she said.
The fight against an age-old effort to block Americans from voting
As a new wave of restrictions makes voting harder for people who struggle to read — now 1 in 5 Americans — people like Olivia Coley-Pearson have taken up the fight, even if it makes her a target, ProPublica reports.
Coley-Pearson serves as a city commissioner in Douglas, the majority-Black county seat in Coffee County. A third of her neighbors struggle to read at a basic level, and she wanted to make sure they had help navigating their ballots.
Politicians have long used harsh tactics against voters who can't read — poor, often Black and Latino Americans who have been failed by the U.S. education system.
"How the system is set up, it disenfranchises people," said Coley-Pearson, who blames Southern political leaders for throwing up hurdles. "It's by design, I believe, because they want to maintain that power and that control."
RELATED 
Senate study committee considers how to beef up Georgia's cybersecurity
A committee of state senators met on the Georgia Tech campus Tuesday to learn how the state can boost its cybersecurity.
The university sponsors advanced research as well as programs for undergraduates who get real-world experience helping governments and businesses fix cybersecurity problems.
Industry and academic experts described how cyberthreats have evolved over the past decades to the committee chaired by Sen. Jason Anavitarte, R-Dallas. 
"It's our belief we need to leverage every asset that we have," Anavitarte said, stressing the need for a bipartisan effort. "This cannot be territorial, this cannot be Republican versus Democrat." 
Atlanta actress Halle Bailey's 'Little Mermaid' makes waves among young Black girls
Following the teaser trailer for the live-action version of Disney's The Little Mermaid, parents of young Black girls are posting videos across social media of their children's reactions to seeing Halle Bailey as Ariel.
In an interview with Variety, Bailey, 22, addressed the backlash towards her casting in the lead role. In the wake of that, Bailey said that her grandparents offered her some perspective.
"It was an inspiring and beautiful thing to hear their words of encouragement, telling me, 'You don't understand what this is doing for us, for our community, for all the little Black and brown girls who are going to see themselves in you,'" Bailey said.
Headlines around the state
The Atlanta Journal-Constitution:
Savannah Morning News: 
OnlineAthens.com
Secondary Content
Bottom Content