Section Branding
Header Content
Grady Health System will get $130 million in pandemic relief to help prepare for AMC closure
Primary Content
Gov. Brian Kemp announced the funding Sept. 15 at the Georgia Captiol.
Atlanta's Grady Health System will receive a $130 million aid package, Gov. Brian Kemp said Sept. 15.
The move comes as the hospital prepares for the November closure of the city's only other Level 1 trauma center, Wellstar Atlanta Medical Center.
Speaking at the Capitol, Kemp said the funding will help create 200 inpatient beds at Grady Memorial Hospital next year, as the hospital braces for an influx of patients, among those underinsured and uninsured. 
"What our team's desire was to come together with these partners to fill the gap that's been left by AMC closing," Kemp said. "This plan does that."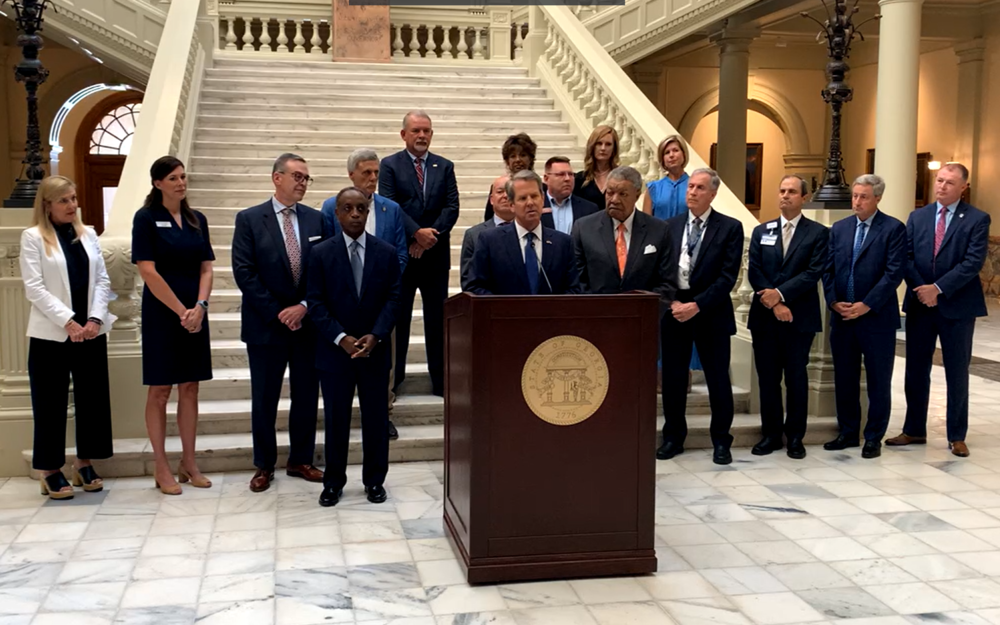 Grady will also have immediate access to a temporary medical unit with 24 patient rooms. 
A state aid program passed this summer provides an additional cushion by raising Medicaid reimbursement rates. That program operated by the Department of Community Health includes Augusta University Medical Center as well. 
Kemp's Democratic opponent for governor, Stacey Abrams, has seized on hospital troubles as a campaign issue. Abrams has criticized Kemp for refusing to expand Medicaid, which she argues would shore up hospital finances.
"During his leadership, we've lost six hospitals in the state of Georgia," Abrams said at a recent campaign stop. "But this is a solvable problem."
Kemp rejected that argument at the press conference. 
"We have added over 600,000 Medicaid patients to the rolls," Kemp said. "So if that was the solution, then why did the hospital close? … And they're blaming this on Medicaid expansion.  They are not being truthful."
Both the new money for Grady and the increase in Medicaid rolls over the past two years come largely from federal COVID-19 relief.
RELATED: Abrams "One Georgia" tour used health care reform to connect with rural voters
Beside Kemp at the press conference stood Fulton County Commission Chair Robb Pitts, DeKalb County Chief Executive Michael Thurmand and John Haupert, CEO of Grady Health System. Grady is co-owned by the two counties, which contribute millions of dollars annually for hospital operations. 
Last week, the Fulton County Board of Commissioners committed $11 million in immediate relief to the hospital to cover "unexpected labor costs," reported CBS 46. That comes after over $60 million from the annual budget. 
While all this funding is helpful for the "short-term," Pitts said county and state leaders also need to talk about long-term solutions. 
"Filling that void, in my judgment, is going to require a new facility," Pitts said. 
County leaders estimate Atlanta Medical Center has about 200 patients come through its emergency room per day. 
In a statement from Wellstar Health System from Sept. 1, it reported losses of $107 million just last year. Wellstar cited financial concerns earlier this year, when it closed the emergency department and hospital beds at AMC South in East Point.
Secondary Content
Bottom Content