Section Branding
Header Content
Here's some COVID news to be grateful for — kids 5 and up could get vaccinated by Thanksgiving
Primary Content
An infectious disease expert with Children's Healthcare of Atlanta, Dr. Matthew Linam, and the mother of a toddler talk about the decision-making process for vaccinating young children against COVID-19. GPB's Ellen Eldridge reports.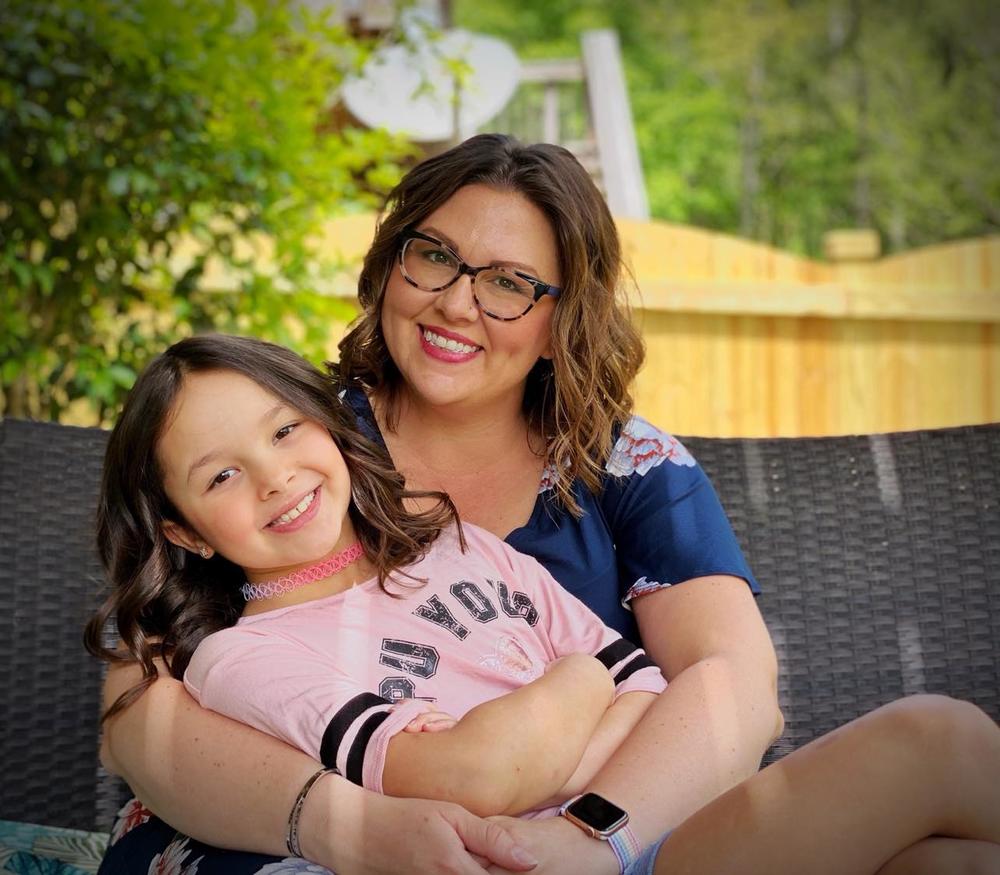 Miranda Wicker was just one of many parents who felt relieved Tuesday when word came that a panel of independent advisers recommended the U.S. Food and Drug Administration authorize for emergency use the Pfizer-BioNtech COVID-19 vaccine for children between 5 and 11 years of age. 
The FDA panel accepted Pfizer's data indicating the vaccine is safe and 90.7% effective in preventing COVID-19 infections in the age group.
The former high school English teacher was staunchly against her school district's plan to have teachers and custodial staff back in buildings Aug. 3, 2020 — the first back-to-school of the pandemic.  
At that time, no vaccine existed and none of the students were required to wear face masks. The latter hasn't changed in Cherokee County.
Nearly a year and-a-half later, Wicker, a mother of two, said she feels like she can finally breathe and lift some of the weight and tension she's held for that timeframe.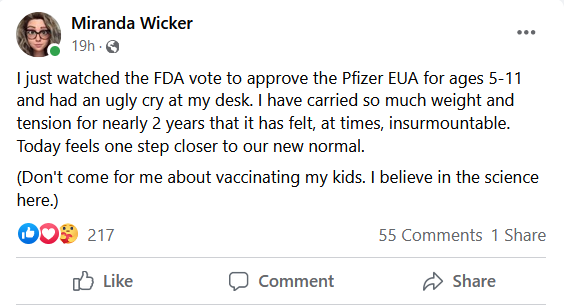 Her seventh grade son, Joshua, was vaccinated in May, the same week Pfizer's COVID vaccine received emergency use authorization.  
In late August, the FDA granted full approval of the Pfizer vaccine for those 16 and older.  
RELATED: Georgia Parents Welcome Prospect Of COVID Vaccine OK For Young Children
Pfizer's mRNA vaccine requires two shots given 21 days apart, and roughly 50% of Georgians are considered fully vaccinated, the state Department of Public Health said Monday. 
The dose and syringe size are both smaller for children between 5 and 11 years of age.
Allison Calhoun has two children; her 8-year-old son will likely soon be eligible for vaccination under emergency use authorization, but she's still counting the days until her 4-year-old daughter is eligible for any sort of COVID-19 vaccine. 
"We will absolutely be vaccinating our elementary-aged children," Calhoun said. "They have been proven to be safe and effective, and we want to keep not only our kids safe, but others around us as well." 
She already contacted her pediatrician's office about how the vaccine rollout will work in Georgia, because she trusts her kids' doctor. 
"At least when we chose him, his practice had a strict stance on vaccinations, and he wouldn't accept patients where the parents wouldn't do vaccinations (besides legitimate medical conditions)," Calhoun said.  
Shots of Pfizer's vaccine, which must be stored in extremely cold refrigeration, won't be offered in the doctor's office, Calhoun learned Wednesday morning. 
But once the COVID vaccine is authorized for the 5-11 age group, "We can call the office and they will set up an appointment for them through WellStar," she said.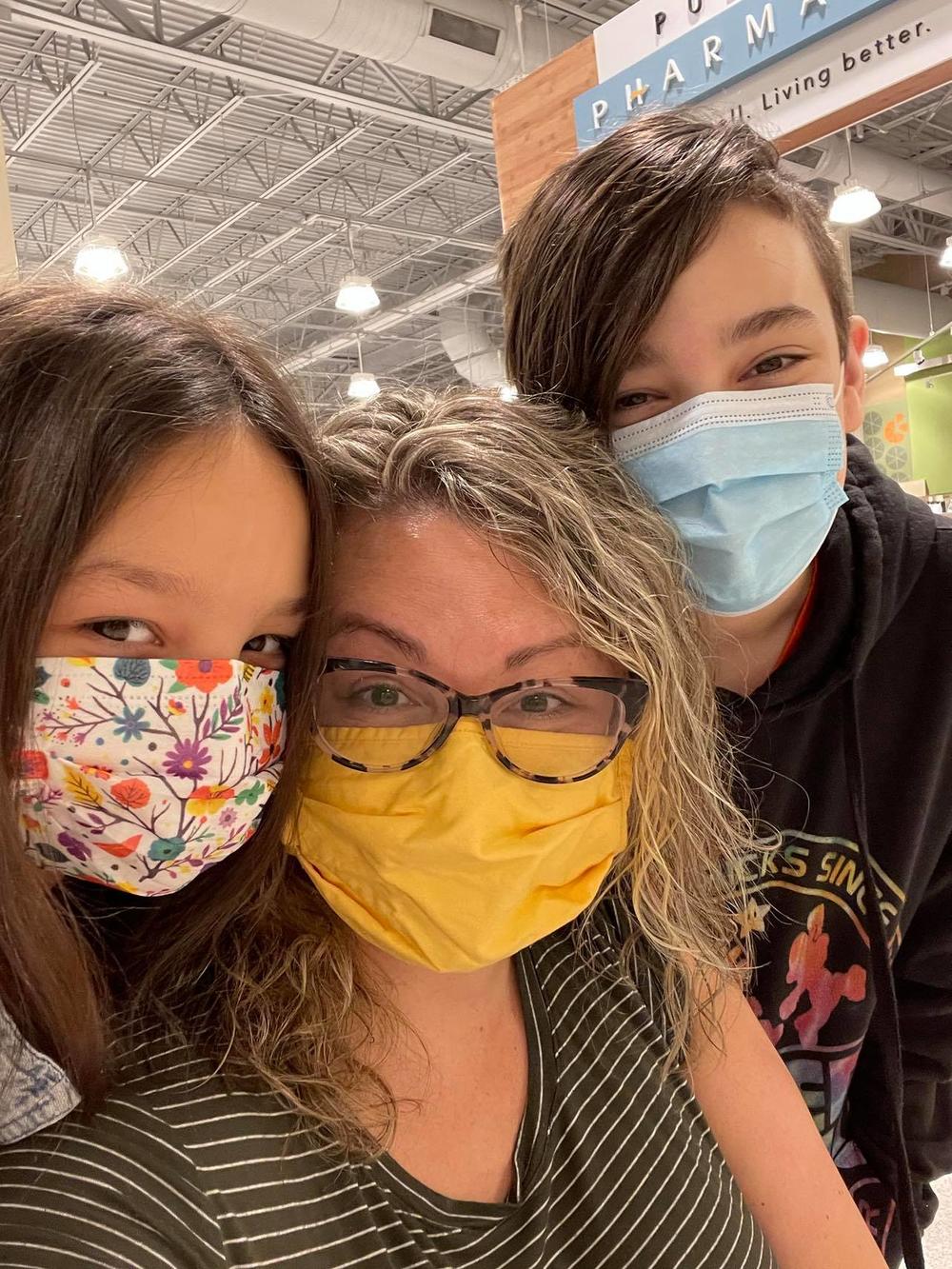 Calhoun noted that the pediatric practice got an email Tuesday asking for volunteers to help vaccinate children starting in November. 
If the FDA grants emergency use authorization of Pfizer's vaccine for younger children, a different panel of experts will advise the CDC in making its decision. Full approval will take longer.
Emma and Joshua Wicker hugged their mom right after she received her second dose of Moderna's COVID vaccine April 13. Miranda Wicker is set to receive her booster shot this week, she said.
MORE: Here's how to get a booster shot in Georgia — and who should get one
Health districts throughout the state began offering booster doses of Moderna and Johnson & Johnson COVID-19 vaccines on Oct. 26.
But some families prefer to wait until the kids' shots are fully FDA-approved.
The sentiment of not wanting to "run right out" for vaccination is embedded in a conservative approach to the novel coronavirus. Parents believe their kids are generally protected from severe illness or death from COVID-19.
Children's Healthcare of Atlanta pediatric infectious disease expert Dr. Matthew Linam said he has treated many children in the 5 to 11 age group. 
"While, you know, children do typically have relatively mild infections, I've seen plenty of children in this age group that have been seriously ill and required treatment in the hospital and some in the ICU," he said. 
Linam strongly recommends vaccination.
"We've also seen with this current or the most recent surge of COVID-19 cases associated with the delta virus variant, that children have been more affected and infected than they have in previous surges," Linam said. "Children now account for about 25% of all new cases of COVID-19."
Toddlers and all kids 4 years old and under should not expect even emergency use authorization of a COVID vaccine in the immediate future.
Isadora Pennington and her husband are still counting the days.
She agrees with experts who say the risk of illness greatly outweighs the risks of vaccination, and she's eagerly awaiting vaccine approval for her toddler, which may still be months away. 
"I personally know people who have died of COVID," Pennington said. "I know kids who have long-lasting illnesses and ailments that are still misunderstood or not as fully explored because (the virus is) new."
The Penningtons plan to vaccinate 1-year-old Delilah as soon as possible. 
"We are still living under a rock," Pennington said of her family's efforts to avoid exposure. "We go to outside places, and that's it. She's (Delilah) never been to Target, you know, she still hasn't been in many of my family members' homes or been held by some of her grandparents because they are not as pro-vaccine as we are."
Secondary Content
Bottom Content