Section Branding
Header Content
Hundreds Of Cherokee County Teachers Fear 'Retaliation' For Speaking About Reopening
Primary Content
More than 700 K-12 teachers in Cherokee County have joined a private Facebook group to express their fears over the district's back-to-school plan. And they're not alone: at least one other private group organized out of Atlanta consists of 2,400 teachers across the nation.
Educators are afraid to speak out publicly because, "teachers are in pretty serious fear of losing their jobs, losing their lives and/or losing their livelihoods and their ability to provide for their families," former high school English teacher Miranda Wicker said Thursday.
She no longer teaches in the district, but she has two children in Cherokee elementary and middle schools.
Wicker leads the group Teachers for Common Sense Safety, and she said teachers worry they could violate their contracts if they share concerns about reopening. 
"The county would certainly never say that they were threatening — the county would say 'We're just reminding them of their obligation. We're reminding them of their code of conduct,'" Wicker said. "But it definitely comes across as threatening." 
The current plan puts teachers and custodial staff back in buildings Aug. 3 with hundreds of students who will not be required to wear face masks.
"Even if they apply to be a digital learning teacher within the county, they're still required to report the building every day," Wicker said.
More than 650 teachers in the county publicly signed a petition asking Superintendent Dr. Brian Hightower to ensure a safe opening with regard to masking, distance, testing, sanitation and communication.
"We do not oppose reopening, but we are opposed to reopening without proper safety protocols in place," the petition states.
In Walton County, a teacher who asked not to be named out of fear or retaliation from the district, said a minority of teachers are similarly worried.
Walton County schools are scheduled to start Aug 4., and, at first, teachers held out hope that digital learning would be sought after and teachers would be permitted to work from home. It would have been a great mitigating factor, one teacher said.
"Originally, when they sent the parent survey out, it was about 40% that were wanting to do online," the Walton County school teacher said. "And then when all the information came out on what that would really look like, those numbers dwindled down to about 10%."
Parents in Walton County had to choose by July 12 whether they wanted digital learning for their students. That deadline in Cherokee County is Friday, July 17.
Like the discouraged group in Walton County, teachers in Cherokee County are most upset by the lack of support from the school board.
Parents were surveyed, but teachers and staff were never asked to provide input. As Megan Roper previously told GPB News, if she had to go back to work as a teacher, she had no choice about what to do with her son who has an Individualized Education Program because he has autism and other health issues.
"If I have to go back, Brody has to go back," Roper said. "There's not going to be a decision that I'll have to make about that."
MORE: 'Such A Catch-22:' Parents, Teachers Face Agonizing Decisions About Back To School
Several teachers complained that everyone except the teachers were queried about the reopening plan, and would have at least appreciated a teacher and staff survey like what parents received.
Not only are teachers upset they weren't asked for input but also, they feel threatened by the county for speaking out. They fear being reported for code of ethics violations and having their licenses revoked if they say the wrong thing on social media.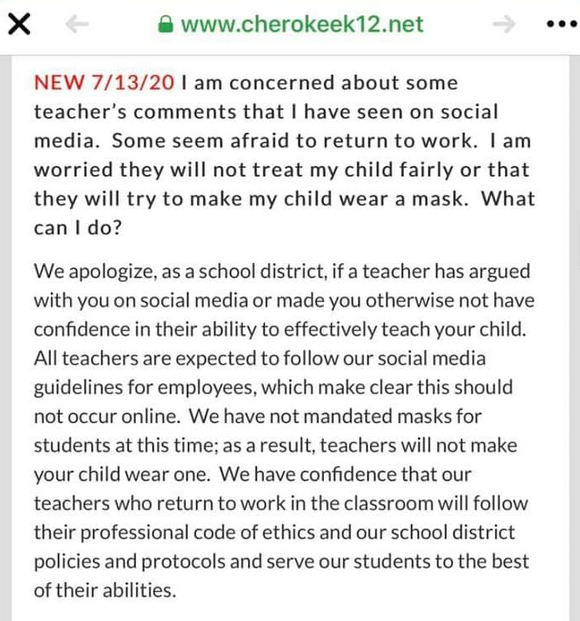 Wicker used as an example a response on the school district's FAQ to a question about what happens if a teacher tries to make a student wear a mask.
"And then the answer was, 'We're sorry if anybody has argued with you on social media,' which is not what the question stated," Wicker said. "But the answer says, 'Hey, we're watching your social media,' because that was a very veiled comment directly to the teachers who were reading that FAQ."
Georgia teachers are not unionized, and Wicker said they don't have collective bargaining powers or job protections because this is a right-to-work state.
"And tied into that is their fear that not only could they lose their job, but they could lose their livelihood," Wicker said. "Because if you're fired in the state of Georgia for breach of contract, the Georgia Professional Standards Commission can yank your license and then you're unemployable."
A group of teachers and community advocates plans to protest outside the board meeting at 6 p.m. in Canton.
Earlier Thursday, Marietta City Schools Superintendent Grant Rivera said he would call on Friday for schools to start the year virtually as Atlanta Public, Fulton County and Cobb County schools have done.
Chief Communications Officer Barbara Jacoby said the district knows about the teachers' petition.
"We're aware of the planned protest and created an area on our campus where they can safely hold it," Jacoby said.
Secondary Content
Bottom Content