Section Branding
Header Content
Here's how to get a booster shot in Georgia — and who should get one
Primary Content
An infectious disease expert with Emory University says while some people need and should get a booster of the COVID-19 vaccine, the key to preventing future waves of the virus is getting everyone vaccinated. GPB's Ellen Eldridge reports.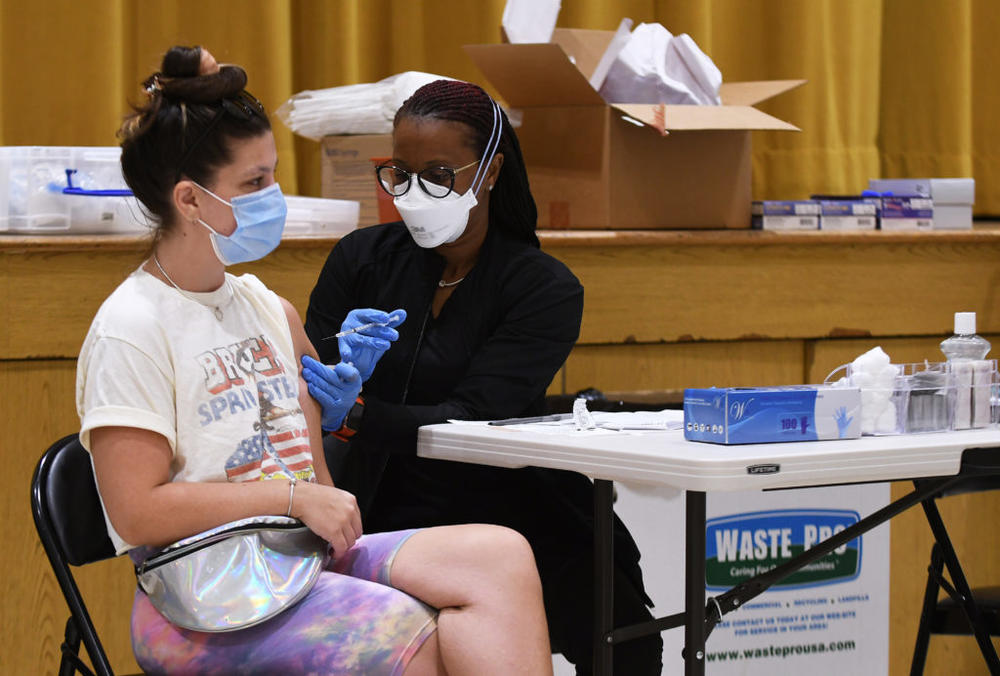 Booster shots of COVID-19 vaccine are expected to be available this week, according to the Georgia Department of Public Health.
Health districts throughout the state will begin offering booster doses of Moderna and Johnson & Johnson COVID-19 vaccine Tuesday, Oct. 26, 2021, pending guidance from the Centers for Disease Control and Prevention, DPH said.
These boosters are in addition to previously approved booster doses of Pfizer-BioNTech vaccine.
Pfizer and its partner BioNTech also said last week their data supports authorization of their COVID-19 vaccine in kids 5 to 11, and the Food and Drug Administration released the companies' briefing document Friday ahead of a meeting of expert advisers to the agency scheduled for Tuesday.
RELATED: No trick — children as young as 5 could be eligible for Pfizer's COVID vaccine by Halloween
For individuals who have received a Pfizer or Moderna COVID vaccine, the following groups are eligible for a booster shot at six months or more after their initial two-dose series:
Booster shots are also recommended for people 18 and older who had a Johnson & Johnson vaccine two or more months ago, according to the DPH.
Emory University infectious disease expert Dr. Jay Varkey said in a news conference last week that these boosters are the minimum number of vaccines needed to protect the most vulnerable.
"If you're over 50 and if you have chronic medical conditions, you should get a booster," he said. "And some of these chronic medical conditions are actually quite common, so this includes being overweight, having diabetes, having high blood pressure or having chronic heart disease, kidney disease or lung disease."
Eligible individuals may choose which vaccine they receive as a booster dose. Some people may have a preference for the vaccine type that they originally received and others may prefer to get a different booster. CDC's recommendations now allow for this type of mix and match dosing for booster shots.
Varkey said the main takeaway for the public is that there's flexibility here, which is the benefit of having the real-world experience of hundreds of millions of these vaccines being administered not just in the United States, but worldwide.
"I commend the FDA for actually allowing that level of flexibility," Varkey said. "I think this decision on what to get boosted with will be an individual decision that most people should make with the advice of their doctor."
But while immunocompromised people such as transplant recipients are now strongly encouraged to get a third shot — or booster — of the Moderna or Pfizer vaccine or a second dose of the Johnson & Johnson shot, Varkey said Americans should focus on getting their first dose(s).
"The key to preventing future waves of COVID isn't really through booster," Varkey said. "It is through vaccinating the third of the country that have yet to actually get vaccinated, even though they're eligible. And again, as of (Oct. 21), that's over 65 million people in the United States."
More than 50% of Georgians remain unvaccinated for COVID-19, leaving themselves — along with their children, families, loved ones and communities — vulnerable to infection, according to DPH.
Not all types of vaccine will be available at all sites in Georgia.
For information about COVID vaccines or to schedule a vaccination appointment visit dph.ga.gov/covid-vaccine or vaccines.org.
Secondary Content
Bottom Content