Section Branding
Header Content
Georgia Parents Welcome Prospect Of COVID Vaccine OK For Young Children
Primary Content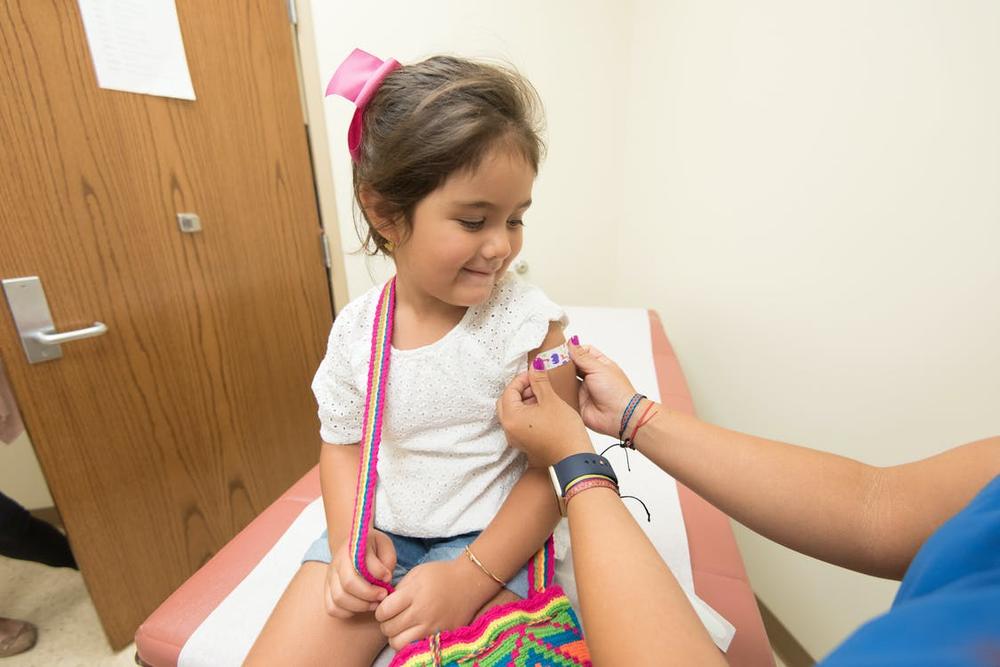 The first results of a COVID-19 vaccination study found the treatments are safe and effective for children between 5 and 11, Pfizer and BioNTech announced Monday after a study of more than 2,200 children.
The Food and Drug Administration has approved the Pfizer vaccine for ages 16 and up, and people between 12 to 15 can get it under the FDA's emergency use authorization. Two other vaccines produced by Moderna and Johnson and Johnson have been authorized for emergency use in adults.
The children in the trial received two doses three weeks apart, both containing a third of the amount of the vaccine as in the adult version. Pfizer said the children tolerated the treatments well and showed an immune response similar to teens and young adults who receive the full dose.
While the findings are promising, anxious parents will have some time before they can schedule their child's appointment. The drug company will need to apply to the FDA for authorization, which it plans to do as quickly as possible, said Albert Bourla, chairman and chief executive officer of Pfizer.
"Since July, pediatric cases of COVID-19 have risen by about 240 percent in the U.S. – underscoring the public health need for vaccination," he said in a statement. "These trial results provide a strong foundation for seeking authorization of our vaccine for children 5 to 11 years old, and we plan to submit them to the FDA and other regulators with urgency."
If the review process follows a similar timeline to the one for older children, younger people could begin receiving their shots by Halloween and have full protection by Christmas
Some moms, like Carianne Muse of Cobb County, have been looking forward to this for a long time.
Muse's 8-year-old son Wyatt, who has a medical risk factor, went back to school Monday for the first time since Aug. 12. First, he was quarantined for an exposure in class, then he had to miss class because of a hearing loss surgery that required him to quarantine, then he quarantined again after an older sister caught a mild breakthrough case of COVID-19.
Because of the pandemic, Wyatt has stopped playing team sports and the family canceled their fall break vacation plans.
Getting the shot would mean Wyatt could rejoin the baseball team and Muse could send him to class with the confidence that, if he did catch COVID-19, he would most likely recover quickly like his sister did.
"Just the daily worry of sending an unvaccinated child to a school where there's a lot of cases would go away," she said. "It's just causing a lot of stress for tons of families right now, so I think it would be huge I think a lot of these families who are keeping their kids home because they're worried about their kids getting sick before they're vaccinated will probably run to be the first in line, especially if you have other kids who are older who have had the vaccine already."
Children generally fare much better than older adults if they contract COVID-19, but in rare cases they can become seriously ill. Sixteen Georgians under 18 have died from COVID-19 out of more than 21,000 deaths statewide, according to the state health department.
Children can also easily spread the disease to more vulnerable people, and more than half of recent outbreaks have been traced to K-12 schools, state epidemiologist Dr. Cherie Drenzek said last week. Case numbers spiked among the 5- to 17-year-old age group after most Georgia schools opened their doors in August, though the infection rate appears to be declining again.
Cobb mom Laura Judge said she's also eager to get her son Alexander and daughter Zion vaccinated, but she will continue to watch the numbers before deciding whether to take them back out of virtual school and into the classroom once they are fully vaccinated.
"I would like them to go back to school immediately, but I know last year with COVID numbers, we had that surge in December, January," she said. "I'll probably focus on what the scientists say and do a risk assessment then, but if the trend continues to go down like it is now, I would like to go back face-to-face in January, but of course, if it goes up again and we have a high infection rate, then we'd like to wait until the next school year."
Pfizer and BioNTech said they expect to apply for Emergency Use Authorization as they continue to accumulate the safety data required for full FDA approval in the younger age group. Results for children from six months to five years old are expected as soon as the end of the year, the drug makers said.
This story comes to GPB through a reporting partnership with Georgia Recorder.
Secondary Content
Bottom Content