Section Branding
Header Content
GBI says GOP's cellphone data lacks enough evidence to prove ballot harvesting
Primary Content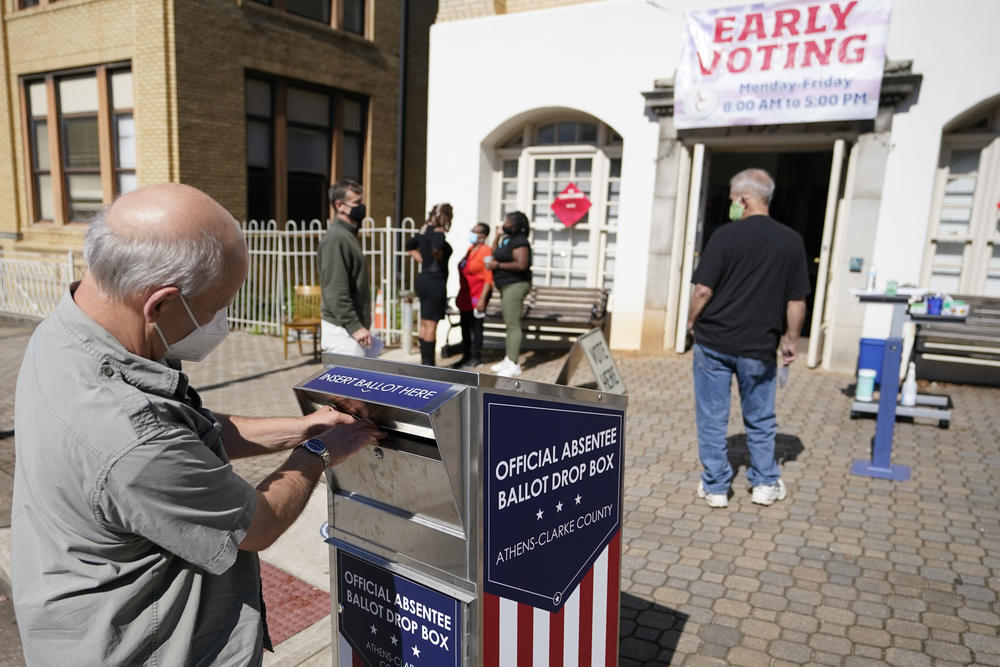 Allegations of absentee ballot harvesting made by the Georgia Republican Party chairman and a conservative voting group lacked enough evidence to merit an investigation, the Georgia Bureau of Investigation found last month.
According to a letter obtained by GPB News, GBI Director Vic Reynolds said that cellphone data provided by Texas-based True the Vote that allegedly shows 279 cellphones that were tracked multiple times within 100 feet of an absentee drop box alone was not evidence of a crime.
"As it exists, the data, while curious, does not rise to the level of probable cause that a crime has been committed," Reynolds wrote, adding that for the GBI to get the same cellphone data they would need probable cause. "We cannot make that showing with what has been provided."
 
The letter also states that despite claims of "a source" that can prove ballot harvesting, the Georgia GOP chairman and True the Vote have not provided that source to the GBI or Federal Bureau of Investigation "despite repeated requests."
For months, True the Vote has claimed to have evidence of ballot harvesting, when groups collect and return absentee ballots on behalf of voters. That's illegal in Georgia, where only voters or their relatives are allowed to do so. In this case, the group claimed that commercially purchased cellphone data narrowed down more than a million cellphones — and their geolocation from Oct. 1, 2020, to the Jan. 5 runoff identified hundreds of phones that made several trips near drop boxes.
True the Vote has yet to release any videos of alleged ballot harvesting or any other data to support their claims.
In a letter sent Friday, lawyers for True the Vote blasted the release of the letter to media outlets, calling it an "irresponsible and dangerous leak of confidential information." The letter to Gov. Brian Kemp's office also said the GBI memo omitted evidence provided by True the Vote, but does not specify what.
"In light of the serious nature of the leak and the likelihood of litigation arising from Director Reynolds' letter, we request that your office, the GBI and any other recipient copied on the letter preserve all correspondence, whether verbal and written, related to this matter," it reads. The letter copies the GBI, FBI, Georgia Republican Party and the Atlanta Journal-Constitution, which first reported on the letter.
Cellphone location can be used to approximate behavior, such as in an investigation that GPB News and the Center for Public Integrity conducted earlier this year that estimated wait times at early voting sites. But that data was anonymized, controls were put in place to remove incomplete or outlying data, and findings were corroborated by multiple sources and other details.
There are also multiple reasons cellphones could be found near multiple drop boxes during a several-month period. Many drop boxes were in public places like libraries and government buildings. Other people such as monitors from advocacy groups, reporters covering early voting, delivery drivers and more could have valid reasons for stopping near multiple drop boxes. Plus, election workers collecting the ballots daily out of the drop boxes also visit multiple locations.
The vague allegations from True the Vote do not explain the group's methodology further.
The GBI's letter is the latest refutation of claims and conspiracies made by former President Donald Trump and his supporters that the 2020 election — particularly in Georgia — was marred by rampant fraud. 
Almost a year after the polls closed, investigators, vote counters, the courts, state and local elections officials have still found no evidence that the thrice-counted certified results are incorrect.
Trump's allies have attacked every part of Georgia's election processes (and GOP lawmakers have changed virtually every part) in hopes of finding proof that a 12,000-vote loss was caused by something other than not winning enough votes.
Last week, a Henry County judge dismissed a lawsuit seeking to inspect Fulton County's absentee ballots to find alleged counterfeit ballots after state investigators looked into claims made in affidavits by GOP audit workers and could not find evidence to support those claims.
Trump's focus on Georgia elections has engulfed the Republican Party in an existential battle over its direction at a time when the party's power in the state is in jeopardy. Democrats won the White House and flipped both U.S. Senate seats in January thanks in part to depressed GOP turnout caused by false fraud claims. Trump has also backed a slate of primary challengers to unseat Republicans like Gov. Brian Kemp who defended the election results, and at a recent rally said that Kemp's main Democratic rival Stacey Abrams would be a better governor.
Secondary Content
Bottom Content