Section Branding
Header Content
Trump's Georgia Rally Promises Fireworks As Primary Slate Takes Shape
Primary Content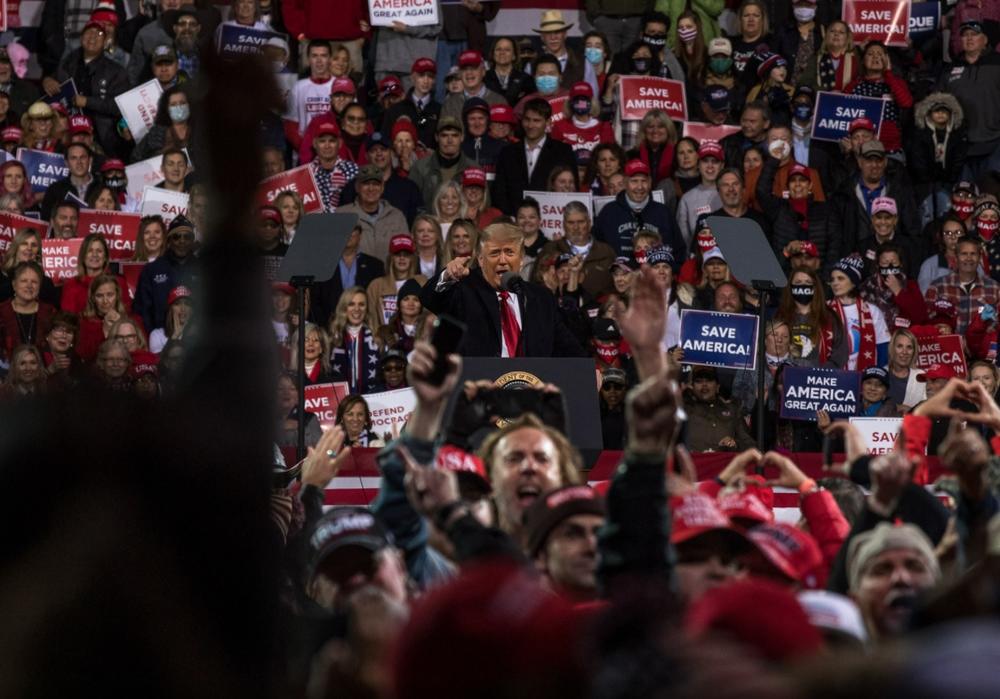 Former President Donald Trump's rally in Perry on Saturday promises to end with a fireworks show, but the real fireworks have come from his singular focus on upending Republican politics in Georgia after losing in 2020.
The Save America Rally is the main event of a nearly daylong celebration of Trump and his vise grip on the base of the party, starting with a University of Georgia football watch party at the Georgia National Fairgrounds and featuring a lineup of candidates he has endorsed in major races in the battleground state.
It will also be the debut campaign appearance for former UGA football standout Herschel Walker, Trump's hand-recruited candidate for U.S. Senate to challenge Democratic incumbent Sen. Raphael Warnock.
Walker is an untested commodity with high name recognition and a celebrity factor reminiscent of Trump, but questions about his viability linger after reports of his past struggles with mental health, claims of violent outbursts and over-exaggerated business dealings accompanied his campaign launch.
Since announcing his campaign, Walker has been traveling the state to meet with donors and voters in smaller group settings, and his campaign includes veterans from former Sen. Johnny Isakson's team to help mold him into a durable candidate. Senate Minority Leader Mitch McConnell, who previously expressed reservations about Walker, told POLITICO this week that he sees a path to victory for Walker against Warnock.
"He's called me; we had a good conversation," McConnell said of Walker. "I think there's every indication he's going to be a good candidate."
Down ballot, Trump is seeking to punish so-called "Republicans in name only" who pushed back against his false claims of fraud, such as outgoing Lt. Gov. Geoff Duncan, who is pushing for a "GOP 2.0" away from Trump's direction.
Burt Jones, Trump's pick for that race, campaigned with Donald Trump Jr. earlier this week and is running on a platform that echoes Trump's dubious claims for further investigations and inspections of Georgia's thrice-counted ballots. U.S. Rep. Jody Hice is running to unseat Secretary of State Brad Raffensperger and has made numerous false claims about the 2020 election cycle. 
But no politician in Georgia has earned Trump's ire like Gov. Brian Kemp, the first lifelong Republican governor since Reconstruction, for not overturning Georgia's vote total that saw President Joe Biden narrowly win.
The former president's attacks on voting, elections and sitting Republicans helped contribute to the GOP losing both U.S. Senate seats in January runoffs this year thanks to depressed turnout, a phenomenon that could be replicated in the crucial 2022 general election.
"We'll see who's going to be running against Kemp, but I would imagine somebody will," Trump said to right-wing radio host John Fredericks earlier this week. "He's not going to be able to win the general election anyway, because the base isn't going to show up for him."
Kemp has two primary challengers at the moment, including Democrat-turned-Trump supporter Vernon Jones. Jones, a former state lawmaker, has seen a surge in grassroots support from pro-Trump voters who blame the governor for Trump's loss. Jones is also slated to speak at the rally, a source familiar with the rundown said, but Trump has yet to endorse him or any other potential challenger.
The internecine battle over the future direction of the GOP comes at an inopportune time for Republicans, 
Having the rally in Perry is significant on multiple fronts: it's the same site where Kemp kicked off his reelection campaign this summer with the governor pitching his race as a "fight for the future," and where the 8th District GOP Fish Fry last month saw former governor and U.S. Agriculture Secretary Sonny Perdue implore Republicans to unite behind primary winners
"That's what primaries are all about," Perdue said. "We have intra-squad scrimmages to see who can stand and be our flag bearer for the general election. Folks, I want you to be as passionate as you can about your candidate, but don't get mad. We are still on the same team, the best team in America: the Republican Party and the Georgia Republican Party."
While other candidates attended the fish fry, one of the largest GOP events in the state, Walker had no presence. And while Perdue's comments about playing on the same team may bear out in next year's elections, it is becoming more clear that Republicans are gravitating toward Trump's playbook.
Secondary Content
Bottom Content