Section Branding
Header Content
Fulton County fires two workers who allegedly shredded voter registration applications
Primary Content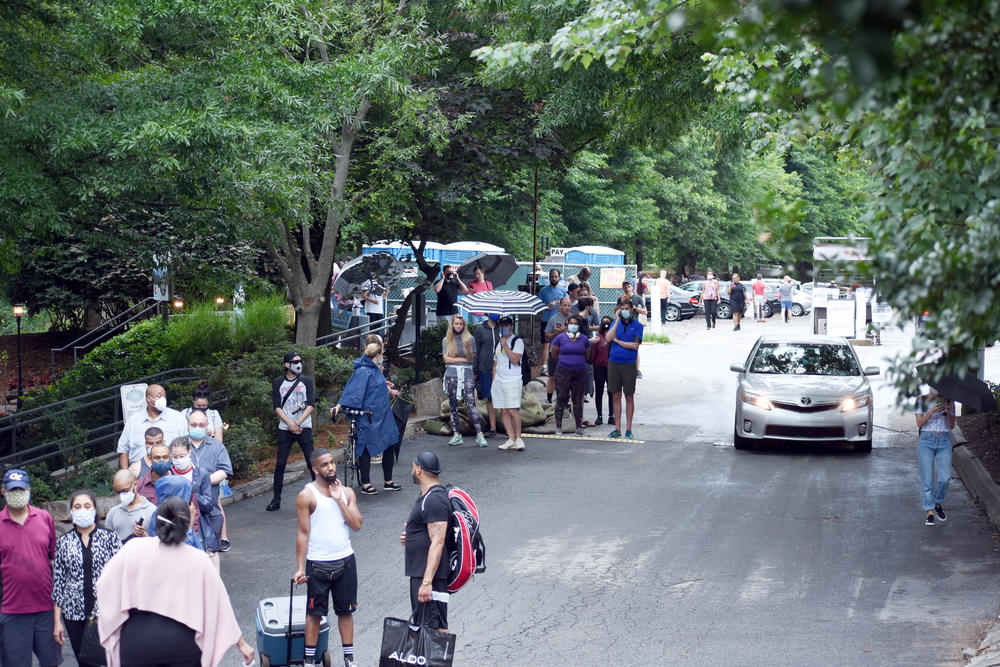 Two election workers in Fulton County have been fired for allegedly shredding 300 paper voter registration applications instead of processing them.
Fulton County elections director Rick Barron said Monday that other employees reported the alleged violation and the two were quickly terminated on Friday following an investigation.
"We believe that these two employees may have checked out batches of applications for processing," he said. "Instead of fully processing them, in some instances, the employees allegedly shredded some of the forms."
Barron said he notified the Secretary of State's office and requested an investigation, and Fulton County Commission Chairman Robb Pitts also contacted the Fulton County District Attorney's office for further review.
 
State election law requires all election documents related to a primary or general election to be maintained for 24 months after the election.
Because the applications have been shredded, it is not possible to know how many of them were valid voters creating or updating their registration, how many were duplicates or would have ultimately been illegible or invalid.
The paper voter registration form includes information like name, address, driver's license, state identification or Social Security number and other personal information. That information is verified before a new voter precinct card is delivered in the mail and information is updated on the state's My Voter Page.
MORE: Here's how to check your Georgia voter registration status
Most new or updated voter registrations are processed through the state's online voter registration portal or through interactions with the Department of Driver Services, thanks to Georgia's automatic voter registration law. According to federal election data, Georgia actually has one of the highest voter registration rates in the country, with more than 95% of its eligible voting age population on the rolls.
There is also no evidence that the shredding was done to target voters of one political party or another. There is no space on the registration form for voter political party preference, and Georgia does not have closed primaries where partisan intent must be declared.
It is not clear why the two employees shredded the paper applications, and the Fulton elections office cited the ongoing investigation when asked for more comment.
The news comes as the beleaguered Fulton County elections office is under constant scrutiny and attack for missteps real and imaginary over the last few years.
Republicans in the state legislature have used a new state law to initiate a new performance review of Fulton's appointed bipartisan elections board — separate from the elections office staff where this and other issues have occurred — under the guise of addressing Fulton's election woes. But many public statements these lawmakers have made about the process show a misunderstanding of what will be examined and potential outcomes.
RELATED: How does Georgia's election board takeover law work? Not very quickly.
Georgia's most populous county has also struggled with elections processes, recently firing their absentee ballot chief and overhauling several internal structures and controls after a third-party monitor found sloppy processes — but no fraud — with how Fulton conducts elections.
Republican Secretary of State Brad Raffensperger took the opportunity to castigate the county for what he said were continued problems with voting.
"After 20 years of documented failure in Fulton County elections, Georgians are tired of waiting to see what the next embarrassing revelation will be," Raffensperger said in a statement. "The Department of Justice needs to take a long look at what Fulton County is doing and how their leadership disenfranchises Fulton voters through incompetence and malfeasance."
Fulton County is also home to 10% of the state's voters, an overwhelming proportion of Democrats and a sizable chunk of the state's Black voting population. The county has remained a central target for former President Donald Trump and his supporters' conspiracies about the November election that Trump lost.
Those conspiracies helped partially shepherd a new 98-page election law that targets Fulton specifically in several sections. And nearly a year after the 2020 election, pro-Trump media outlets are still spreading false and misleading stories about the county's election processes. Black election workers also have faced numerous death threats since the election. 
Early voting for the November municipal elections begins Tuesday.
Secondary Content
Bottom Content