Section Branding
Header Content
What's Next For Voting Rights In Georgia?
Primary Content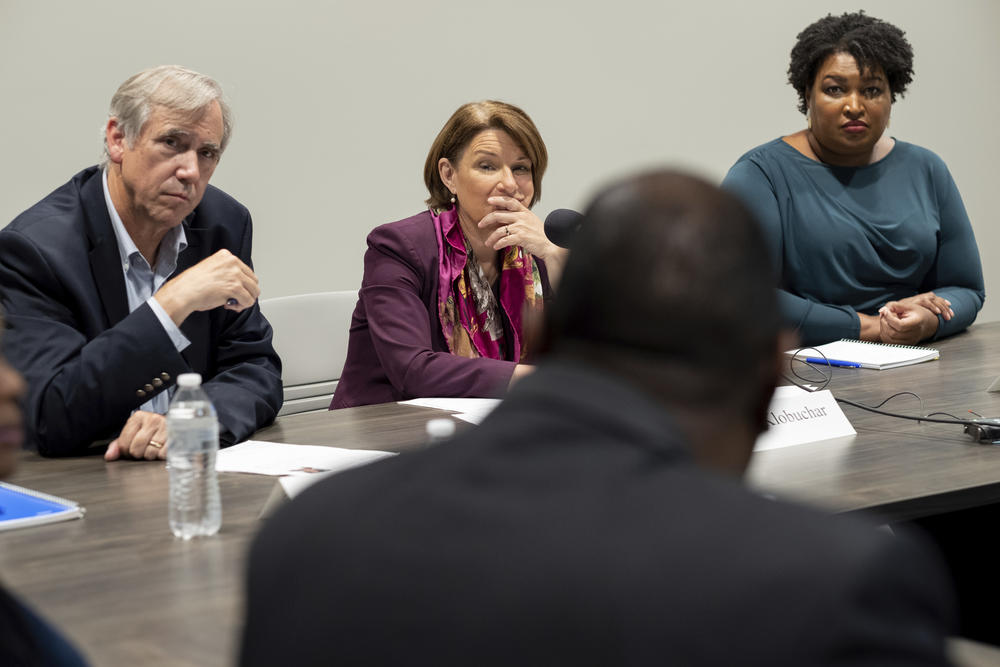 From lawsuits to legislation to lingering false claims of fraud in 2020, Georgia occupies a central role in the national conversation about voting rights and elections.
This week, Democrats on the U.S. Senate Rules committee held the first field hearing in two decades at the Center for Civil and Human Rights to hear about restrictive voting changes across the country and a push for federal voting rights legislation — something that seems unlikely to happen in its current form.
Georgia's 98-page SB 202 is the centerpiece of discussions about voting rights and access to the ballot, after the bill was introduced partly because of record absentee-by-mail turnout and after Democrats narrowly flipped the state's electoral votes and U.S. Senate seats — an outcome some GOP leaders and voters refuse to acknowledge could have happened without fraud.
"It is no coincidence that this assault on the freedom to vote is happening just after the 2020 election, when nearly 160 million Americans cast a ballot — more than ever before — in the middle of a pandemic, in an election the Trump Department of Homeland Security declared the most secure in history," committee chair Sen. Amy Klobuchar said at the hearing.
Georgia Sen. Jon Ossoff, a member of the committee, said the changes to Georgia's election administration that include new ID requirements to vote by mail, some expanded early voting access in smaller counties and tighter deadlines for many parts of the voting process "are not meant to solve any real problem."
"The only real problem for Georgia's GOP is that they lost," Ossoff said. "But don't take it from Democrats, don't take it from me — take it from them. Take it from our Republican Lt. Gov. Geoff Duncan, take it from our Republican Secretary of State Brad Raffensperger. Take it from the chief operations officer at the secretary of state's office Gabriel Sterling, who all vowed repeatedly that there was no evidence of widespread fraud, that it was a secure election conducted successfully."
Raffensperger and Duncan have become pariahs in the party for speaking out against claims of mass fraud that could overturn the election results, with the secretary of state facing multiple primary challengers and the lieutenant governor opting not to run for a second term.
Egged on by former President Trump and a friendly right-wing media ecosystem, many top candidates and lawmakers have spent the last eight months making unfounded claims and trying to subvert the certified election results.
What's being challenged?
Georgia is no stranger to dramatic voting changes and acts that disenfranchise Black voters, from Reconstruction-era murders of voting rights advocates by the Ku Klux Klan to former Atlanta Journal owner Hoke Smith actively winning the governor's race in 1906 as a Democrat on a (successful) platform of Jim Crow laws that effectively ended Black political participation for decades.
A recent GPB News/ProPublica analysis of polling places in metro Atlanta showed overcrowded voting sites in nonwhite areas, with longer lines found in predominantly Black neighborhoods that have seen a heavier proportion of in-person voting along with soaring voter registration. Polling place decisions are made at the county level, and these predominantly Democratic counties contain nearly half of the state's active voters but only 38% of the polling places.
Now, the sweeping voting law enacted by the Republican-controlled General Assembly has kicked off a new firestorm of criticism over access to the ballot, coupled with many leading Republicans' baseless claims of fraud and misconduct in the election and false claims that former President Trump won the state.
While some provisions of the law are welcomed by local elections officials or make facially neutral changes to Georgia's election process, at least eight federal lawsuits challenging parts of SB 202 have been filed, alleging intentional racial discrimination.
In AME Church v. Kemp, a coalition of groups cite the state's history of racist voting laws — including white-only primaries, poll taxes and literacy tests — coupled with statements from top Republicans that refute claims of voter fraud.
"In short, in a safe and secure election, a record number of Georgians performed democracy's most vital act: they voted," the filing reads. "Then, on March 25, 2021, the Georgia General Assembly and Governor Brian Kemp made that most vital act more difficult."
An analysis of some early proposals to tweak election law done by GPB News and the Center For Public Integrity found a number of changes that would have eliminated options for expanded early voting access, particularly harming nonwhite voters.
Most recently, the federal government filed a suit against Georgia, alleging that changes enacted earlier this year would have a cascading effect on Georgia's sizable Black voting population and that it was targeted after the election's record-setting turnout.
"The provisions we are challenging reduce access to absentee voting at each step of the process, pushing more Black voters to in-person voting, where they will be more likely than white voters to confront long lines," Kristen Clarke, Assistant Attorney General for Civil Rights, said. "SB 202 then imposes additional obstacles to casting an in-person ballot."
In the filing, the government wants a judge to block the challenged sections from being enforced and authorize federal observers and preclearance of certain voting changes under a little-used section of the Voting Rights Act of 1965.
The federal suit was filed on the eighth anniversary of the Shelby v. Holder decision that effectively ended preclearance of voting changes made by Georgia and other jurisdictions with a history of racist laws.
A more recent Supreme Court ruling, Brnovich v. DNC, in July upheld two Arizona laws that restricted "ballot harvesting" of absentee ballots and banned votes cast in the wrong precinct. Voting rights groups say this decision further gutted the Voting Rights Act after the Shelby decision in 2013.
What about Congress?
Congress is unlikely to act on voting rights and elections on any large scale due any time soon, unless Democrats end the filibuster process that requires 60 votes to move forward.
While Georgia's two Democratic senators, Jon Ossoff and Raphael Warnock, have pushed for voting rights (currently proposed in a massive For the People Act and a narrower John Lewis Voting Rights Act), Senate colleagues Joe Manchin of West Virginia and Kyrsten Sinema of Arizona don't support ending the filibuster.
Additionally, there is some concern among local elections officials that the sweeping For The People Act contains too many changes and not enough time for them to roll out in a timely manner.
Republicans have objected to the proposal as a "federal takeover" of elections that are administered at the state and local level and have accused Democrats of overreach — though many GOP state legislatures have enacted voting changes at the local level in recent months as well.
What comes next?
For a newly energized Republican Party base, "election integrity" is perhaps the No. 1 issue heading into the 2022 election cycle. Gov. Brian Kemp faces at least two primary challengers who are attacking him for failing to overturn the election for Trump
Some lawmakers, campaigns and pro-Trump media outlets are calling for a so-called forensic audit of the election results in Georgia — something that logistically and legally cannot happen. Expect the 2022 legislative session to be full of bills to further tweak Georgia's election code and powers of the secretary of state's office, including proposals to add "election fraud" investigators to the Georgia Bureau of Investigation.
At the federal level, the White House and Democratic lawmakers have signaled a desire to act on voting rights but not really taken much action on it, and President Joe Biden has not indicated a willingness to nuke the filibuster to get legislation through the narrowly Democratic chambers.
Georgia's eight lawsuits challenging SB 202 are all pending and assigned to Judge J.P. Boulee of the Northern District of Georgia, and will likely take months to approach any resolution.
Secondary Content
Bottom Content