Section Branding
Header Content
U.S. Department Of Justice Sues Georgia Over Massive 98-Page Voting Law
Primary Content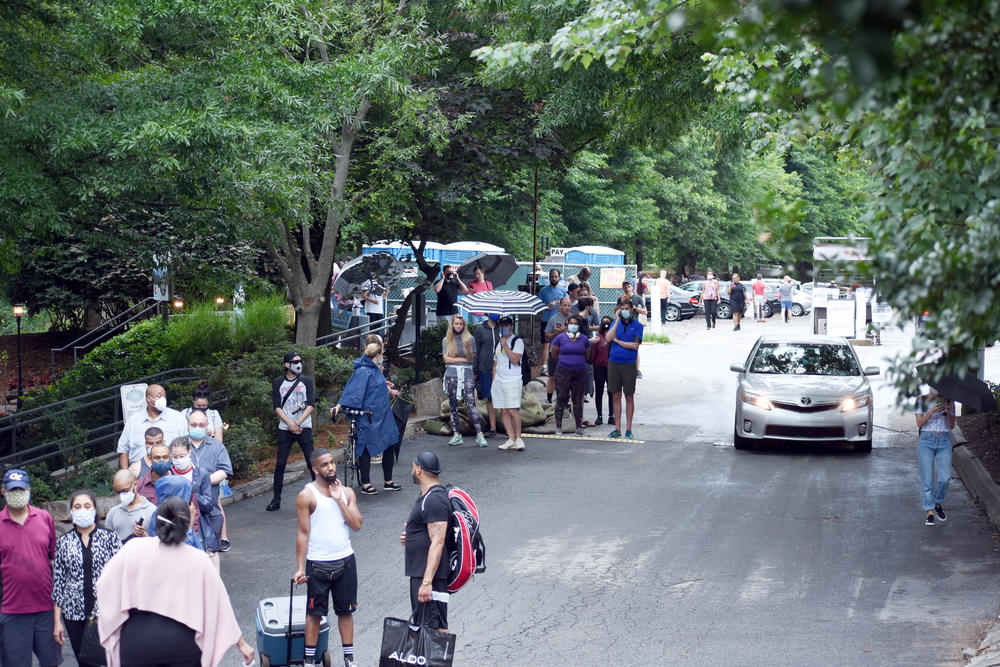 The U.S. Department of Justice has filed a legal challenge to parts of Georgia's far-reaching new voting law, the eighth lawsuit against SB 202 and the first major step the Biden administration has taken to confront GOP-backed election changes after 2020.
Attorney General Merrick Garland announced the suit Friday, the eighth anniversary of the pivotal U.S. Supreme Court decision Shelby v. Holder that effectively ended pre-clearance of voting changes made by Georgia and other jurisdictions with a history of racist laws.
"The rights of all eligible citizens to vote are the central pillars of our democracy," he said in a press conference. "They are the rights from which all other rights ultimately flow."
RELATED: Read the DOJ lawsuit against Georgia
Kristen Clarke, Assistant Attorney General for Civil Rights, said the Justice Department planned to outline in their case that several parts of the law would have a disproportionately negative impact on Black voters.
"Our complaint today alleges that several provisions of SB 202 were passed with a discriminatory purpose in violation of the Voting Rights Act," Clarke said. "The Georgia legislature passed SB 202 through a rushed process that departed from normal practice and procedure."
Among the provisions challenged: a shortened absentee ballot request period that moves the deadline to 11 days before the election instead of four, stricter identification requirements for requesting and returning an absentee ballot, a limit on the placement, hours and number of absentee drop boxes and a crackdown on voters casting provisional ballots for voting outside their assigned precincts.
Clarke said the suit would show changes enacted earlier this year would have a cascading impact on Georgia's sizable Black voting population and was targeted after record-setting turnout.
"The provisions we are challenging reduce access to absentee voting at each step of the process, pushing more Black voters to in person voting, where they will be more likely than white voters to confront long lines," she said. "SB 202 then imposes additional obstacles to casting an in person ballot."
In the filing, the government wants a judge to block the challenged sections from being enforced and authorize federal observers and pre-clearance of certain voting changes under a little-used section of the Voting Rights Act. 
There are many provisions that overlap with the seven existing lawsuits currently filed in the Northern District of Georgia federal court, but the others are typically broader than what the DOJ is focusing on, with some of them arguing that things like a shortened runoff period, changes to the State Election Board and other tweaks to election law also violate Georgians' rights.
Republicans in Georgia quickly blasted the move as "politicization" of the Justice Department and cast it as a concerted effort by Democrats to "spread more lies" about the 98-page law that they have argued makes it "easy to vote and hard to cheat."
Defense of the law has been a rallying point for Gov. Brian Kemp and Secretary of State Brad Raffensperger, who face primary challenges from pro-Trump forces that are unhappy that the two did not overturn the election in the former president's favor.
"The Biden Administration continues to do the bidding of Stacey Abrams and spreads more lies about Georgia's election law," Raffensperger said in a statement. "Their lies already cost Georgia $100 million and got the President awarded with four Pinocchios. It is no surprise that they would operationalize their lies with the full force of the federal government. I look forward to meeting them, and beating them, in court."
Kemp, who was once Georgia's secretary of state, tied the suit to Democrats' stalled attempt to pass federal elections legislation that would bring back more oversight into state-level decisions.
"This lawsuit is born out of the lies and misinformation the Biden administration has pushed against Georgia's Election Integrity Act from the start," Kemp said. "Joe Biden, Stacey Abrams, and their allies tried to force an unconstitutional elections power grab through Congress - and failed. Now, they are weaponizing the U.S. Department of Justice to carry out their far-left agenda that undermines election integrity and empowers federal government overreach in our democracy. As Secretary of State, I fought the Obama Justice Department twice to protect the security of our elections - and won. I look forward to going three for three to ensure it's easy to vote and hard to cheat in Georgia."
Secondary Content
Bottom Content