Section Branding
Header Content
'Utter disbelief': Across Georgia, Human Rights Activists React To Chauvin Verdict
Primary Content
Racial justice organizers across Georgia watched anxiously Tuesday as the verdict was read in the trial of Derek Chauvin for the murder of George Floyd. The former police officer was found guilty on three counts. GPB's Ellen Eldridge, Grant Blankenship and Emily Jones spoke with local activists about their reactions.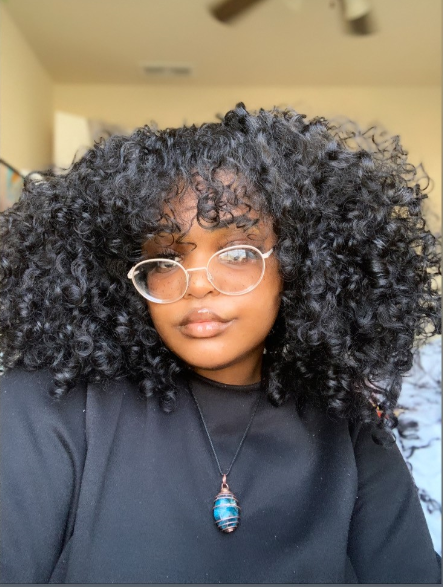 Zoe Bambara let out a gasp as the first "guilty" verdict in the trial of former police officer Derek Chauvin echoed on Tuesday.
The jury found Chauvin guilty beyond a reasonable doubt on all three counts in the May 2020 death of George Floyd.
Her relief and shock were audible.
"Utter disbelief," she said. "I just never would have thought, you know, guilty on all the charges."
Bambara is the woman who last spring helped organize the Atlanta For Us march from Centennial Olympic Park to the state Capitol. More than 5,000 people demonstrated in Atlanta following the deaths of Ahmaud Arbery in Georgia, Breonna Taylor in Kentucky and George Floyd in Minnesota.
While the May 29 march remained peaceful, the protests grew into violent riots by nightfall.
The 20-year-old, who said her grandmother inspired her activism, is now a freshman psychology major at Morris Brown College, and Bambara works with Women Engaged, a voting rights and a reproductive advocacy organization that was founded by Black women.
MORE:
"Now I can finally just sleep," Bambara said. "I hope (George Floyd's) daughter is able to sleep peacefully knowing that (Derek Chauvin) will never see the light of day."
Zambara said she felt like she could breathe after Chauvin was escorted out of the courtroom in handcuffs, bail revoked and remanded to a jail cell to await sentencing.
"We know there's more work to be done," she said. "But we also need to celebrate each other while we're here and realize that we all have a common goal."
Atlanta Mayor Keisha Lance Bottoms issued a statement showing her appreciation for the verdict.
"While I am grateful that the verdict is guilty on all three counts, there is no verdict or punishment that will bring George Floyd back to his family," she said. "As tragedies have propelled our nation into a level of needed consciousness and action in the past, it is my sincere hope that the tragic death of George Floyd will forever be our reminder that the work towards reform, healing and reconciliation is not a one-time event. We must continue this work if we ever hope to truly be one nation, under God, with liberty and justice for all."
Sadonna Fleming was back home in Macon after her first year at Howard University in Washington, D.C., when she organized Macon's largest Black Lives Matter march in the wake of Floyd's death. 
Her second year at Howard has been remote. And since the start of Chauvin's trial, she's been soaking in gavel-to-gavel cable news coverage while she studies in the family dining room.
"Right at 10 a.m. it's on HLN every morning," she said. "And what's been funny is my mom has been saying, 'Are you sure you don't want to watch something else? Are you sure you don't want to watch something else?'"
By nature, Fleming is upbeat. But staying glued to the trial until 5 p.m., like it's been her job, has worn on her. So, she has been watching other things at night. She said she looks for shows where Black people are happy. 
When the verdict came, Fleming was on edge. Then, quietly relieved.
"Because we just haven't seen this," she said. "And to hear on all three counts that a police officer — and a white police officer at that — is found guilty. It's almost like it's no words because it just hasn't happened before."
Fleming said she hopes this is the start of systemic change in policing in the country, and she hopes to be a part of that change one day as a criminal prosecutor.
Savannah activists, too, are shocked, relieved — and looking ahead to further action. Savannah NAACP President Chad Mance said he hopes this is a turning point.
"It's part of a new beginning, and that new beginning will look something like widespread legislative reform — an increase in prosecutorial presence in a meaningful way with respect to police crimes," he said. "It will also mean that there will be internal reforms in police departments to tighten up policies, clarify procedures and really retrain some officers that may not master everything."
For Andi Westcott, one of the organizers of Savannah's racial justice march last spring, that kind of reform isn't enough. They noted that "so-called good cops" on the scene did not stop Chauvin from killing Floyd.
"I think we need a new approach to how we establish peace in our communities," Westcott said. "The root problems of crime, I think, should be prioritized over the use of force against communities to force people to stay in line."
One point that Westcott, Mance and other activists agreed on: Without last year's widespread protests over Floyd's murder, it's unlikely his killer would have been tried and convicted.
Secondary Content
Bottom Content