Section Branding
Header Content
Two Lawsuits Challenge Parts Of Georgia's Sweeping New Voting Law
Primary Content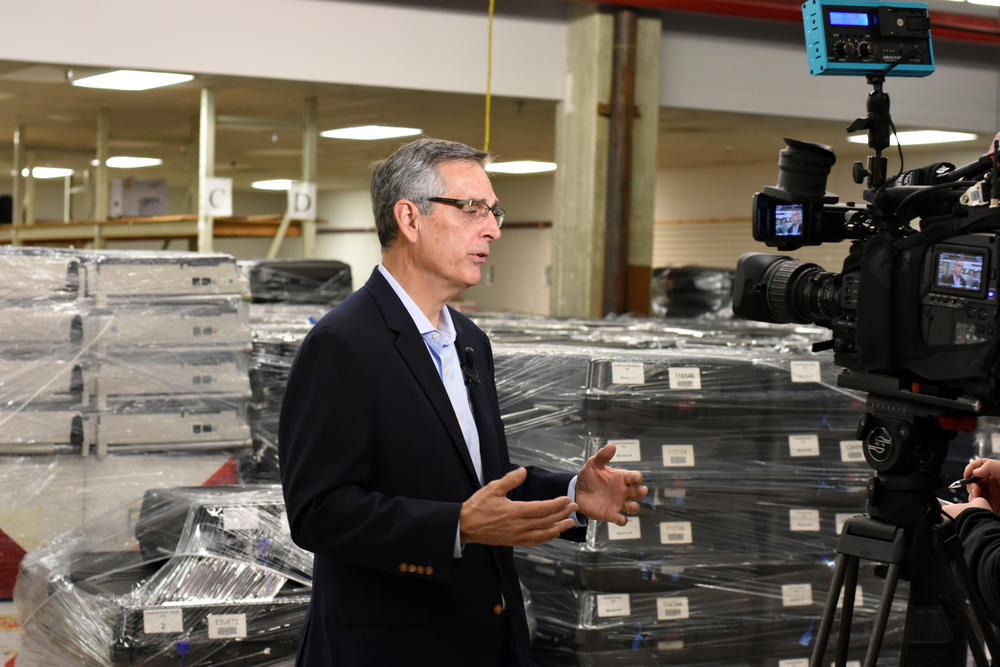 A pair of federal lawsuits allege that absentee ID, restrictions on drop boxes, a four-week runoff and other parts of Georgia's new 98-page voting law violate the Constitution and the Voting Rights Act.
The 35-page New Georgia Project v. Raffensperger was filed shortly after Gov. Brian Kemp signed the "Election Integrity Act of 2021" Thursday, and the 56-page Georgia NAACP v. Raffensperger was filed Sunday. Both argue that many of the sweeping changes made to Georgia's election administration disproportionately negatively affect Black voters.
"These provisions lack any justification for their burdensome and discriminatory effects on voting," lawyer Marc Elias writes on behalf of the New Georgia Project, Black Voters Matter Fund and Rise, Inc. "Instead, they represent a hodgepodge of unnecessary restrictions that target almost every aspect of the voting process but serve no legitimate purpose or compelling state interest other than to make absentee, early, and election-day voting more difficult — especially for minority voters." 
That lawsuit argues sections of the omnibus voting law violates both the First Amendment and Fourteenth Amendment by placing an undue burden on the right to vote, citing increased absentee ID requirements, restrictions on secure drop boxes and a ban on local governments mailing unsolicited absentee applications.
Other changes that are allegedly unconstitutional include a ban on mobile polling places (used only by Fulton County), a virtual ban on out-of-precinct provisional ballots and a prohibition on handing out food or water to voters within 150 feet of a polling place or 25 feet of voters in line. 
Lawyers wrote that before the law was changed, Republican Secretary of State Brad Raffensperger said the state's existing laws were the "gold standard" by virtue of no-excuse absentee voting, at least three weeks of in-person voting and automatic voter registration.
"But now that that system facilitated record turnout in the 2020 general election and the 2021 U.S. Senate runoff elections, the General Assembly has acted to radically and unjustifiably punish the electorate, by dramatically curtailing it," the filing reads.
The New Georgia Project suit also says Georgia violated Section 2 of the Voting Rights Act because many changes would affect Black voters more, citing a July GPB News investigation that found two-thirds of the polls open past 8 p.m. in the June 2020 primary were in majority-Black neighborhoods, even though they comprise only one-third of the precincts in the state.
RELATED: What Does Georgia's New Voting Law SB 202 Do?
In the challenge filed by the Georgia NAACP, the Georgia Coalition for the People's Agenda, League of Women Voters of Georgia, GALEO, Common Cause and the Lower Muskogee Creek Tribe, lawyers argue more explicitly that elements of SB 202 is "the culmination of a concerted effort to suppress the participation of Black voters and other voters of color."
Similarly to the first suit, this case focuses on new absentee ID requirements that use a driver's license or state ID number or photocopy of voter ID as the way to verify identity, as well as opposition to the new rule on drop boxes. While drop boxes did not exist before the 2020 election cycle, the new voting law limits when and where Georgians can use them, including a cap on available boxes per county that are only available in early voting sites during early voting hours.
Bryan Sells, an attorney for the plaintiffs, wrote in the filing that the changes would have a compounding negative effect for Black voters, including the restrictions on where voters can get food and water.
"More often than not, it is Black voters or other voters of color who are negatively impacted by long lines and delays at the polls and stand to suffer most when charitable organizations can no longer provide such items to voters waiting to vote," he wrote.
That suit also cites a GPB News/ProPublica investigation into overcrowded metro Atlanta area polling places, which found that many large counties exploded in population but failed to add enough polling places to keep up with the growth.
The Georgia NAACP and other plaintiffs also allege that a new provision that removes the Secretary of State as chair of the State Election Board and outlines a method for the SEB to temporarily replace election boards threatens "the fundamental right to vote of all Georgians."
That suit also alleges violations of the First and Fourteenth amendments as undue burdens, Section 2 of the Voting Rights Act as well as the Fourteenth and Fifteenth amendments' prohibitions on discriminatory purpose.
Both lawsuits are filed in the Northern District of Georgia.
Secondary Content
Bottom Content