Section Branding
Header Content
What's Similar (And Different) About Georgia's Two Omnibus Voting Bills
Primary Content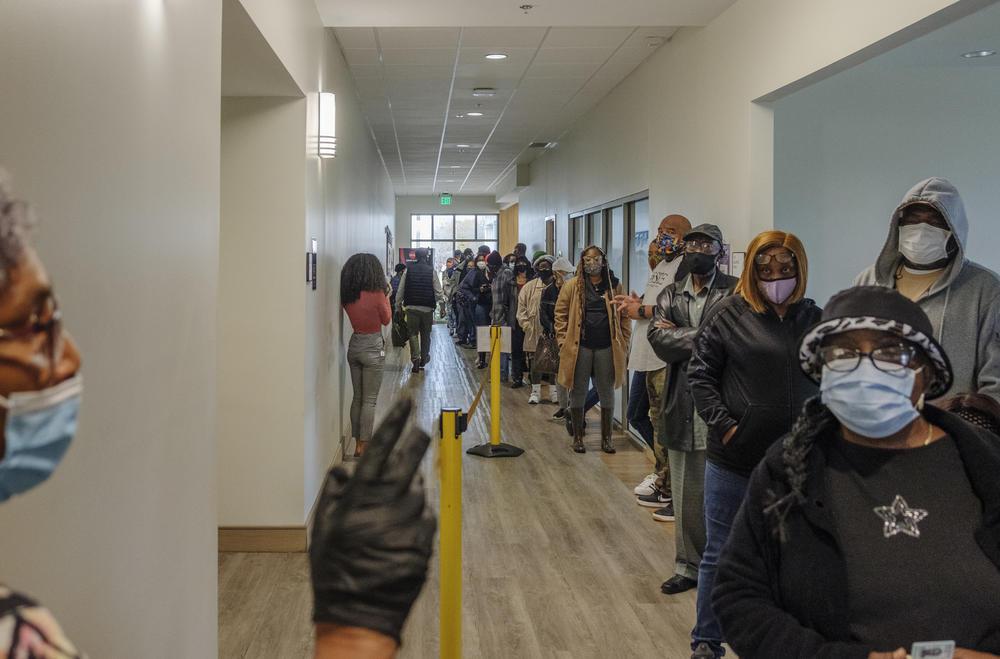 With just over a week left in the 2021 legislative session, Georgia lawmakers have two separate omnibus voting proposals, totaling 140 pages, that they must consider before making sweeping changes to election procedures.
 
The House will soon vote on SB 202, a 95-page bill amended by Rep. Barry Fleming. The Senate will discuss 45-page HB 531, guided by Sen. Max Burns.
  
There are some similarities that are all but certain to pass the Republican-controlled legislature. Both bills would add an ID requirement for absentee-by-mail ballots, requiring Georgians to use their driver's license, state ID card or other voter ID to apply. When returning the ballot, voters would be required to use those ID numbers or the last four digits of their Social Security number to verify who they are. This replaces the controversial method that has election workers match signatures on applications and ballot envelopes with those on file.
Another major agreement between the bills would expand in-person early voting access. Current Georgia law requires three weeks of Monday through Friday voting during "normal business hours" and a mandatory Saturday session from 9 a.m. to 4 p.m, with counties allowed to add more hours — including on the weekends — as they saw fit. After initial language would have banned all weekend voting outside of that second Saturday, subsequent reversals will now make most counties have more access.
Both Saturdays of the three-week early voting period would become mandatory, both Sundays would be optional and early voting would have to take place from 9 a.m. to 5 p.m. — with the option of extending hours to 7 a.m. through 7 p.m. Sixteen of Georgia's 159 counties held Sunday voting in November, primarily in larger, more diverse Democratic-leaning areas. Fewer than 70,000 of the 2.69 million in-person early votes in the November general election came on Sundays, but voting rights groups, religious leaders and Democrats said limiting weekend early voting was discriminatory.
A GPB News/Center for Public Integrity analysis found that a number of proposed voting changes which are no longer in the surviving bills would have created longer lines and a disproportionate impact on nonwhite voters. 
The bills in both chambers also would require third-party absentee ballot applications to be more clearly labeled as unofficial documents, though SB 202 would prevent governments from sending unsolicited applications, such as what Republican Secretary of State Brad Raffensperger did at the start of the pandemic with the primary election. The House and Senate versions also contain several sections that would require counties to count votes without stopping once the polls close, in an attempt to make results come quicker.
Because of Census data delays, both bills would allow municipal races to be conducted based on existing lines before redistricting.
Even changes that are broadly the same between the House and Senate versions of bills must be ironed out and agreed upon, most likely in a conference committee with lawmakers from both chambers.
For example, even though both bills direct the attorney general's office to create a voter hotline for complaints about voter intimidation, the exact language differs. The House version mentions "illegal election activities" and directs the AG's office to review complaints within three business days or as soon as possible, while the Senate version refers to complaints of "election fraud."
OTHER PROVISIONS UNIQUE TO SB 202
SB 202 is the more comprehensive bill that will likely be the vehicle for a final bill sent to Gov. Brian Kemp. At 95 pages, it touches on everything from allowing poll workers to serve in neighboring counties to requiring more public notice for voting equipment testing, polling place changes and early voting hours.
The bill, called the "Election Integrity Act of 2021," includes a lengthy preamble that argues changes made to voting laws comes from a "significant lack of confidence in Georgia election systems" from all sides of the political spectrum. But it has been Republicans pushing these changes, Republicans who pushed false claims of fraud with the presidential race and Republicans who stayed home in the Jan. 5 Senate runoff that allowed both U.S. Senate seats to flip Democratic. In the state Senate, especially, lawmakers have made statements and proposed bills that are based on conspiracy theories and misinformation about the election.
The House substitute makes changes to virtually every aspect of election administration. The Secretary of State would no longer chair the State Election Board; instead, lawmakers would appoint that person. Underperforming county elections supervisors or elections boards could be temporarily removed by the State Election Board under a process that mirrors a similar procedure for Georgia schools.
A performance review of the elections officials could be initiated by the county commission or a certain threshold of General Assembly members. The SEB could also create or request an independent performance review board. No more than four elections superintendents could be suspended at any given time.
No outside funding would be allowed to go directly to election offices, but the SEB would be directed to study ways that philanthropic money could be equitably distributed to counties.
After the group True The Vote tried to unsuccessfully challenge tens of thousands of voters' eligibility in multiple counties across the state, new language would clarify that an unlimited number of registrations or eligibilities could be challenged, and better spells out the timeline for how those challenges must be heard. Notice of someone's voter registration challenge must be sent within 10 business days, and a hearing must be set within 10 days after serving notice of the challenge.
Many provisions in SB 202 are welcomed by local elections officials, while others raise concern. Section 22 would give counties flexibility in how many voting machines they would have to set out for lower-turnout municipal elections, primaries or runoffs. Precincts with more than 2,000 voters that have lines longer than an hour at three different points throughout the day would have to add more machines, add more staff or split up the poll. The absentee ballot request window is narrower, starting for most Georgians 11 weeks before the election and ending 11 days before.
Runoffs would be shortened to four weeks instead of nine, in part by giving military and overseas voters instant-runoff ranked choice ballots along with their primary or general election ballots, since federal law requires those voters get their ballots sent nearly seven weeks before an election. Early voting for these runoffs could start "as soon as possible" but the Monday through Friday before are the only requirements.
Some local election supervisors have testified that a five-week runoff would give them enough time to finish the first election and prepare for the second. But a number of sections in SB 202 would also speed up the post-election process — and create more work for poll workers and staff. Language in SB 202 would move up the certification deadline to six days after the election instead of 10, allow absentee ballot processing to start two weeks before the election and require nonstop counting of votes after the polls close.
As soon as possible, but no later than 10 p.m. on election night, counties must publish the total number of votes cast by each method, and all absentee ballots would have to be counted by 5 p.m. the day after the election, otherwise a county supervisor could face the state's new performance review process.
The 20-candidate special election to fill the remainder of Sen. Johnny Isakson's term and accompanying runoff between then-Sen. Kelly Loeffler and current Sen. Raphael Warnock would be no more: special elections would have special primaries. 
Elsewhere in the bill, the secretary of state would be required to conduct a pilot of posting scanned ballot images from elections, and those images would be public records. Ballots used in the election would have to be on special security paper, which will cost more to use.
Fulton County would no longer be able to use its two mobile voting buses for early voting, as the bill would limit mobile polls to emergencies.
Drop boxes, created via emergency rule for use in the coronavirus pandemic, would be codified into law. While some counties would have to add one or more drop boxes to meet the new law, others would be limited to one per 100,000 voters or per early voting site — whichever is smaller. Also, those drop boxes would only be open during early voting hours and placed inside early voting locations.
SB 202 would also criminalize passing out food or drinks to voters waiting in line, except for a self-serve water station. Out-of-precinct provisional ballots would not be counted unless it was after 5 p.m. and a voter signs a statement saying they could not make it to their home precinct in time.
The bill would also require partisan poll watchers to undergo training before being allowed to observe the election, a change that comes after the 2020 presidential race saw a flood of official and unofficial watchers interfere with the vote-counting process in many counties.
OTHER PROVISIONS UNIQUE TO HB 531
The Senate's version of HB 531 is a pared-down version that contains a change to numerous code sections requiring the precinct name to be added to ballots in addition to the precinct ID that is already posted. For example, in Muscogee County the name for precinct 127 is Psalmond. 
HB 531 would require the state to update its master voter list weekly and make it available digitally free of charge. 
In this bill, the State Election Board would be able to recommend to county legislative delegations that their local elections supervisors or boards be temporarily suspended, and give those lawmakers the authority to take action and appoint a temporary replacement.
Their version would still limit drop boxes to inside early voting sites and during early voting hours, but not place a population cap on how many can be set up.
The Senate substitute also would prevent the Secretary of State, State Election Board or their attorneys to enter into any legal settlement agreement without the legislature's approval, after Republicans belatedly complained about a settlement agreement dealing with absentee rejections signed in early 2020.
The legislative session ends March 31.
Secondary Content
Bottom Content