Section Branding
Header Content
16 Years Later, Georgia Lawmakers Flip Views On Absentee Voting
Primary Content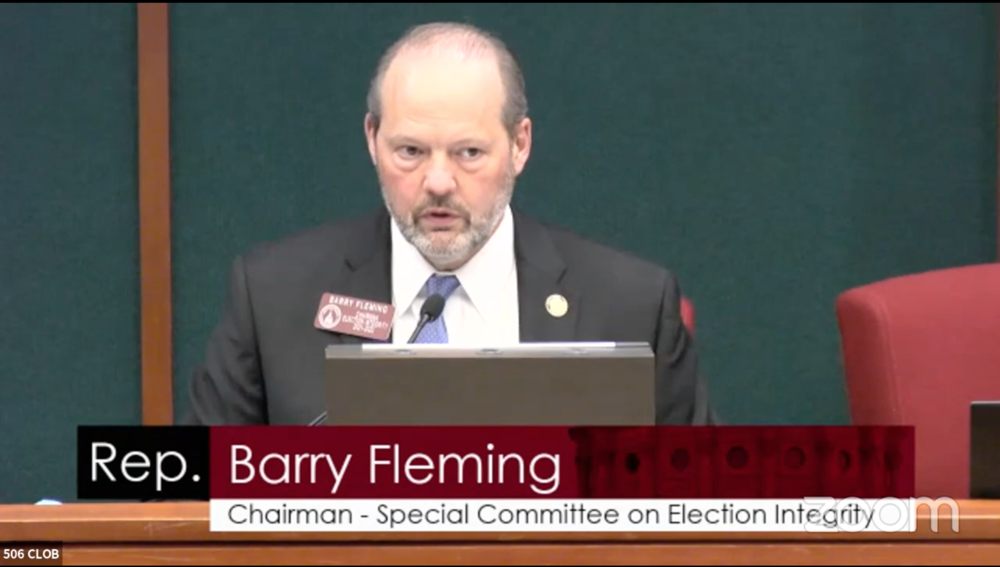 A partisan divide over voting rights is nothing new for Georgia lawmakers: For years, Republicans have pushed changes they say would eliminate voter fraud while Democrats argue those measures amount to voter suppression that would disenfranchise minority voters.
That's still true in 2021, as a raft of election bills work their way through the legislature that would drastically alter the state's voting landscape. While many of the proposed changes are new, others resurrect arguments from the last major overhaul of Georgia's absentee voting rules back in 2005 — only with the roles reversed.
A GPB News/Georgia News Lab review of proposed changes to Georgia voting laws finds some of the most controversial measures now on the table would overturn provisions that Republicans introduced more than 15 years ago — over Democratic objections — and that have guided state elections ever since.
In an era of hyperpartisanship, a look back at an earlier period of Georgia politics reveals how seemingly entrenched political positions can shift over time. 
In 2005, the year that Republicans gained control of state government after decades of Democratic domination, HB 244 was a 59-page bill that contained nearly 70 revisions of state election code, including two major changes: adding a photo ID requirement for in-person voting and allowing Georgians to vote by mail without an excuse, and without an ID.
At the time, Democrats and voting rights groups adamantly opposed both measures. Lawmakers compared the photo ID requirement to Jim Crow laws and warned that Georgia would have some of the country's most restrictive voting procedures. The addition of no-excuse absentee voting did not reassure Democrats, either.  In an eerie inversion of today's positions, they argued that it would introduce a system ripe for abuse.
"By removing restrictions related to mailed absentee ballots, HB 244 opens a greater opportunity for fraud," former Atlanta Mayor Kasim Reed, then a Democratic state senator, wrote in an op-ed. "Skeptics might point out that absentee voters have historically voted for Republicans in higher numbers."
Among the lawmakers who voted for the bill were Gov. Brian Kemp (then a state senator), House Speaker David Ralston, Speaker Pro Tem Jan Jones, Majority Leader Jon Burns, Senate Rules chairman Jeff Mullis, Georgia Republican Party Chairman David Shafer (then a state senator) and Reps. Terry England, Sharon Cooper, Ed Setzler, Lynn Smith and Barry Fleming, author of the current House omnibus which is one of the bills that would add an ID requirement to absentee ballots and applications.
Democrats who opposed the 2005 bill included current Sen. Minority Leader Gloria Butler, Sens. Ed Harbison, Horacena Tate, Kasim Reed and Reps. Debbie Buckner, Roger Bruce, MARTOC chair Mary Margaret Oliver, and Calvin Smyre, currently the longest-serving member of the House, among others.
Democrats said at the time that requiring photo ID to vote in person would disenfranchise lower-income, older and non-white voters, while pressing the idea that expanded no-excuse absentee voting without an ID requirement was an invitation to fraud.
"This bill would actually open the door wide to opportunities for voter fraud because it allows voting by mail where you present no identification whatsoever," Democratic Secretary of State Cathy Cox said in an Atlanta Journal-Constitution article. "So those parts of the bill really don't jive in my mind in terms of any real effort to crack down on what someone perceives to be voting fraud."
Fast forward to 2021: There has been no evidence of widespread fraud with absentee-by-mail voting and, until the 2018 governor's race, the relative few voters that used absentee ballots skewed older, whiter and more Republican.
A record number of Georgians participated in the November general election thanks in part to expanded voting rules and procedures pushed by Republican Secretary of State Brad Raffensperger. Demographic changes and a surge in automatic voter registrations have shifted statewide politics to razor-thin margins, and Democrats took advantage of no-excuse absentee voting to flip the state's electoral votes and both U.S. Senate seats.
In the elections debate following the 2020 presidential race, the arguments might sound familiar. Former President Donald Trump and other top Republicans have questioned the security of the more than 1.3 million absentee ballots cast by Georgians in the November election, claimed that the state's method of matching signatures to verify absentee ballots opened the door to fraud, and proposed sweeping changes to fix the system.
Raffensperger told GPB News that adding an ID requirement to absentee ballots seemed like a logical solution given the complaints from both sides of the aisle.
"A year ago we were being sued by the Democrats," Raffensperger said in the interview. "They did not like signature match, they said it was unconstitutional and now the Republicans are saying the same thing. Well, you guys are both singing off the same song sheet now, so maybe now we need a verifiable photo ID component with the absentee ballot process."
Fleming said recently in an interview that the impetus for change is to "restore confidence" after the 2018 and 2020 elections saw claims of malfeasance from both parties, and that absentee-by-mail ballots pose the greatest risk of problems.
In a November op-ed, Fleming compared absentee voting to the "shady" part of town down by the docks where people run the risk of being "shanghaied."
"I believe it is the legislature's preference that people vote in person; that's the best way," Fleming said at the Georgia Bar Media & Judiciary Conference in February. "When you're in the confines of the precinct, there are election officials there who are watching to make sure that there is no possibility of undue influence. When that ballot leaves and goes outside those confines, you always have the chance of undue influence."
A Senate omnibus bill introduced by Majority Leader Mike Dugan and cosponsored by 31 of the chamber's 34 Republican senators goes beyond mandating ID for mail-in absentee ballots. SB 241 would only allow a small subset of Georgians to vote by mail, effectively eliminating no-excuse absentee voting that had primarily been used by Republican voters until the 2018 gubernatorial election.
Sen. Mullis, now the powerful Rules chairman, is the only member of the Senate still in office that voted to enact no-excuse absentee voting 16 years ago and he now wants to end it. In addition to cosponsoring the Senate omnibus, he sponsored a standalone bill, SB 71, that also would eliminate no-excuse absentee voting.
Mullis told a Senate committee that he believed many absentee ballots were fraudulently cast, with many people voting more than once — a statement that state and local officials have confirmed is not true.
"We believe that this would help control that so there's only one time that one person would be voting an absentee ballot instead of possibly many times," he said.
Gov. Brian Kemp supported no-excuse absentee voting in 2005, and by the end of his run as secretary of state in 2018, touted Georgia as a national leader in election law because of the state's absentee rules, automatic voter registration and at least 16 days of in-person early voting — a distinction that his successor Raffensperger touts at the bottom of every press release.
But other Republican legislators have changed their stances on the state's election laws over the past decade-and-a-half.
Fleming, who voted to institute no-excuse absentee voting back in 2005, in 2017 authored the controversial "exact match" law that flagged voter registrations that weren't aligned with state and federal databases. That measure was later rolled back after several lawsuits. 
In 2019, Fleming led the charge on HB 316, a sweeping elections bill that updated Georgia's voting machines, lengthened the time before someone can be removed from the voter rolls, limited last-minute changes to polling places and other overhauls after the 2018 governor's race.
While his newest measure, omnibus HB 531, does not propose eliminating no-excuse absentee voting like the Senate counterpart, it would add ID requirements, changes to the request period and other alterations of the absentee process he supported more than 15 years ago.
Another controversial proposal in the House omnibus bill would require counties to have a uniform set of early voting dates and hours, upping the minimum from 16 days to 17 while curtailing larger metro counties from adding extra weekend hours.
In 2011, the legislature passed HB 92, which standardized the 16-day early voting period for primaries and general elections, including a mandatory Saturday from 9 a.m. to 4 p.m. It also allowed counties to add additional voting hours and locations as necessary.
One of that bill's cosponsors was current House Appropriations chair Terry England, who voted "yes" this week on Fleming's omnibus, which would change early voting requirements. On the Senate side, GOP chairman Shafer, Rules chairman Mullis and Republican Sens. John Albers, Bill Cowsert, Steve Gooch, Lindsey Tippens all approved the 2011 measure.
Follow-up bills in 2014 and 2016 that further updated the language included support from current Senate Pro Tem Butch Miller, Senate Majority Leader Mike Dugan and Sens. Burt Jones and Tyler Harper, two lawmakers who recently pushed false claims of election fraud and engaged in efforts to have former Vice President Mike Pence delay certification of Joe Biden's win in the Electoral College.
One of the other hallmarks of Georgia voting laws is automatic voter registration, a system it adopted in 2016, making it the second state in the nation to update its voter rolls through interactions with the Department of Driver Services.
The switch did not come from legislation but through an administrative change quietly implemented by DDS, in coordination with the state Attorney General's office and then-Secretary of State Kemp.
Instead of requiring Georgians to opt-in to update or create a voter registration when they renew their driver's license, they are now automatically registered unless they opt out.
A spokeswoman for DDS told the Georgia News Lab the change was made "to continue compliance" with the National Voter Registration Act of 1993, which requires states to offer residents voter registration opportunities when they apply for or renew a driver's license.
Voter registration shot up dramatically in the following years, with Georgia leading the nation in new automatic registrations, culminating in a record 7.6 million registered voters as of October 2020. Five million of those registrations were processed through the Department of Driver Services.
But SB 69, filed by Mullis, would end automatic voter registration. He said Georgia should not be signing up voters.
"They'll have to check the box that they want to be a registered voter," Mullis said in a Senate Ethics committee meeting. "We believe that it's important that people have the ability to register to vote, and we believe just to assume that people need to vote may not be the right way."
Much has changed since the fierce legislative debate in 2005, both with election administration and the state's politics. Recent shifts in the political winds have created a new reality: one with Republican lawmakers racing to reverse rules and procedures they created and enjoyed and Democrats defending measures they called suppression and an invitation to fraud in 2005.
Emily Garcia contributed reporting for this article.
Secondary Content
Bottom Content