Section Branding
Header Content
Election Blog: All Eyes On Georgia As Results Show Tight Contests In Historic Runoffs
Primary Content
The control of the U.S. Senate is at stake in Tuesday's runoff election. Follow GPB's reporters around the state in our Election Blog.
10:17 a.m., Jan. 6
Electoral College Vote Set For Certification — But With Georgian Objectors
When Congress meets for the final step in the 2020 election to count the Electoral College votes, expect Georgia to remain in the spotlight.
Republican lawmakers from across the country and in the House and Senate plan to object to several swing state electoral counts under a baseless assertion that fraud ran rampant through the presidential race — but not the votes that put those members into office.
Appointed Sen. Kelly Loeffler, who is on track to lose her election to Democrat Raphael Warnock, made a last-minute announcement Monday she would object to Georgia's count. On the House side, newly elected Rep. Marjorie Taylor Greene is leading the charge from Georgia, alongside new Rep. Andrew Clyde and Reps. Rick Allen and Jody Hice.
You can watch the Electoral College count here.
— From GPB's Stephen Fowler
10:30 p.m., Jan. 5
Counting Going Quicker Than Expected
No, your clocks aren't moving faster — the counties are. We're at just under 3.6 million votes already tabulated in the runoffs, thanks in part to a rule change from the State Election Board that required counties to begin processing absentee ballots starting last Monday. More than 90% of the 1 million-plus ballots are in and counted.
DeKalb County's in-person early votes are still outstanding and will be a difference-maker for Democrats, as the Republican pathway to victory narrows with each new upload.
Follow our election results here. 
— From GPB's Stephen Fowler
9:40 p.m., Jan. 5
Georgia Election Official: Trump To Blame if Perdue, Loeffler Lose
A top election official with the Georgia secretary of state's office says there is one person — and only one — to blame if both Republican candidates lose in the pivotal Senate runoffs.
"It will fall squarely on the shoulders of President Trump and his actions since Nov. 3," Gabriel Sterling, the state's voting system implementation manager, told CNN. 
Asked why, Sterling said, "Well, when you tell people your vote doesn't count, it's been stolen and people start to believe that — and then you go to the two senators and tell them to ask the secretary of state to resign and trigger a civil war inside the Republican Party when we need Republicans to unite. All of that stems from his decision making since the Nov. 3 election." 
Votes were still being counted in Georgia as of this writing in the historic election pitting Republicans David Perdue and Kelly Loeffler against Democrats Jon Ossoff and Raphael Warnock. The election will determine control of the U.S. Senate.
Sterling, a Republican, also criticized Trump for continuing to repeat debunked allegations of election fraud: "He just keeps on persisting in making these false claims." 
He ended with this message for Trump: "Mr. President, you've already lost the state of Georgia and the thing now is, no matter what you say, you can't undermine the people of Georgia's integrity to know the voting system works and their vote is going to count at the end of the day."
Trump lost Georgia to President-elect Joe Biden by about 12,000 votes, the first time the state has voted for a Democrat for president since 1992.
— From GPB's Wayne Drash
7 p.m., Jan. 5
(Almost All) Polls Close In Georgia
It's 7 p.m., the witching hour for the highly anticipated runoffs. Polls are officially closed in almost every corner of the state, the deadline for absentee ballots to be received has passed and now there's just the wait for results.
Some precincts in Cobb, Cherokee, Columbia, Chatham, Gwinnett, Tift and Gilmer are open slightly later because of court orders.
The secretary of state's office said the day was smooth overall as counties pivot to processing and tabulating results.
— From GPB's Stephen Fowler
6:30 p.m., Jan. 5
Turned 18 Monday, Voter On Tuesday
When Georgia's two U.S. Senate races both went to runoffs in November, it inspired a massive effort to register young voters from a 23,000-strong pool of Georgians who would turn 18 in time to vote in January. 
Dorian Hamilton is one of those brand-new voters. He turned 18 yesterday, just in time to vote in the runoffs.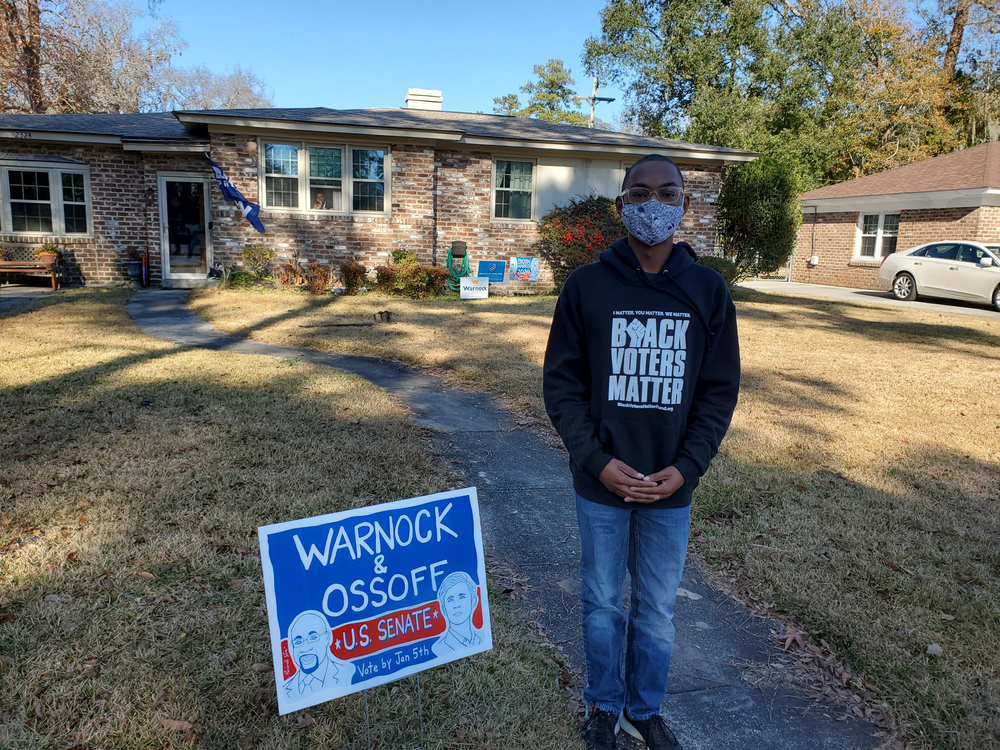 Hamilton is a high school senior in Savannah, so he took a short break from his virtual Advanced Placement U.S. History class to cast his ballot Tuesday.
He said he was excited.
"You always hear about it, 'Oh I'm going to vote,' and you never know what really goes on there," he said. "It was nice to actually go and get to vote and be part of this election."
Hamilton told his class about his voting experience afterward.
Even though he couldn't vote in November, Hamilton was already politically engaged. He and his mom went canvassing, held signs on street corners and attended rallies ahead of the general election.
— From GPB's Emily Jones
3:15 p.m., Jan 5:
Long Wait To Vote In Perdue's Home County
Georgia Secretary of State Brad Raffensperger said reported wait times to vote in the runoffs for U.S. Senate and the public service commissioner race in much of the state are short — half an hour at the longest. Not so at Bonaire Middle School in Houston County, home turf of Republican David Perdue, one of the candidates on today's ballot.
As the afternoon wore on, and the tally of in-person voters pushed towards 1,000, the wait stretched as long as 45 minutes or more.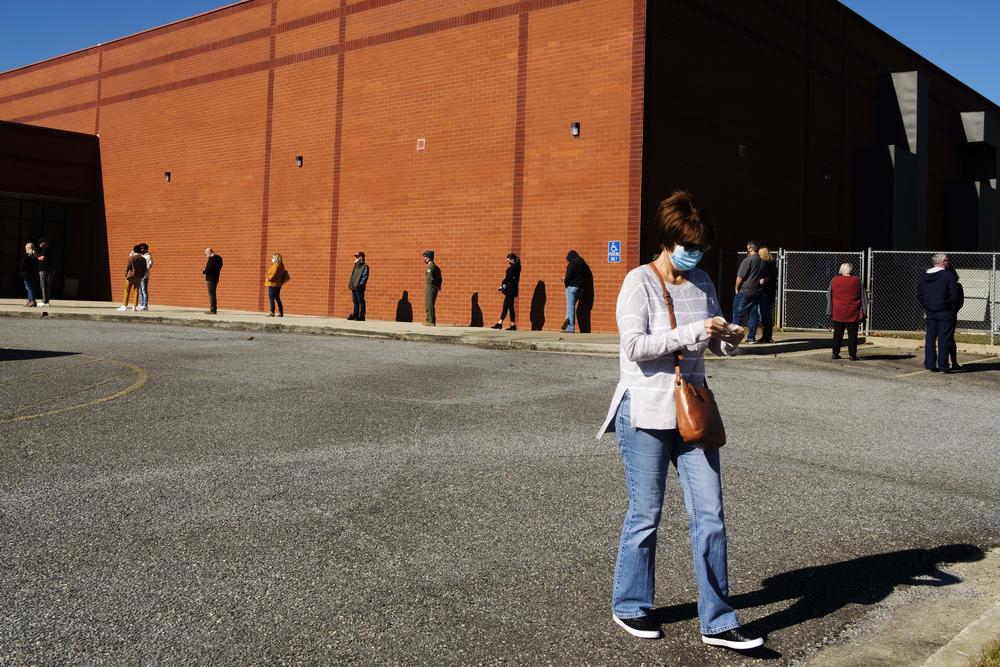 "Started out a little slower earlier the day, this morning, maybe about 30-minute wait," poll manager Rhondrea Allen said. "But one young lady just told me she waited an hour."
Allen said by about 2 p.m. 850 people had voted. On Election Day in November, a total of 1,764 people had cast a ballot here.
Among the in-person runoff voters were Wayne and Beth Leever. The runoff, and the caustic rhetoric leading up to it, led both to change their voting habits.
That's not a first time thing for him, but for his wife who was born and raised in this typically conservative community it's a different story.
Brad Rudziak came out to vote despite profound doubts that the electoral system even works. How profound?
"Uh … probably be 50/50 on it right now — 50/50," he said. That's a coin toss as to whether or not his vote will be counted. But Rudziak said it was important to vote to set an example for young people.
"They need to know the proper voting system," he said.
As to how he calls what to him is a coin toss of election fairness, Rudziak said he would have to wait a few days to see who officials say the winners are. 
— From GPB's Grant Blankenship
1:05 p.m., Jan 5:
DeKalb Voting Quiet In The Morning
Nearly 200 people had voted by 11 a.m. at First Baptist Church in Clarkston, making it one of the busier precincts in DeKalb County. Poll manager Lynn Martineau said about 15 people were waiting in line to vote when doors opened at 7 a.m.
At the Glenwood Road precinct in Decatur, about 60 people had voted by 11 a.m., according to poll manager Louisa Leftwich.
As of 9:30 a.m., 65 people had voted at Canby Lane Elementary School in south DeKalb, according to poll manager Ethel Byrd. "With the number of people who already voted, we're not going to have a lot of people today," she said.
It was similarly quiet — and cold — at the Columbia Drive United Methodist Church voting location in DeKalb as polls opened. A trickle of one or two cars drove into the old parking lot adjacent to the church. Poll workers said they'd had 60 voters so far by about 9:30 a.m.
Legal observers with the American Civil Liberties Union said there were no early issues reported at any of the county's precincts.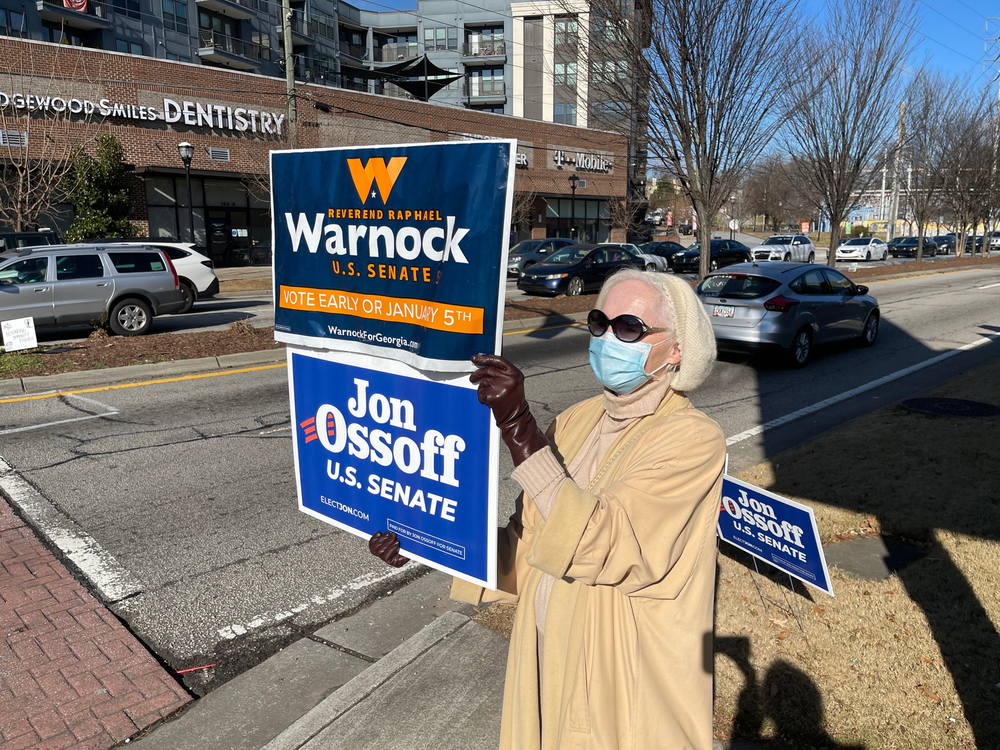 Just barely west of DeKalb in Fulton County, Sidney West, a transplant from west Texas who campaigned tirelessly for Joe Biden in November, stood outside a street corner in Little Five Points on several occasions in hopes of getting out the vote. She came back today, feeling cautiously optimistic while remaining pointedly critical of the Republican Senate incumbents.
"I believe Kelly Loeffler has sold her soul to the devil," she said.
Back in DeKalb, there was a steady flow of voters at the joint Medlock/Scott-North DeKalb polling place in Decatur. One hundred ninety people had voted in the Medlock precinct by 12:30 p.m. and 245 in Scott-North DeKalb. Each precinct had a line of nearly 20 people when polls opened this morning, according to poll managers.
— From Georgia News Lab's David Armstrong and GPB's Sarah Rose
11:15 a.m., Jan 5:
Polls Open To Voters With COVID-19 In Canton, Statewide
By 10 a.m., roughly 85 people had cast ballots in the Senate runoff election in Canton. The polling location is open until 7 p.m. for Cherokee County residents, including those who have tested positive for COVID-19.
Voters cannot be turned away from voting in today's runoff election, even if they have symptoms or a positive COVID-19 diagnosis, said Aimee Clary, an election clerk in Cherokee County. She said officials at polling locations simply ask to be notified when someone is sick. Then they bring that person around the back of the building.
"We're lucky, because we have a big open polling location and we have one machine that we designate that people can go to because it's just easier the way we have our room set up," Clary said. "And then we can disinfect the room after the person leaves."
Polling locations in Cherokee County also have police presence after threats were made via email. 
— From GPB's Ellen Eldridge
10 a.m., Jan 5:
Morning Voting Lines Light In Savannah Area
All was quiet — and cold — at West Broad Street YMCA in Savannah, near where candidate Raphael Warnock grew up. A slow trickle of voters cycled in and out, none spending more than a few minutes inside the polling place. 
Voter Deotha Bratley said it took her "not even five minutes" to vote. At 83, she said she's voted in every election since she turned 18. It's how her grandmother raised her, she said. 
Despite reports of voting issues early in the day at Connexion Church in Savannah, at 11 a.m. there was no line. The manager said there had been trouble getting the voting machines to work when they first opened, but it was resolved quickly.
A steady trickle of voters came and went, among them Joyce Dukes, who did not vote in November after losing her driver's license but did today after learning she could use other ID.
"It's important that we get the Republicans in office," she said. Dukes said she had "big hopes for both Kelly Loeffler and David Perdue."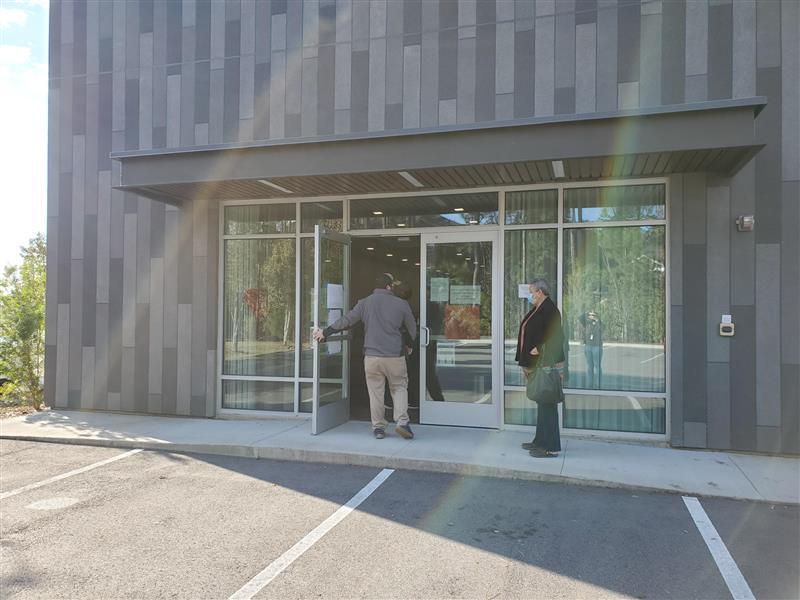 "I hope by the grace everything will work out, for not just only us — for everyone," Bratley said.
In Pooler, just outside Savannah, the line for a nearby Starbucks  drive-through was far longer than the line to vote at a Courtyard by Marriott hotel that serves as a polling place. A poll monitor said voters had been in and out in a few minutes all morning, and voter Dominique Flowers said it took him less than five minutes.
Flowers, who is 30, said November's general election marked his first time voting.
"I felt like this year was one of the most important years," he said.
"We made a difference a few months ago, well a month ago," Flowers said of his decision to vote again in the runoff. "And I wanted to be a part of the difference this time."
— From GPB's Emily Jones
9 a.m., Jan 5:
'Socialism,' Pandemic On Minds Of Macon Voters 
In the dependably Republican-leaning Howard Community Club precinct in Macon's northern suburbs, there was a healthy line to vote when polls opened at 7 a.m.
For Scott Wise, waiting to vote in person on Jan. 5 was a case of sticking to tradition and his lack of trust in Georgia elections.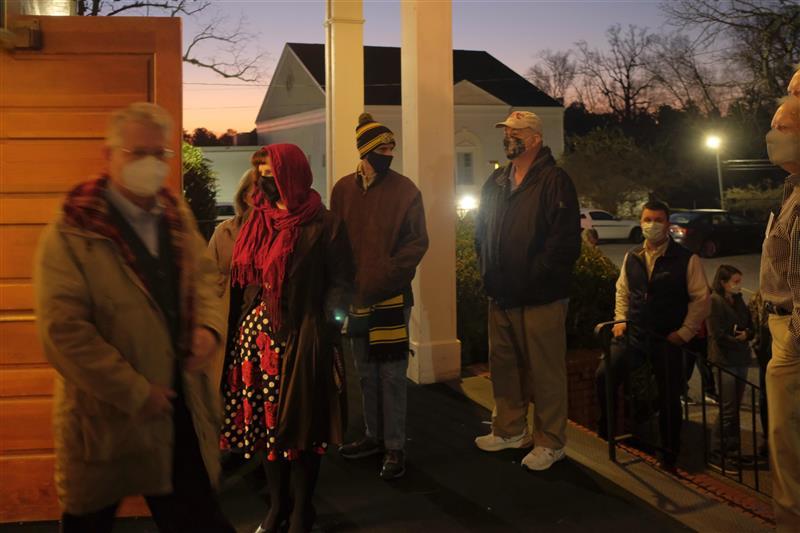 "The last election, there was many illegal votes cast, but hopefully they're not shoving boxes of that from underneath tables, you know, in some of these counties," Wise said, citing various election conspiracy theories that have never been backed up by facts.
Wise also said he doesn't trust the signature match system used to validate ballots cast by mail. As for why he voted, Wise said it was to keep a bulwark against socialism.
Joy Jackson said she voted today in no small part because her job — and the 65-mile commute to the south side of Atlanta that comes with it — didn't leave her time for any other way.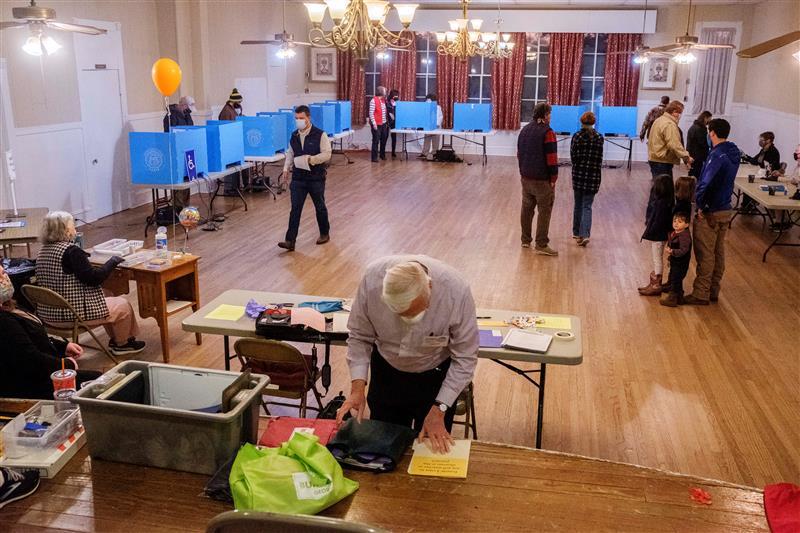 Jackson said that's why, for her, voting was at least a step in restoring her own peace of mind. 
— From GPB's Grant Blankenship
8:05 a.m., Jan 5:
Smooth Sailing In Cherokee County
Thirteen voters were in line to vote at a precinct in Canton in the Republican stronghold of Cherokee County when polls opened at 7 a.m.
By 7:50 a.m., officials said a total of 39 voters had cast their ballots. No problems were reported.
— From GPB's Ellen Eldridge
7:15 a.m., Jan 5:
Polls Open For Election Day
Polls are open across the Peach State for the final election of the 2020 cycle: a pair of U.S. Senate races and a seat on the state's Public Service Commission.
Republicans David Perdue and Sen. Kelly Loeffler are defending against Democrats Jon Ossoff and Raphael Warnock in a close contest that will decide control of the Senate and steer the direction of Joe Biden's presidency. Republican Bubba McDonald squares off against Democrat Daniel Blackman for a spot on the state's utility regulator.
President-elect Joe Biden and President Donald Trump each held final rallies in Georgia on Monday, aiming to motivate supporters by painting a picture of what a victorious America would look like with their candidates in power.
The name of the game today is turnout. With more than 3 million early votes already cast, Democrats likelyhave the lead, anchored by strong get-out-the-vote efforts in the Black Belt of southwest Georgia and the strongholds inside metro Atlanta. 
Republicans need an avalanche of Jan. 5 voters, especially in the 14th Congressional District in the state's northwest corner, to have a fighting chance.
In the Nov. 3 general election, fewer than a million people trekked to the polls. 
— From GPB's Stephen Fowler
Secondary Content
Bottom Content