Section Branding
Header Content
Nearly 800,000 Georgians Have Already Requested Absentee Ballots For November
Primary Content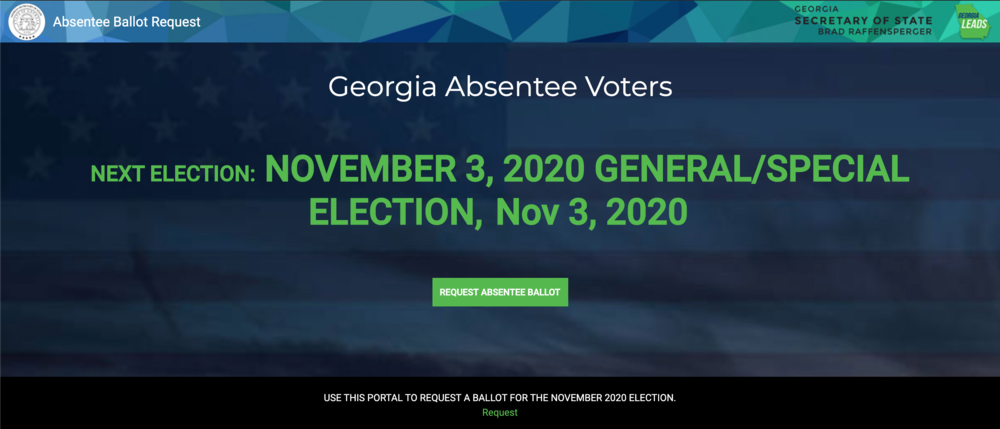 Nearly 800,000 Georgians, or about one in nine active voters, have already requested an absentee ballot, as state officials encourage the use of early voting to minimize lines at the polls for the November election.
According to data provided by the secretary of state's office as of Wednesday morning, at least 582,000 are on a "rollover" list of voters who checked a box to receive an absentee ballot for every election in a given cycle. That designation is for voters who are over 65, are disabled are in the military or living overseas. Another 175,000 have applied for a ballot by email, fax, mail or hand-delivering an application to their local election office.
More than 41,000 Georgians have used the state's brand-new online absentee request portal that launched on Friday, using a tool aimed at streamlining the request process for both overwhelmed officials and voters alike.
Here's How To Request A Georgia Absentee Ballot Using The Online Portal
Leading the way is Fulton County, where more 80,000 total applications have been received, including 10,000 online requests. Last week, a State Election Board investigation found several shortcomings with the county's absentee process, including hundreds of voters that never received absentee ballots for the June 9 primary.
RELATED: State Investigation Finds Failures In Fulton County's Absentee Process
Thirteen of Georgia's 159 counties have seen more than 15% of their active voters already request an absentee ballot, including 20% of Greene County's voters. 
On the flip side, 11 counties have processed zero absentee ballot requests other than those on the rollover list.
A record 1.1 million Georgians voted absentee by mail in the June primary, a number that the state expects to grow for the November election that could see more than 5 million cast their ballots. 
Absentee ballots can be returned via mail, in person to your elections office or, if your county has one, a secure drop box. 
Ballots normally must be received by 7 p.m. on Election Day, but a recent federal court ruling changed the deadline to three days after Election Day as long as it is postmarked by Tuesday, November 3.
But there is no need to delay in requesting and returning your ballots. All applications processed before September 15 will be paid for and mailed out by the state on September 18. Counties can also begin processing - but not tabulating - absentee ballots two weeks before the election, cutting down on delays to results.
Basically, if you plan to vote by mail, the sooner you request and return your ballot the less burden you will place on your local county elections officials.
The secretary of state's office is also running television ads explaining the new online portal as part of a larger campaign to encourage people to vote before Election Day and avoid long lines, especially in larger metro areas.  
In addition to absentee by mail voting, Georgia has a three week early voting period that includes one Saturday.
Secondary Content
Bottom Content