Section Branding
Header Content
Judge Extends Georgia's Absentee Ballot Deadline For November Election
Primary Content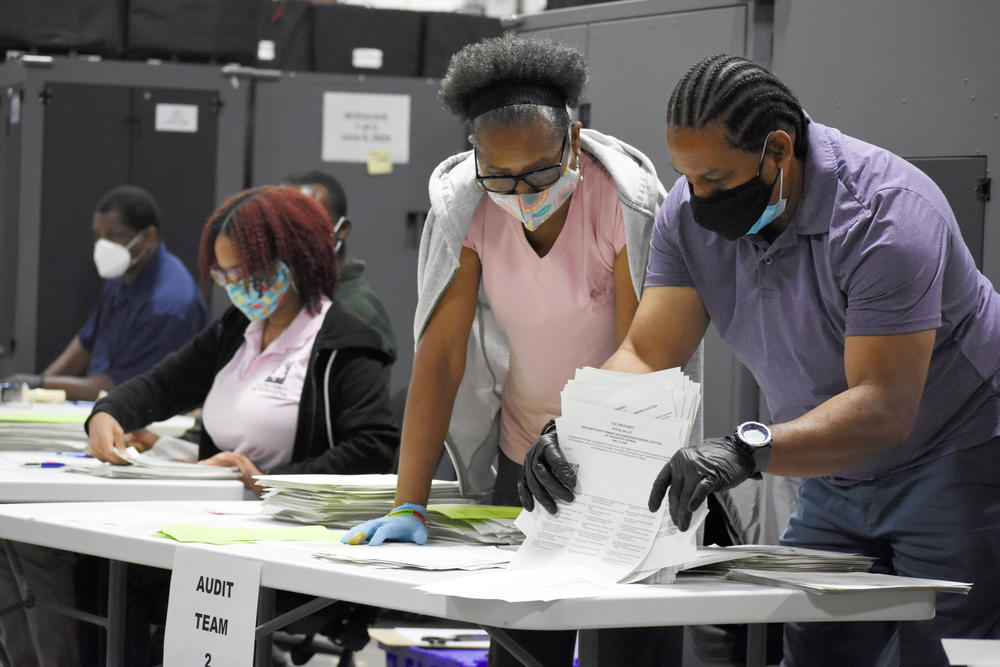 A federal judge has ruled Georgia elections officials must count absentee ballots postmarked by Election Day and received by 7 p.m. on Nov. 6, 2020, potentially allowing thousands more votes to count in an election likely to shatter turnout records.
Judge Eleanor Ross ruled Monday that "extending the deadline would ensure that voters who receive their ballots shortly before Election Day are able to mail their ballots without fear that their vote will not count" in her 70-page order.
Currently, Georgia voters can request an absentee ballot as late as the Friday before the election, creating a narrow window for voters to return an absentee ballot through the mail in time for the current 7 p.m. Election Day deadline.
In the primary election, more than 8,000 ballots were rejected for being returned late and a record 1.1 million Georgians voted by mail in the state's combined presidential preference and general primary because of the coronavirus pandemic.
The lawsuit, filed by the New Georgia Project, also sought to make other changes to the state's absentee voting process, including a request to mail ballots to all voters and free ballot postage. 
"The Court notes it is reluctant to interfere with Georgia's statutory election machinery," Ross wrote. "However, where the risk of disenfranchisement is great, as is the case here, narrowly tailored injunctive relief is appropriate."
The new deadline aligns with the deadline for military and overseas absentee ballots, something Ross said should minimally disrupt county elections officials' process to tabulate and certify the election.
Georgians are not limited to returning an absentee ballot through the mail. Under new rules promulgated by the State Election Board, counties can set up secure drop boxes for voters to deliver their ballots, as well as returning the ballot directly to their local elections office.
"Today's decision is a huge victory for Georgia voters, and a huge win in the fight for every vote to be counted," Democratic Party of Georgia Chairwoman Nikema Williams said. "All Georgians deserve to have their voice heard, and in the midst of a global pandemic, it is the responsibility of our democracy to make voting by mail and early voting options as accessible as possible."
"Extending the absentee ballot receipt deadline is a bad idea that will make it nearly impossible for election officials to complete their required post-election tasks in the timeline that is required by law," a spokeswoman from the secretary of state's office said. "We plan to immediately appeal Judge Ross's decision."
Last week, the secretary of state's office launched a new online absentee ballot request portal to help streamline the process ahead of a record-setting turnout in a tightly-contested November election. Elections officials encourage Georgians who plan to vote absentee to request and return their ballots as soon as possible.
Secondary Content
Bottom Content