Section Branding
Header Content
Here's How To Request A Georgia Absentee Ballot Using The Online Portal
Primary Content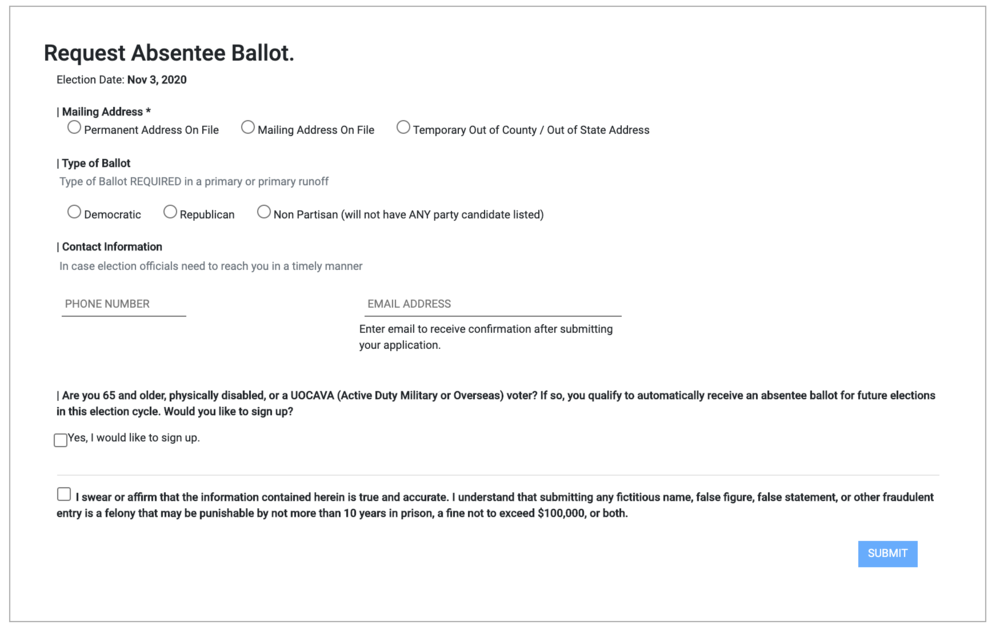 The secretary of state's office has unveiled a new online absentee ballot request portal, streamlining the process for voters and county officials alike after counties struggled with applications in June.
The portal also is rolling out in anticipation of record vote-by-mail participation in November.
Georgia has allowed no-excuse absentee voting for all registered voters since 2005, and Georgians can also return paper absentee applications by email, fax, mail and in person to their county elections office. 
REQUEST YOUR ABSENTEE BALLOT ONLINE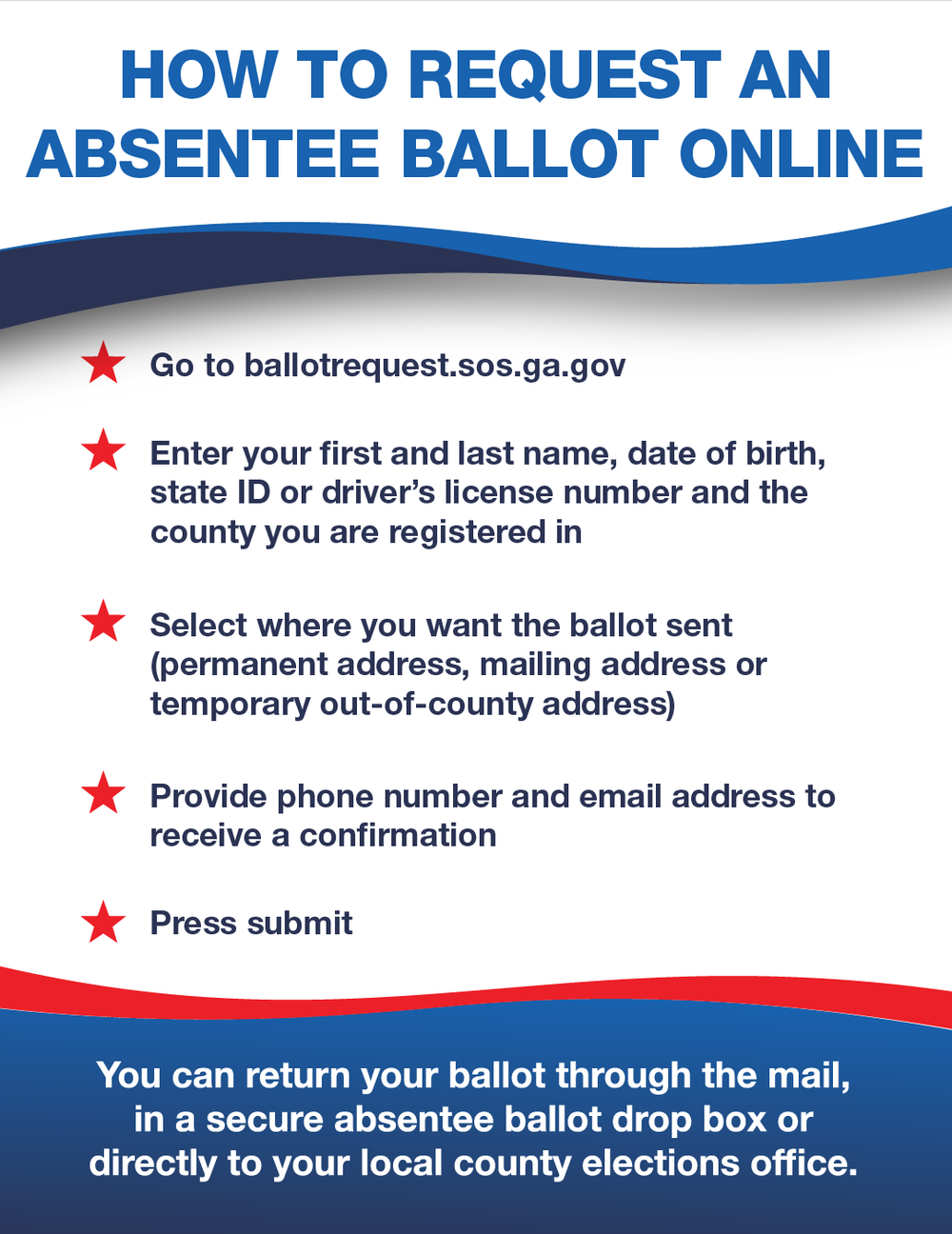 The new online system, authorized by an emergency rule passed by the State Election Board, works similar to the state's online voter registration system. 
To begin the request, enter your first and last name, date of birth and state ID or drivers license number, plus the county in which you are registered. This information matches what is in your registration record.
You do not have to provide a signature for the online application, but still must if you fill out a paper form.
On the next page of the request form, you can choose to send the ballot to your permanent address on file, mailing address on file or a temporary out of county or out of state address.
For future primary elections, you can also choose between Democratic, Republican or nonpartisan ballots. For the general elections, like November 2020, you do not need to pick a type of ballot.
Next, you can enter your phone number and email address for elections officials to contact you for a number of reasons, including if there are issues with your application or ballot once it is returned. If you leave an email address, you will get a confirmation once your application is submitted.
More than 565,000 ballots will automatically be mailed out to voters who qualify for rollover ballots, meaning that they only apply once and then receive a ballot for every election in a given year. This is limited to voters 65 and older, disabled voters or military and overseas voters. 
RELATED: Georgia State Election Board Approves Absentee Ballot Process Improvements
State officials also say more than 100,000 Georgians have already applied for their November absentee ballot as well.
A record 1.1 million voters returned absentee ballots for the June 9 primary, and even more are expected for the general election. 
The earlier you submit an application, the easier the workload is for your county elections officials. Any ballot requested before September 15 will be sent out in an initial batch paid for by the state starting around September 18.
After that, applications will be processed and ballots will be mailed by counties on a rolling basis.
The online portal should also minimize the chance for errors and problems processing tens of thousands of requests, like what happened in Fulton County for the primary.
A state investigation Thursday found that at least 250 voters reported never receiving ballots they requested, with more than 100 saying they ultimately did not vote.
MORE: Georgia Election Officials Turn To November After Smoother Runoff
The new portal sends your information digitally to local elections offices in a centralized manner, cutting down on the likelihood of mistyping voter information or that the request gets lost or not processed. You can also print out a PDF of the request for your records.
After completing your request, you can track the absentee process on the state's My Voter Page, https://www.mvp.sos.ga.gov/, to see the date your application was received, the date the ballot is issued, and the date it is accepted by your local elections office once you return it.
Another reason to request your ballot early? Returning it early makes it easier for officials to count all the votes. Another rule the state is considering would allow county workers to begin processing – but not tabulating – absentee ballots two weeks before Election Day, a decision that could minimize delays with reporting results.
The United States Post Office recommends mailing your ballot back no later than a week before the election to give enough time for it to be delivered and received by your county elections office by the deadline of 7 p.m. on Election Day. If you are a military or overseas voter, your ballot must arrive by the Friday after Election Day if it's postmarked by Election Day.
You can also return your ballot in person to the county office (not your polling place!), or into a secure drop box if your county has them set up.
Another thing to remember about your absentee ballot – be sure to fully bubble in the oval for your choices to make sure it is read by the scanner and counted as a vote.
If you do not want to vote absentee, Georgia has three weeks of in-person early voting beginning October 12, with at least one mandatory Saturday.
Elections officials are urging voters to cast their ballot early to cut down on lines on Election Day, exacerbated by COVID-19 precautions that include fewer machines and more space between voters.
Secondary Content
Bottom Content