Section Branding
Header Content
State Investigation Finds Failures In Fulton County's Absentee Process
Primary Content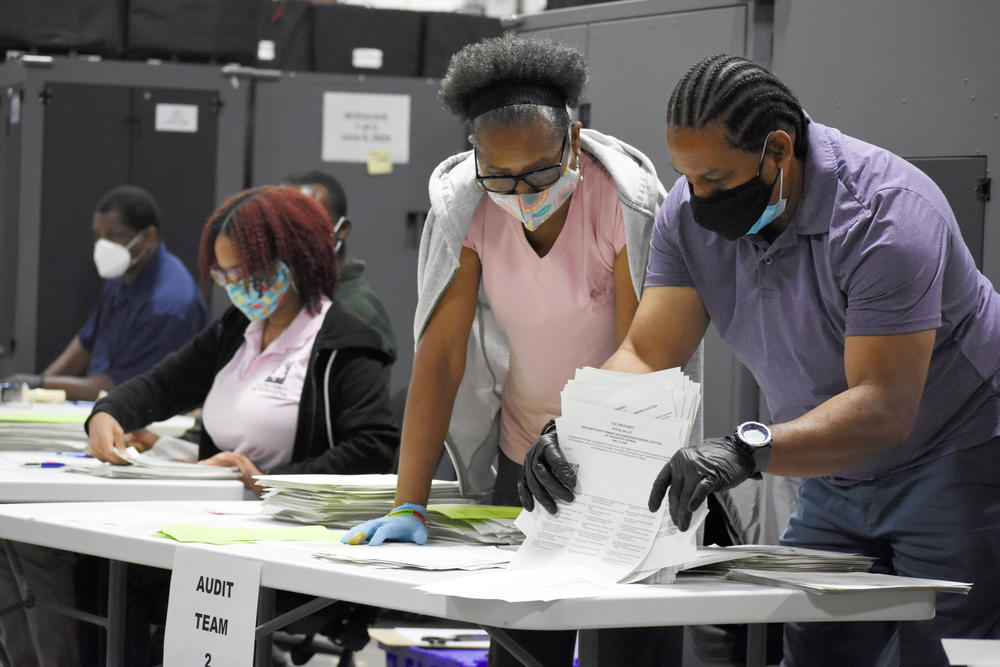 A Georgia State Election Board investigation Thursday found that Fulton County's absentee ballot request process failed in the run-up to the June 9 primary, leaving hundreds of voters without the ballots they requested and contributing to long lines on Election Day.
The board voted unanimously to turn the case over to the attorney general's office for more investigation into whether Fulton officials violated state laws governing timely processing of absentee ballots. 
State investigators received 254 complaints from Fulton voters who said they did not get an absentee ballot after they requested them. At least 107 responded that they did not ultimately vote in the election.
Fulton and Georgia's other 158 counties were overwhelmed by an avalanche of absentee applications after the secretary of state's office sent request forms to 6.9 million active voters in the early days of the coronavirus pandemic.
MORE: Georgia Elections Officials Navigate Sea Of Absentee Applications While Polling Places Back Out
Georgia's largest county also lost time after the registration chief was hospitalized, a longtime staffer died from COVID-19 and the county elections office was closed for several days to be sanitized.
"After that point, the mail steadily increased from one bin to between two and three full bins daily," Caryn Ficklin with the county said. "Around the same time, the applications sent via email and fax also started increasing."
RELATED: Elections Chief Calls For More Polls, Training, Tech Support To Avoid November Meltdown
Over 140,000 Fulton voters requested absentee ballots for the primary, and lawyers for the county said more than 80,000 applications were sent via email, overloading an email system that delivered each application received to 20 inboxes.
The county also had issues printing the applications, which had to be manually entered into the state's system. Voters sent in requests with varying file formats that were sometimes unreadable, and along the way an untold number of applications were either never entered or severely delayed in being processed.
"I'm very sympathetic to the problems that Fulton County and election workers in other counties had," Democratic board member David Worley said. "But there is almost no margin for error any more in processing absentee ballots and making sure that November's elections will work."
The county has made changes to its processes, like standardizing file sizes and formats for any emailed applications to save server space and minimize printing issues.
IN-DEPTH: Georgia Election Officials Turn To November After Smoother Runoff
Fulton County Elections Director Rick Barron said that the scale of absentee voting is unprecedented, but the improvements made since the primary will ensure voters don't have the same issues again.
"We've processed more ballots for the August runoff than we did for the presidential election in 2016," he said. "And so I believe that we're well on our way to be able to serve the voters for November."
More than 1.1 million Georgians returned an absentee ballot in the primary, a number only expected to grow for the November general election. 
By the end of the month, the secretary of state's office is launching a new online absentee ballot request portal that should make the process either for both voters and elections officials alike.
Secondary Content
Bottom Content