Section Branding
Header Content
Former Educator: 'Brain Drain' In Cherokee County As Educators Resign Over Pandemic
Primary Content
Allison Webb worked all summer getting ready for what would have been her 11th-year teaching Spanish and French at Sequoyah High School in Cherokee County. She resigned before students returned for school, effectively ending her 20-year career as an educator.
She said she felt bullied and betrayed, and Webb wasn't the only one.
Twenty-eight certified employees – including 25 teachers – left their jobs in the Cherokee County School District since the end of the 2019-20 school year. Three certified teachers resigned or were terminated during the same period in 2019.
Beyond that, the school board agenda from Thursday's meeting showed 44 classified resignations, which includes school nutrition staff, paraprofessionals and bus drivers. Last year, that number was 35.
The district maintains the resignations are for multiple reasons.
"The resignation sections include resignations due to eligibility for TRS retirement benefits, moving out of district, accepting a new job elsewhere, deciding to be a stay-at-home mom, etc.; the section also includes terminations," said Barbara Jacoby, the school district spokeswoman. "We do not disclose employee's reasons for resigning due to privacy laws. For perspective, we have nearly 5,000 employees, and 2,800 are certified."
Many teachers said they hated having to choose between their health and their career.
One teacher, who asked GPB News not to use her name, said a family in early July offered her a job as a private tutor.
She resigned before the July 17 deadline for parents to choose between digital learning, face-to-face instruction or withdrawing from the district completely.
"I worked in a special education classroom, and I would be so scared to be there now," she said.
Another teacher posted anonymously on social media about walking away from teaching because of the safety concerns and lack of social distancing.
Ten certified teachers resigned after classes began, leaving administrators to find replacements.
"The district demonstrated its disregard for the deep knowledge and skills of experienced teachers when they did not plan for meaningful and sustained participation by teachers across the district in the reopening plan, or in the reopening itself," Webb said. "They showed that they truly see teachers as interchangeable and disposable when they suggested that those who did not agree with the plan or who wanted their concerns to be addressed should 'reflect on the best direction forward for you in your role with CCSD' in the words of Superintendent Brian Hightower."
Of the 34 teachers recently hired and approved by the board Thursday evening, 23 educators recently graduated or have fewer than three years teaching experience. This time last year, the district hired just seven new teachers.
"The brain drain affects quality of instruction and resources needed to mentor these young teachers," Webb said. "Thrown into a difficult situation, with many veterans just trying to get through this year, how will that affect teacher retention? Responsible leaders would have thought long and hard about these risks, but these leaders treat teachers like cogs in the machine."
During Thursday night's school board meeting, members listened to public comment as parents and one student begged for masks to be mandated.
Afterward, member Mike Chapman chose to blame the media for overblowing the pandemic, as Gov. Brian Kemp recently did at a news conference.
Fiery Kemp Blasts Media Over COVID-19 Reporting: 'You're Not Being Truthful With People'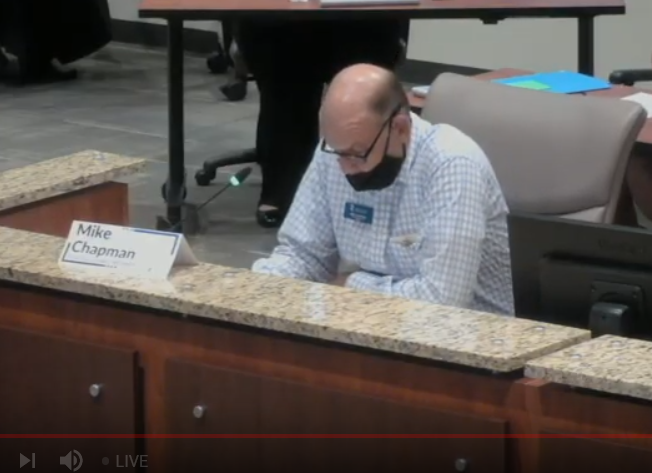 "The media's not helping," Chapman said. "I went to work this morning hearing how bad Georgia is; we're the worst in the country and we're moving and trending in the wrong direction."
He said he then looked at the Georgia Department of Public Health statistics and pointed to what he called a mountain of cases that peaked around the start of school because people were out getting tested.
"If you notice in the last 10 days to two weeks – I, by the way, have a degree in statistics – that's a major downward trend," Chapman said. "I don't see anywhere on there where there's a movement in the wrong direction."
After pulling up the percent positive chart and saying the trend was moving in the right direction, Chapman then posted an image of cases in Cherokee County. "Oh my goodness, it's a cliff," he said. "Even with having three high schools closed."
Chapman showed the health department graphs of coronavirus cases over time but failed to acknowledge that the apparent decline represents a lag in reporting.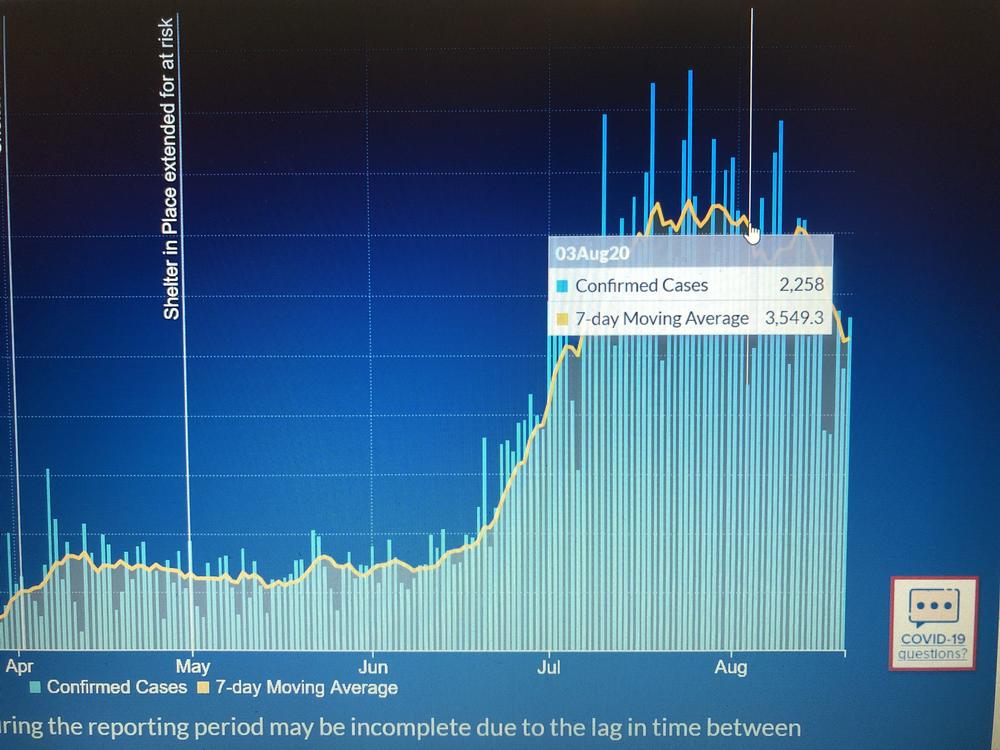 RELATED COVERAGE:
The state health department clarified the way it counts newly confirmed cases. The measure is tied more closely to when a person begins feeling sick or when a test sample is first collected from a person. That data, displayed on a chart on the website, may be missing cases from the past two weeks, according to the agency.
Experts said the state is not clearly explaining its method of reporting new cases, and the chart showing cases over time could be misleading or confusing the public.
"They shouldn't even put (the last two weeks) on the graph or publish them," said TJ Muehleman, co-founder of the Standard Co., a data company that assists groups like the World Health Organization with collecting and analyzing various health data. "Any time you publish data that is subject to recasting at a later day, you are going to confuse people. That is a certainty. I've seen that with the state of Georgia. ... People are confused by this data."
In a message to parents in Cherokee County, superintendent Hightower addressed the issue of teachers making the decision not to return to the classroom because of concerns about coronavirus.
"If a teacher opts to take leave, they are still a part of our family, and we care about them," Hightower wrote. "If your child's teacher takes leave or resigns, we will do our best to fill that important role with a qualified teacher from our applicant pool or our team of long-time substitute teachers. We have 500 retired teachers, parents and community members signed up to serve as temporary substitute teachers if needed."
Correction: The original story reported that 28 certified educators resigned or were terminated. The story has been updated to reflect more precise language to say 28 certified employees, including 25 teachers, resigned or were terminated. The story also said Cherokee County has seen 35 classified resignations/terminations. That number is actually 44; there were 35 classified resignations/terminations last year. 
Secondary Content
Bottom Content