Section Branding
Header Content
Doctors, Health Experts Send Second Letter Begging Kemp To Mandate Masks
Primary Content
Dr. Patricia Meadors talks to GPB's Ellen Eldridge about a letter sent Friday to the governor.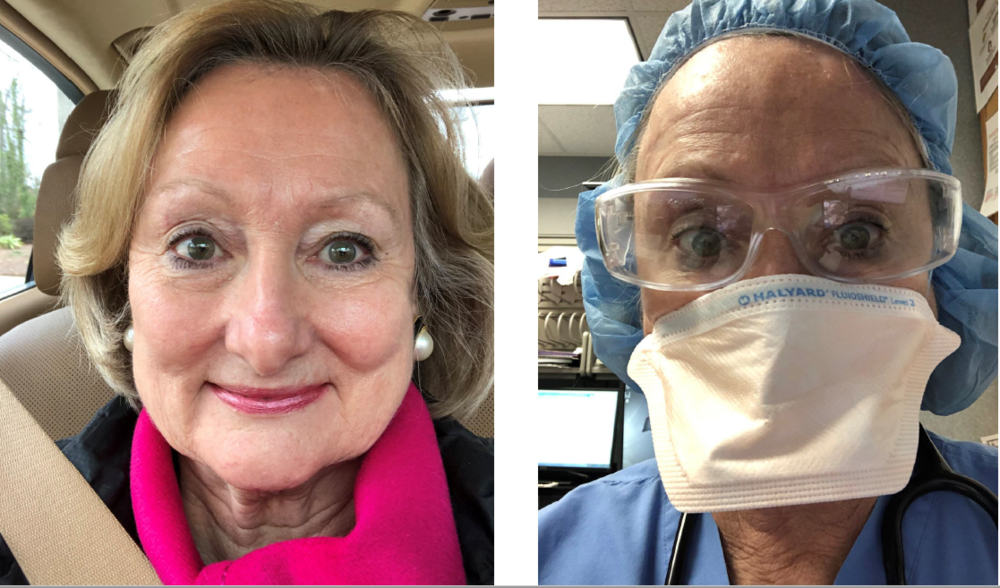 COVID-19 patients have been filling hospitals and overwhelming health care workers for weeks. Now, those experts are begging Georgia's governor for a mask mandate.
More than 2,100 emergency room physicians, epidemiologists and health care workers signed a letter delivered to Gov. Brian Kemp Friday. This is the second letter sent to encourage Kemp to speak on behalf of public safety experts.
The first letter was delivered to the governor at the beginning of the month, and cited the sharp rise in new cases being reported daily in the state. Friday's letter cites the need for science to be followed.
"We firmly believe that if policy decisions are made based on science, economic benefits will follow," the letter said. "Now is the time to update policies to align with current science."
PREVIOUS COVERAGE: 'Wake Up People!' Emory, Georgia's Largest Health System, Sees COVID-19 Cases Jump 5X Since June
Dr. Patricia Meadors, an emergency physician who has worked in Atlanta's Piedmont Hospital since 1985, signed the letter because she said the governor could be a spokesperson on behalf of public safety.
"I think you need a dual approach in a time like this," Meadors said. "You need the full support and knowledge of your scientific community to join together with your public servants who can get a message out and inform the public about the best way to protect themselves."
Scientists understand the origin and the spread of a pandemic, she said.
"But in order to get the message to people all over a state, you need the power of the governor's office," Meadors said.
Kemp has strongly encouraged hand washing, social distancing and mask wearing, but he said he will not mandate masks in Georgia.
Dr. Carlos del Rio was a resident with Meadors in Emory's health care system many years ago. He, too, signed the letter to Kemp and recently compared the current wave of COVID-19 patients to what happens when an earthquake erupts under water.
"It is important that we have mandates in order to decrease the number of cases," del Rio told GPB's Political Rewind. "Requiring or encouraging does not do that."
RELATED: 'This Is A Tsunami:' Health Care Workers, Angry Over Rising COVID-19 Cases, Want Mask Mandate
Dr. Melanie Thompson, one of the authors of the letter, said as of noon Friday there are 2,169 signatures, including the seven principal signers, representing 59 counties across the state.
"They represent over 1,200 physicians, over 450 nurses, nurse practitioners, physician assistants, and certified nurse midwifes as well as a broad spectrum of other front-line healthcare workers, including pharmacists, social workers, psychologists, respiratory therapists and many others," Thompson said.
The process started in early July when Thompson said experts saw an increasingly dire situation in Georgia.
"A number of health care providers were very concerned that the governor was not doing enough to control the virus and that he was not implementing the public health measures that are known to be successful," she said.
Specifically, health care workers wanted and still want a mask mandate.
Another signer, Dr. Jonathan Colasanti, said the letter is asking for measures recommended by the governor's Coronavirus Task Force be taken.
"We need simple things - we need masks, local decision making for more stringent measures when necessary and we need to mitigate the virus' greatest pleasure - indoor group events or any gatherings without optimal distancing."
The infectious disease expert said viral circulation at this time in Georgia is too high to be able to safely participate in group activities.
"Particularly in environments where the virus can really amplify like bars, churches and indoor dining," Colasanti said. "It's not about taking away some of the things we love most in our society, but rather making a short-term sacrifice for a longer-term gain and preventing deaths."
While Kemp never responded to the first letter sent, Thompson said, health care workers won't give up or back down.
Read the full letter above sent Friday to Kemp.
Secondary Content
Bottom Content