Section Branding
Header Content
'This Is A Tsunami:' Health Care Workers, Angry Over Rising COVID-19 Cases, Want Mask Mandate
Primary Content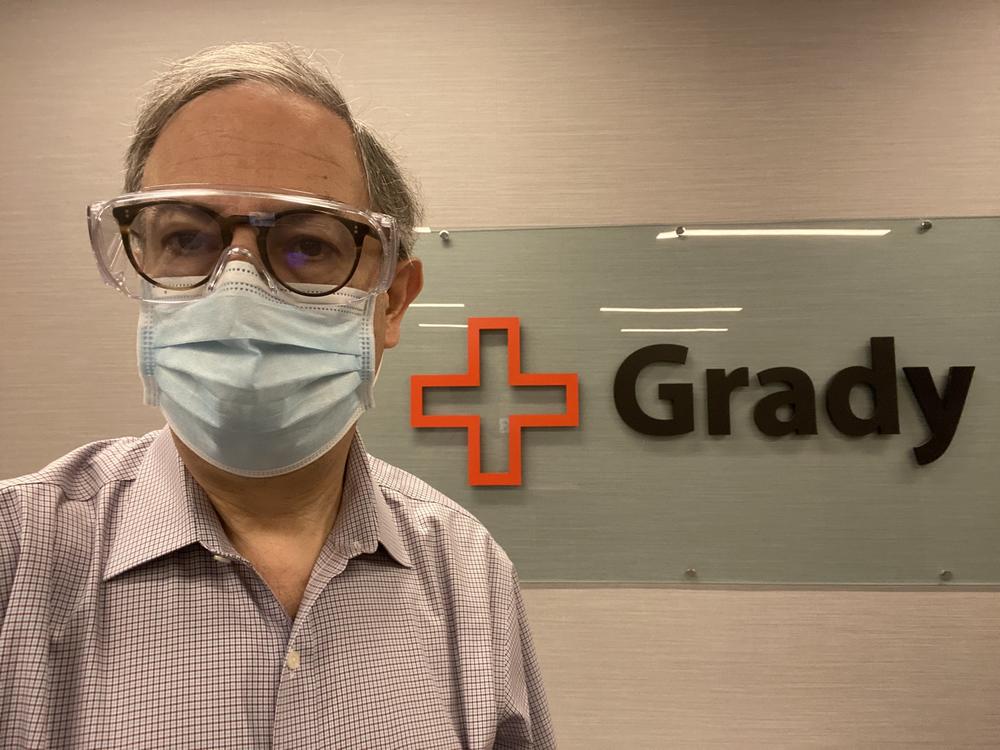 As parents and teachers across Georgia ready for a return to school as early as Friday, coronavirus cases continue to surge, raising concerns among health care workers that the worst is yet to come.
"If March-April was a wave, this is a tsunami," Dr. Carlos del Rio tweeted over the weekend. "This could have been prevented."
Del Rio is one of the state's top infectious disease doctors and the executive associate dean for Emory at Grady.
The number of COVID-19 patients hospitalized inside Emory Healthcare, the state's largest health system, jumped nearly fivefold since early June, and the strain is affecting doctors, nurses and staff who work around the clock tending to sick patients.
The state saw 2,890 new cases reported Monday, July 27, with 30.4% from non-rural counties outside the Atlanta metro area. Of the 11 deaths reported Monday, eight people were from rural areas, according to data from the Georgia Department of Public Health.
Hospitals around the state are filling up fast, with several, including Emory Johns Creek Hospital, on total diversion.
Looking at critical care beds, Regions A, E, H, L — encompassing 45 different Georgia counties — have a total of 15 critical care beds, according to GEMA.
Athens, the home of the University of Georgia, falls into Region E and has zero critical care beds. 
"We are tired, we are frustrated and we are mad," del Rio said in his tweet.
Del Rio isn't alone in yearning for a mask mandate from Gov. Brian Kemp.
But Kemp has so far refused to issue a statewide mask mandate, saying it is unenforceable. He has strongly recommended people wear masks, but not required it. In mid-July, he said mask-wearing is one of four recommended things to curb the virus' spread.
"I know many well-intentioned and well-informed Georgians want a mask mandate," Kemp said. "And while we all agree that wearing a mask is effective, I'm confident that Georgians don't need a mandate to do the right thing. ... I know Georgians can rise to this challenge and they will."
MORE: Kemp Files Lawsuit Against Atlanta Mask Mandate
Shortly after his statewide "Wear A Mask" tour, Kemp sued Atlanta Mayor Keisha Lance Bottoms for reverting to Phase 1 in the reopening plan, and mandating masks citywide.
Kemp said Bottoms' actions present a high potential for "irreparable harm," including lost wages, business closures and opportunities for economic growth.
But health experts continue to cry out for real help.
"We need more aggressive tactics, not less: universal mask-wearing, pooled PCR testing & sero-based interventions," Georgia Tech biology Professor Joshua Weitz said on Twitter.
He tweeted about a familiar and disturbing sequence of events: a rise of cases, then hospitalizations, then fatalities, and lingering impacts for many who recover.
RELATED: Percentage Of Children Infected With COVID-19 Has Tripled In Georgia
Some of those lingering effects include extreme fatigue and breathing problems, and have been seen in at least one 9-year-old Georgia girl, Kira Johnson.
"She struggled with inflammation and her eyes kept getting bloodshot," Jeannie Johnson, Kira's mother, said. "She had headaches and stomachaches and was super fatigued and she had a fever every day for over 80 days."
Health care workers like del Rio say the solution is relatively simple: "Wear a mask, save a life." They have begun using the hashtag of #WearAMask. 
Secondary Content
Bottom Content