Section Branding
Header Content
'Wake Up People!' Emory, Georgia's Largest Health System, Sees COVID-19 Cases Jump 5X Since June
Primary Content
The number of COVID-19 patients hospitalized inside Emory Healthcare has jumped nearly fivefold since early June, straining the state's largest health system as its doctors, nurses and staff work around-the-clock tending to sick patients, according to data shown to GPB News. 
Emory CEO Jonathan Lewin on July 1 expressed fears of a large surge of COVID-19 patients — and it appears that wave is here.  
"This situation has certainly stretched our resources, but our resolve remains strong, and our teams are rising to the call to ensure our patients and community receive the best care possible," Lewin said in a written statement to GPB News. "As one of the nation's leading academic healthcare systems, we continue to research and learn about this novel coronavirus, how best to treat and hopefully prevent it." 
The various health systems in metro Atlanta, Lewin said, were "working together, communicating on a regular basis on issues" ranging from hospital capacity to personal protective equipment to best clinical practices. 
Asked if the state opened too soon, too fast, Lewin simply said, "Safely opening businesses requires robust access to testing, the ability to contact trace, and, most importantly, our collective community adherence with measures to prevent the spread." 
He urged residents of Georgia to follow the "three W's" — wear face masks, wash their hands and watch your distance.  
That advice goes for hospital staff as well.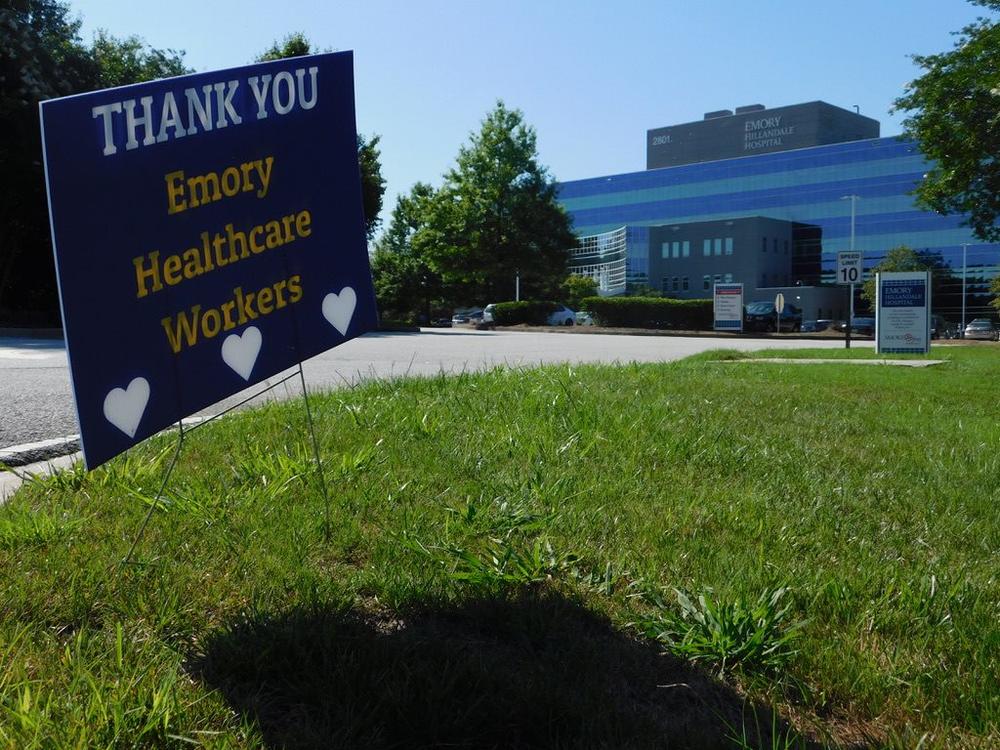 With its hospitals filling up, Emory's management team this week issued new clinical guidelines to staff to wear protective eye gear, in addition to face masks, around patients to limit the spread of coronavirus.  
That guidance, Lewin said, was in accordance with new recommendations from the Centers for Disease Control and Prevention "for communities with a high prevalence of COVID-19." 
The communications shown to GPB News provide a microcosmic glimpse of how Emory has become inundated with patients amid the raging pandemic: 62 patients died in a span of two weeks this month. In addition, at least two Emory staffers have died since June.  
Emory Healthcare, connected to Emory University, is the largest and most comprehensive health system in the state. Researchers with Emory are leading the nation's COVID-19 vaccine testing and conducting other vital research related to the pandemic.  
MORE: First COVID-19 Vaccine Tested in US Shows Promising Results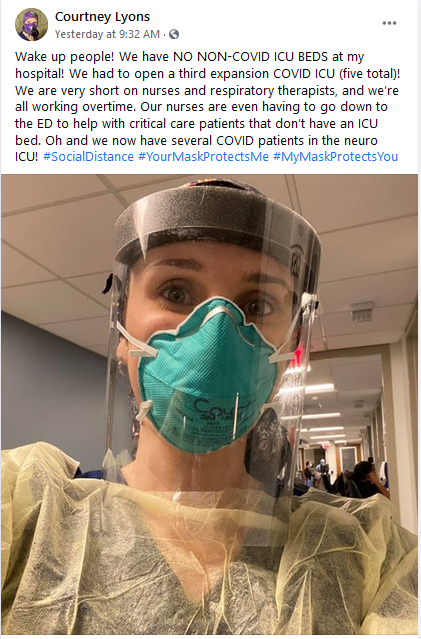 In a public Facebook post, Emory nurse Courtney Lyons issued a blunt message, saying, "Wake up people!"  
She said on Wednesday, July 22, there were no more non-COVID intensive care unit beds in the hospital where she works, and the nursing staff was strained.  
"We are very short on nurses and respiratory therapists, and we're all working overtime," Lyons wrote. "Our nurses are even having to go down to the (emergency department) to help with critical care patients that don't have an ICU bed." 
'It Becomes A Challenge' 
Lewin's message in that July 1 media briefing showed his fear about a late-June surge that could overwhelm the system.  
"We don't want to be another New York City," he told reporters. "We could see what happened there when things were overwhelmed."  
In charge of 24,000 people employed across Emory's health system, including its six hospitals, Lewin said he was concerned for his health care workers as cases climbed. 
"It becomes a challenge to see our people working and taking care of these increasing volumes," Lewin said. "It is tough to keep morale up when we see people, our fellow citizens, could be preventing this, but aren't." 
According to the data, Emory recorded a record 341 COVID-19 patients across its system on Monday, including 108 patients in intensive care. 
By comparison, on June 4, the hospital system had a total of 70 patients, including 34 in intensive care, the data shows. About a month later, the number of people sick with COVID-19 more than doubled and 57 people were in intensive care.  
The cases have since more than doubled again.
That is not to say people aren't recovering. As of July 19, the data shows the hospital system had discharged 2,433 patients dating back to February, when the coronavirus first arrived in Georgia.
But along with the rising number of people falling ill with coronavirus has come a steady increase of deaths this month. From July 5 through the 19th, cumulative deaths increased by 62, from 168 to 230, the data shows.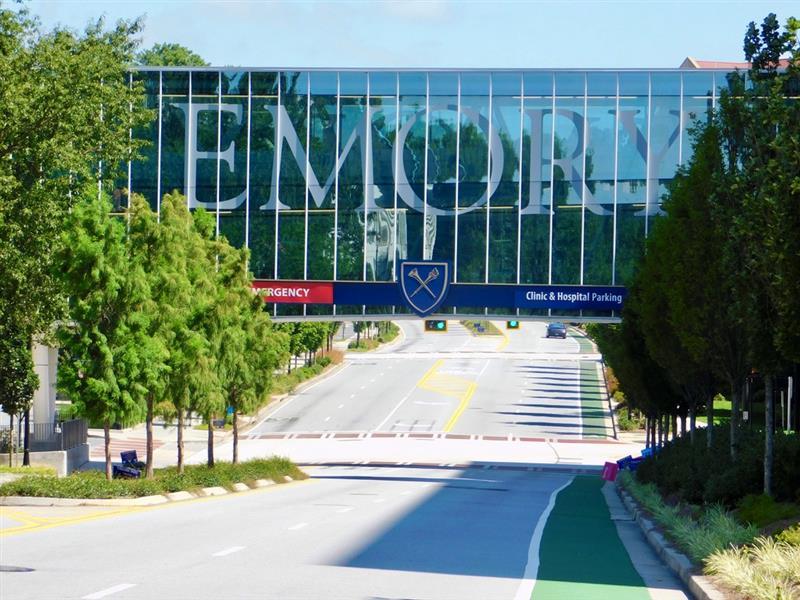 The data shows nearly 1 in 10 COVID-19 patients hospitalized since February have died.  
"In recent weeks, the overall survival rate since the beginning of this pandemic for COVID-19 positive patients at Emory Healthcare has now reached 92 percent," Lewin said. "This is among the highest survival rates in the nation and reflects the dedication, hard work, and expertise of our entire team." 
Emory Issues New Guidelines 
Emory's management team Monday evening issued new safety guidelines for employees, saying, "COVID-19 cases are continuing to increase in metropolitan Atlanta and the state of Georgia. 
"As a result, we are also seeing an increase in both asymptomatic patients unexpectedly testing positive for COVID-19, and patients developing COVID symptoms during their hospitalization after testing negative at admission," the management team said. 
The notice was sent on behalf of Lewin and other top executives.  
Among the new clinical guidelines was the need for employees to wear eye protection, in addition to face masks, around patients.  
"By ensuring both patients and staff wear masks, we can prevent exposures such as transmission to health care workers from patients who unexpectedly test positive." 
It went on to say: "Do not let your guard down away from work!" 
The data mirrors what Georgia has seen across the state — a hospital system that in early spring was beginning to get inundated, only to see hospitalizations slow by late April.  
Emory's hospitalizations in the spring peaked around April 14 with 207 COVID-19 patients across Emory's six hospitals. Of those, 81 were listed in intensive care, according to the data.  
From there, the hospitalizations began to taper off.  
On May 1, when Gov. Brian Kemp ordered the state to reopen, Emory's hospitals seemed to be managing the crisis, with a total of 169 COVID-19 patients. The hospital system had discharged 625 patients by then. 
By June 4, the COVID hospitalizations dipped to 70 and remained in the 70s for the next two weeks. 
But around that time, Lewin relayed devastating news within the Emory community — that two workers died of COVID-19. 
"Emory Healthcare was deeply saddened that two employees passed away in June from COVID-19," Lewin said. "Our deepest condolences go out to the families of these employees, along with their colleagues and friends.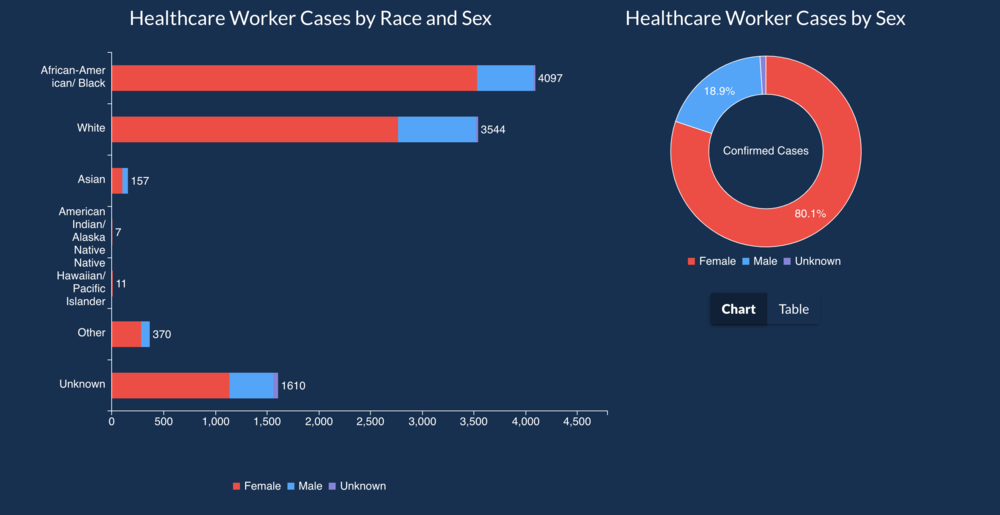 "Like so many within our community, these losses are sobering reminders of the severity and prevalence of COVID-19 among us and the difficult reality that we are still battling a serious pandemic." 
More than 9,700 health care workers have been sickened by coronavirus; over 50 of those have died, according to the state health department. The department does not break down the numbers by hospital system.   
As for his overall message on slowing the pandemic, Lewin said, "We strongly recommend limiting participation in any crowded gatherings in indoor spaces where masking is incomplete, and distancing is not possible.  
"Also, as we continue to see a rapid rise in new infections across Georgia, and continue to learn more about this complex and deadly virus, one thing is clear: face masks help us materially slow down infection rates," Lewin said. "Wearing a mask shows our consideration and concern for those around us – especially those most vulnerable."
Secondary Content
Bottom Content